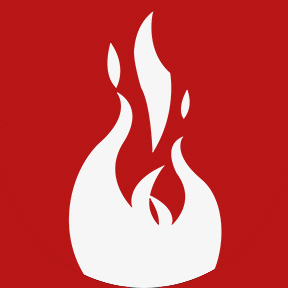 Author: Prometheus Group
CATEGORY:
Maintenance & Reliability
August 09, 2022
Maximize Your Data Management With Prometheus Dashboard
Wrangling the data and information you need to get your job done is no small feat. Turning that data into actionable insights is even harder.
Maintenance, operations, and health and safety professionals lose time trying to access and use asset management data from all angles – they often encounter data that is incomplete, incorrect, or not synched in real-time, or data that is stagnant and unusable in its current format.
Whether you're a planner, scheduler, operations manager, safety advisor, or any other asset management professional, it would be faster, easier, and more efficient if you had access to data that was:
Conveniently accessible in a single location
Synched in real-time with your other tools, including your ERP/EAM/CMMS
Filtered so that your highest priorities are visible first
Prometheus Dashboard serves as a key connector between Enterprise Asset Management (EAM) professionals and their organization's people, assets, analytics, and more to help them streamline their processes.
In this article, we will cover how Prometheus Dashboard serves as a key connector between Enterprise Asset Management (EAM) professionals and their organization's people, assets, analytics, to help them streamline their processes.
‍
What is Prometheus Dashboard?
Prometheus Dashboard is a central connectivity hub that is highly visual and configurable. As the name implies, it is a dashboard from which you and any other users in your organization can connect to your tools and documents, as well as get a snapshot of various datasets, notifications, and alerts.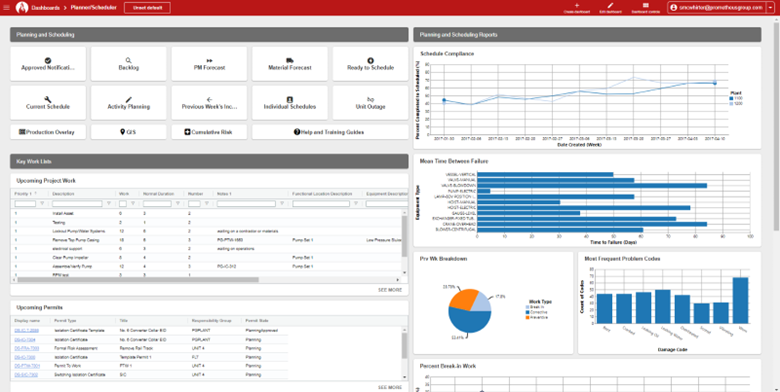 It works with all Prometheus Group products and other third-party tools, as well as with SAP, IBM Maximo, and Oracle. With Prometheus Dashboard, you can personalize your workspace, connect to EAM solutions, and view all your data in real-time. ‍
1. Personalize Your Workspace
The user-friendly interface compartmentalizes all data into an adjustable layout that each user can tailor to their needs and preferences.
Users can add as many or as few widgets and shortcuts as needed and adjust their size, re-position them, and make other configurations to suit their needs. There is no limit on the number of dashboards a user can have, which means unlimited potential for collaboration.
You can configure the dashboard based on a person's role, function, or team, personalizing the metrics, data, and notifications that are most important to them. This configurability also allows you to quickly—and visually—link your KPIs to your maintenance and operations goals.
Having role-based dashboards allows technicians to quickly access individual work orders and checklists for their trade while providing maintenance planners and schedulers with the ability to see the entire schedule of work orders, analytics, and any other higher-level details they want to view.
This allows for the maintenance process to be more efficient and for safety to be monitored more precisely. ‍
2. Connect to EAM Solutions
Instead of wrangling your projects and analytics in separate systems, integrate your solutions and launch them directly from Dashboard. Let Dashboard be your one-stop-shop: link to your Prometheus Platform products, queries and lists in your ERP/CMMS, webpages, documents, reports, third-party software, and more.
This integration gives you a robust, user-friendly hub designed with your needs in mind. No matter if you use SAP, Maximo, or Oracle, you can get set up with this solution to view your data in this customized dashboard.
3. See All of Your Data in Real-Time
We've talked about the benefits of MRO and data visualization before. Visual representations, customization, and human-centered design are key factors in the success and intuitiveness of visualization solutions. Prometheus Dashboard puts you in control, giving you the ability to create intuitive dashboards and workflows, all on a single screen.
This powerful solution plugs you in directly and allows you to interact with SAP, Maximo, Oracle, and other tools in real-time. Work orders can be easily accessed and managed, giving you the ability to interact with your plant maintenance and analytics without missing a beat.
The dashboard allows you to:
Configure "quick lists" to see live updates at the touch of a button
View ready-to-work items and schedule work orders with ease
Receive live updates to improve visibility and decision-making
Prometheus Dashboard allows you to be more confident in your maintenance practices and planning systems by knowing the information you receive is synchronized to what is occurring in the field.
Planning a shutdown or turnaround event? You can easily configure your dashboard to show progress tracking, budget versus spending, scope management—any information you need to keep your turnaround on schedule and on budget.
If your top priority is permitting and safety, configuring your user-friendly widgets to include permit maps or incident counts gives you easy access to the information and insights that help you promote a zero-incident culture.
‍
Use Prometheus Dashboard to Maximize Your Master Data
Don't be afraid of managing your data. Take the reins and let Prometheus Dashboard do the heavy lifting for you. Integrate your solutions into a powerful interface that manages and displays most crucial data to benefit you and your organization.
The Prometheus Dashboard also integrates with mobile to allow you to view your critical reports and KPIs directly at your fingertips no matter where you are. You can edit your view to keep up with your tasks and priorities, even as they evolve in real-time.
To see how Prometheus Dashboard works, check out our Prometheus Dashboard Demo video. If you would like to learn how Prometheus Dashboard can help your company, contact us today or request a demo.