The Prometheus Mobility module is our mobile enterprise asset management solution that serves as an extension to an organization's ERP, EAM, or CMMS and allows workers to automatically see, record, and update data from the field using a mobile device. Data gathered in real time flows directly to an EAM, ERP, or CMMS (e.g. SAP, IBM Maximo, etc.) allowing an organization to keep their system of record up-to-date, improving data accuracy and integrity.
With a user-friendly interface, this EAM mobile application works across multiple operating systems such as Windows, Android, and iOS. It provides online or offline access to information needed to complete assigned work orders. With a fully interconnected solution like the Prometheus Platform, any data collected from your mobile device will also be captured by the other modules and keep all teams, workers, and departments in alignment.
Click the logos below for more information on our product offerings, by system:
Streamline remote data entry with an intuitive mobile application that connects technicians in the field with your ERP, EAM, or CMMS. Prometheus Mobile for SAP is a user-friendly application that enables real-time communication and data entry at the source. This comprehensive solution is designed to perform a wide range of key asset management functions, including work order execution, routes and inspections, and inventory management, both on and offline. Workers can easily manage their daily workflow and enforce maintenance processes.
Click the headlines below to learn more:
Mobile Plant Maintenance
As an SAP mobile solution, teams gain online/offline access to tools needed to generate, execute, and complete mobile work orders through our asset management mobile application.
Create, update, and submit notifications and work orders from the field.
Easily enter time from the field, and optionally use our "stopwatch" functionality to play/pause/stop for maximum accuracy.
Gain access to BOMs for accurate planning from the field.
Upload and mark up attachments, and take pictures or videos using the integrated device camera.
Navigate the asset hierarchy or search for assets using keywords or barcodes.
Configure workflows for various roles or at the site level.
Integration with Esri for GIS to facilitate location-enabled field activities.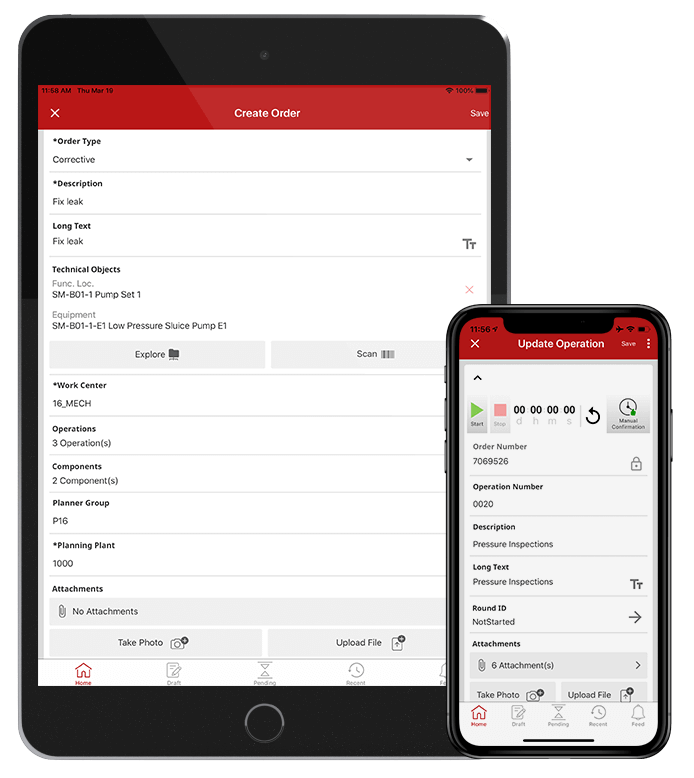 Mobile Operator Rounds
Use Mobile Operator Rounds to mobilize your workforce and eliminate paper checklists to ensure consistency and enforce best practices across the plant or facility.
Sync readings with data points in SAP to drive condition-based maintenance.
Record inspection results and other readings (e.g. run time, pressure, temperature, etc.,) to evaluate the current operating condition for preventive maintenance programs.
View measurement history to proactively monitor trends and identify discrepancies.
Provide key users access to the web-based form creator to create dynamic workflows.
Set approvals for completed rounds to be logged.
Complete inspections and routes in areas with or without internet or cellular connectivity.
Build conditional logic to guide the user through specific work processes.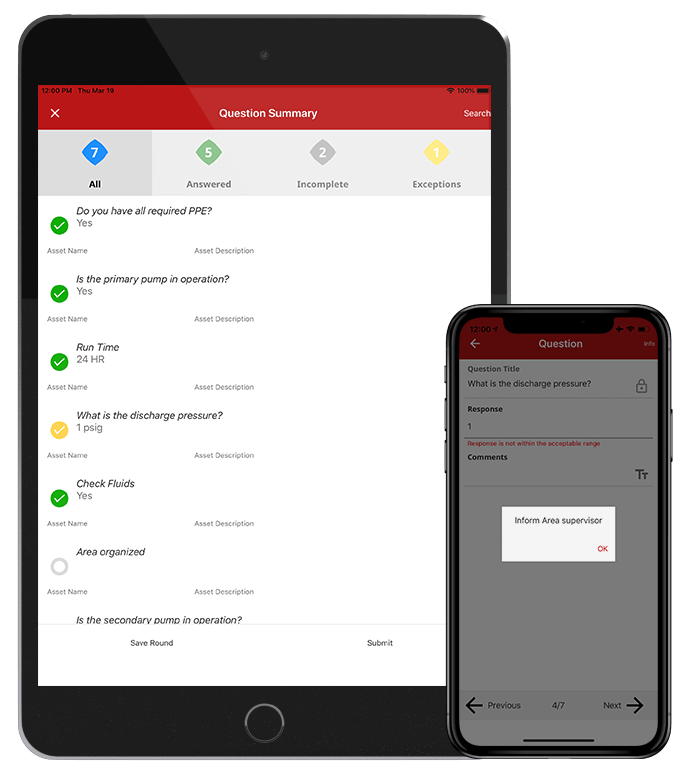 Mobile Inventory Management
As a warehouse inventory management solution, Mobile Inventory Management allow end users to easily track, count, and update inventory as it moves locations, keeping records accurate and eliminating shortages. Tracking inventory usage also cuts down on duplicate orders, reducing inventory costs.
Issue and kit parts to ensure they're available before work execution.
Scan and receive goods, and track as they move locations.
Scan barcode, QR Codes, and RFID to reference field information and identify inventory parts.
Enter inventory counts using a mobile device to improve the accuracy of on-site materials.
Get real-time feedback on stock items when reserving materials.
Auto sync data from goods received, issued, and returned to SAP.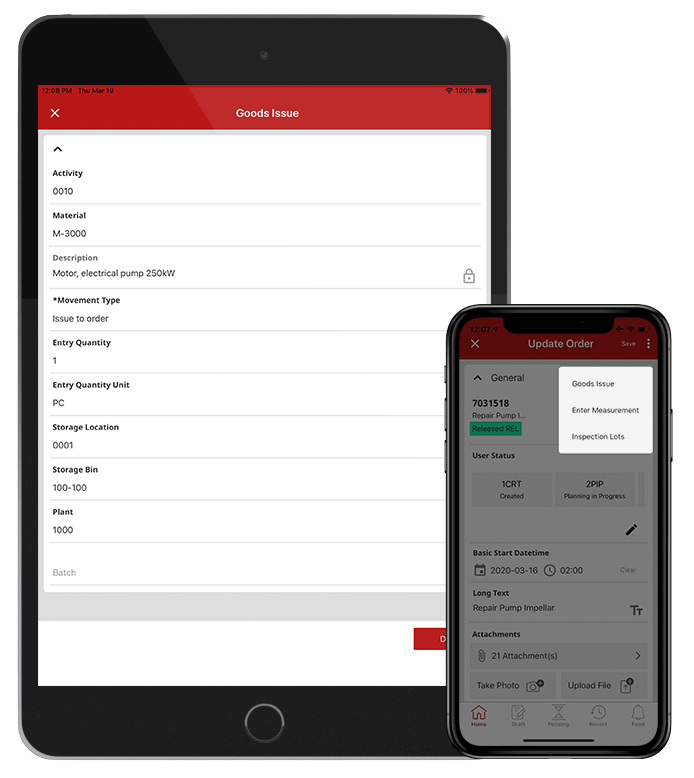 Mobile Permitting
A solution that helps teams manage their Control of Work process, Mobile permitting allows workers to create and manage work permits, isolations/LOTO (Lockout Tagout), navigate risk assessments, and integrate with other work management processes.
Enter information from the field with the ePAS mobile application.
Perform risk assessments, plan work permits, approve permits, and verify isolations all at the point of work execution.
Works both online and offline.
Mitigate risks and reduce incidents by utilizing our smart and configurable hazard and controls database.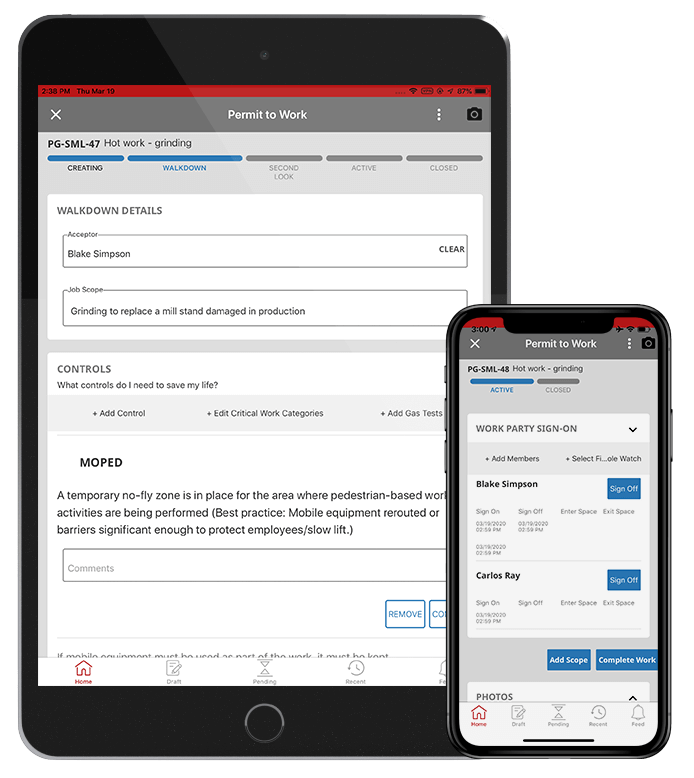 Mobile STO Management
Integrate and extend existing work systems through mobile devices to create a unified command-and-control center for managing shutdowns, turnarounds, or outages.
Integrate all work order, schedule, clearance, and RP data into a single, unified view accessible to all members of your outage team.
Enter or view progress updates directly from a mobile device; teams gain more visibility into work activity from the field.
Use the live interactive schedule that reflects job progress, delays, and problems from the field in near real-time.
Flag specific jobs or tasks for periodic updates.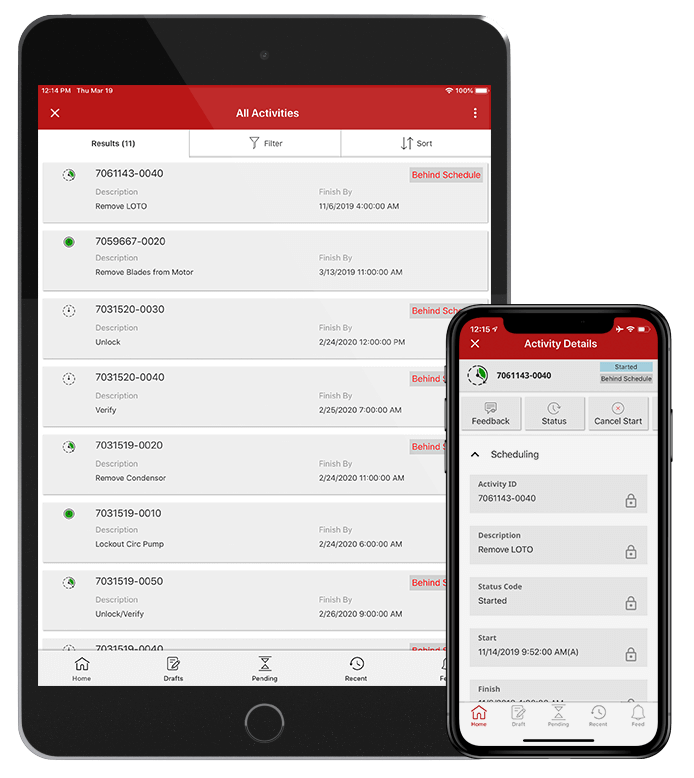 Mobile Production Planning
Manage the full range of production processes to increase manufacturing efficiency. Gain access to production data from the field, providing on-site workers with the ability to input data at the transaction point. Mobile Production Planning improves data accuracy at each stage of the production lifecycle.
View production orders and associated documents from the field.
Log defects in inspection records from the inspection lot.
Enter notifications from any location.
Submit collective time entries for easy tracking of multiple orders.
Enter labor or machine production time, daily inspections, and other asset performance indicators (e.g. checklists, log history, etc.) from the field by following a guided, intelligent process.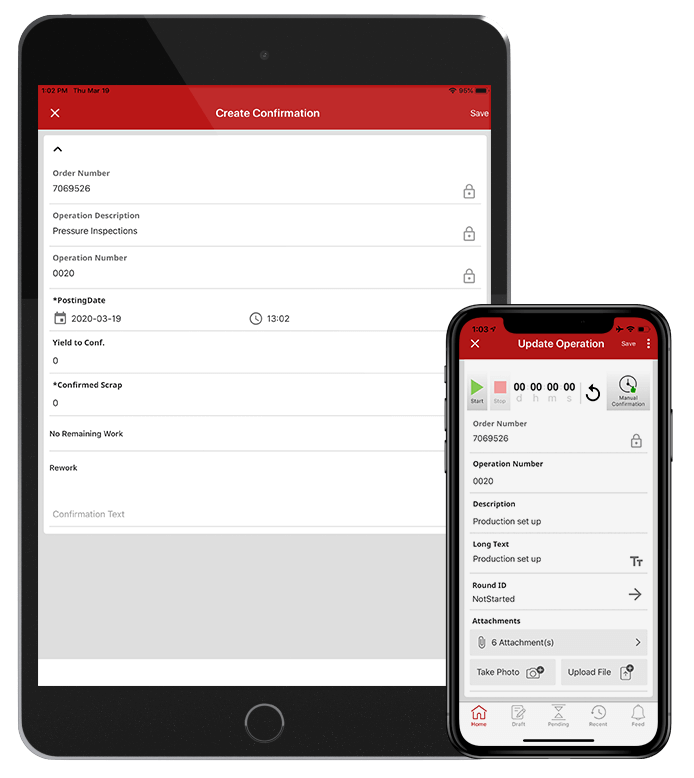 Today's business needs require that flexible mobility technologies meet the unique needs of Maximo and Esri clients across many different industries. Prometheus Mobile for Maximo is the premier application to expand and simplify the functionality of Maximo. Prometheus Mobile for Maximo simplifies and streamlines mobile data entry by connecting technicians in the field with your Maximo system. The intuitive mobile application enables real-time communication and data entry at the source. It works both online and offline, and uploads data seamlessly to your Maximo system once connection is restored. Our comprehensive solution is designed to perform a wide range of key Maximo functions, including work order management, asset management, and inventory management.
Click the headlines below to learn more:
Work Order Management
Role-based configuration allows for more control over data input and access of work orders while in the field.
Streamline work order creation with out-of-tolerance results from existing results.
Easily generate, view, and issue materials for new work orders.
Create follow-up/child work orders for an existing work order.
Perform labor reporting, create labor entries for multiple labor codes, and track labor planned for an existing work order.
Display materials planned for an existing work order.
View safety plan, hazards and precautions, and lock out/tag out procedures.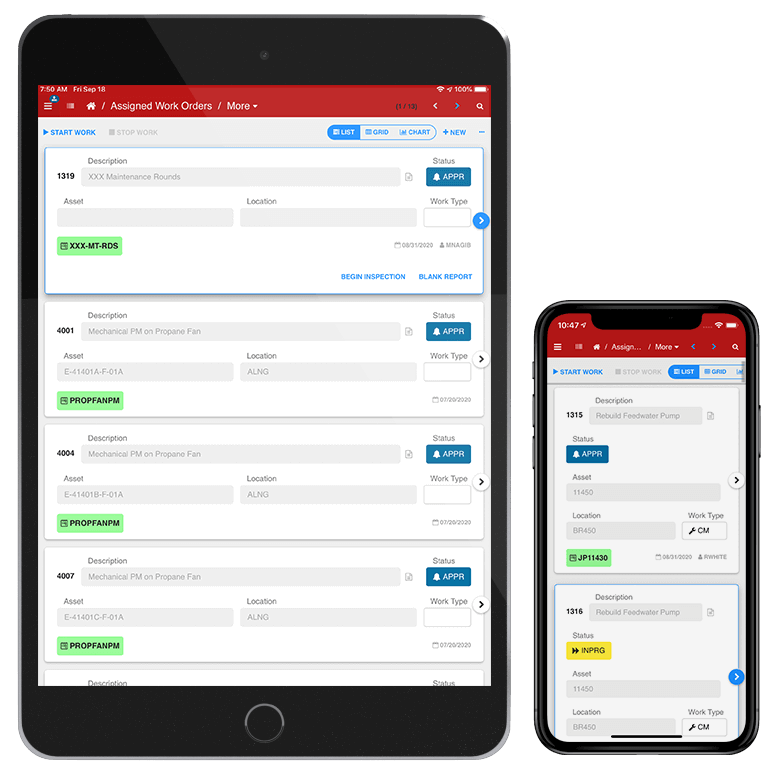 Asset Management
Provides a portable workspace for monitoring and maintaining the health and value of assets.
Enter meter readings and measurements.
View historical measurement readings.
View and edit equipment specifications (asset attribute values).
Streamline work order creation with out-of-tolerance results from existing results.
View equipment/location work history.
Create conditional statements based on feedback from initial readings and set up warning pop-up boxes that are triggered when there's an issue.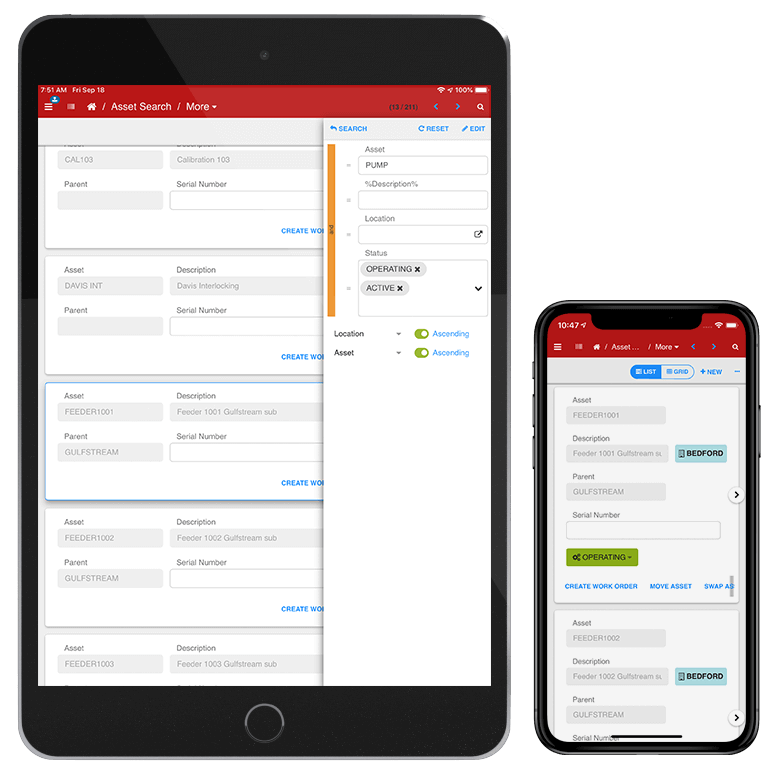 Inventory Management
Streamlines the process of managing supplies by leveraging a comprehensive and powerful warehouse inventory management system for controlling, issuing, and purchasing inventory.
Easily order in-stock or non-stock items for upcoming work orders.
Enable accurate physical and cycle count; enable count exceptions.
Track and evaluate vendor performance.
Generate discrepancy reports to undergo a reconciliation process and remedy any issues with a surplus or deficit of ordered inventory.
Eliminates fragmented and duplicated inventory control systems.
Purchase order receiving and requisition approvals.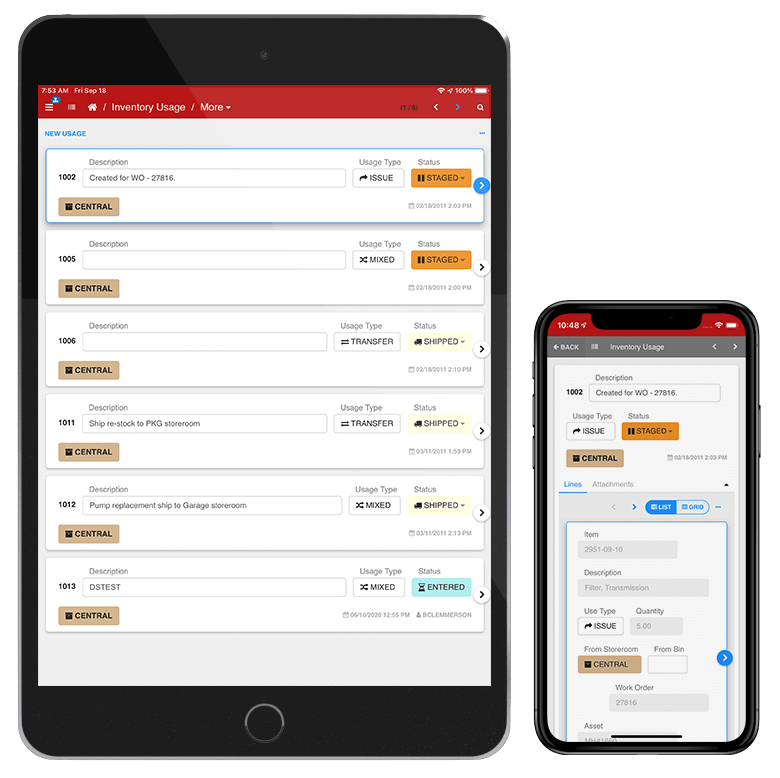 GIS Integration
With a Maximo GIS integration, teams can enhance job execution efficiency by prioritizing work orders based on geo-spatial location.
Caches map data for offline use.
Mobile-responsive mapping allows for planners and schedulers to complete work site surveys from the field.
Use of mobile devices streamlines workflow processes by enabling quick recall and data query of work order lists of assigned work.
Easily add important work order logs for operations, maintenance, and other departments.
Modify, view, or add work orders to technician workloads based on geographical coordinates of assets.
Operator Rounds
Compiles accurate data from operator rounds in real time and shares the information with maintenance to enable an improved response.
Locate and update missing asset data by leveraging audits and inspections in real-time while in the field.
Instantly recall all inspection history and data.
Automatically schedule inspections based on Maximo PM cycles.
Import existing documentation into the correct forms.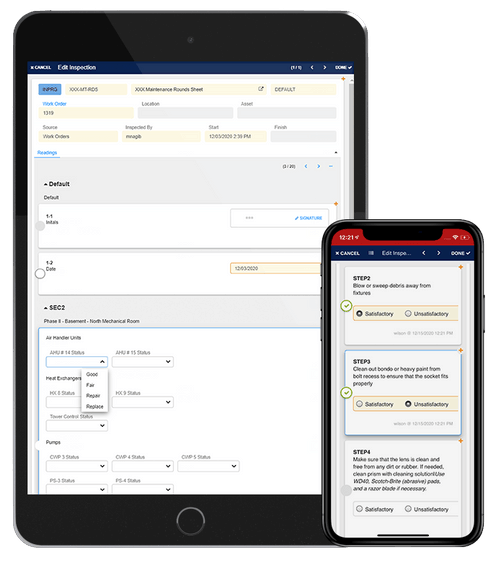 Prometheus Mobility for Oracle is the complete maintenance, asset, and inventory management mobile app for Oracle E-Business Suite and Oracle Maintenance Cloud. Whether online or offline, the solution offers the user a simple yet robust user interface that provides field access to your Oracle system. Prometheus Mobility for Oracle allows users to identify, view, and execute upon critical asset information to ensure both the reliability and safety of their plant.

Our solution will drive user adoption and allow your organization to maximize the value of your Oracle maintenance system. The solution works on iOS, Android, and Windows devices and can be easily configured to your organization's unique needs and processes. Prometheus Mobility for Oracle is ready to go out-of-the-box with implementations measured in days, not months.

The app's three core modules support the major functional areas of your EAM system: work management, asset management, and materials management.
Click the headlines below to learn more:
Mobile Work Management
Use the intuitive, graphical interface to create, update, process, and complete maintenance work orders and work requests.
Assign work to people and instances.
View and add attachments (including camera images).
Enter meter readings, failure information, and quality results.
Capture work and asset data at the source.
Perform advanced filtering and sorting of mobile work orders and requests.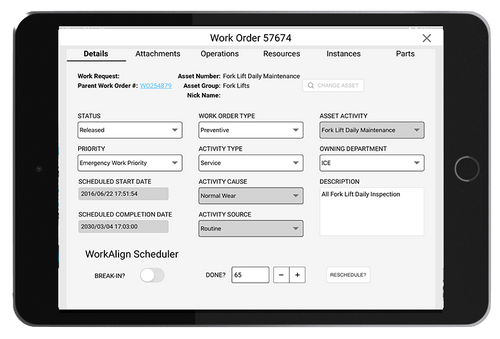 Mobile Asset Management
Our Oracle mobility solution provides access to complete asset information, including failure and work order history, as well as schematics, checklists, safety bulletins, and other work information.
View and filter the entire asset hierarchy.
Enter meter readings and inspection results.
Perform functions right from the hierarchy.
Create production work requests.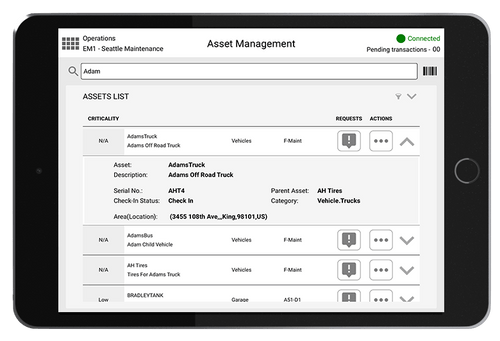 Mobile Inventory Management
Automate your storeroom operations by eliminating paperwork and manual entry in your supply chain. Improve your data quality with easy barcode scanning to simplify and streamline the following transactions:
Perform item queries, storeroom transfers, returns, and one- or two-step parts issues.
View and enter cycle counts.
Enter purchase order receipts using any barcode printing system.
Assign targeted inventory of high-priority items.
Key Benefits
Maximize mobile workflow efficiency with a mobile EAM solution and produce high ROI, strong user adoption, and improved communication.
Instant real-time updates in system of record eliminates need to record results on paper, improving data collection practices and reducing potential errors
Eliminates tedious and time-consuming manual re-entry of data
Tracks all inspection points and specifications integrity
Identify and track faulty equipment before failure
"Out of the box" configuration options
Receive communications quickly through push notifications, SMS, email, and system alerts for issues such as break-ins
Generate up-to-date metrics and KPIs for analytics reports
Improves planned maintenance with up-to-date information
Completely paperless data collection
Communicate with your team faster while in the field with real-time updates
Automatic data synchronization when your device reconnects
Mobile solution eliminates wasted trips to check stores
REQUEST A DEMO
We look forward to learning about your asset management needs and opportunities, simply fill out the form below to schedule a personalized demo.
Featured Customers
Join 50,000+ Users Across the Globe in Achieving Maintenance Excellence