The Prometheus Shutdown, Turnaround, and Outage Management solution serves as a web-based, centralized digital system and reinforces team communication, organizes and manages processes, acts as a repository for important documents, and can easily integrate with other software tools to help manage your facility or plant shutdown, turnaround, or outage. Within this module, maintenance, operations, and safety teams are able to collaborate and manage their STO event from planning to execution using a suite of powerfully integrated tools.
STO Execution integrates and extends your existing systems to create a single, unified command-and-control center for managing your facility or plant turnaround, shutdown, our outage. STO Planner integrates scope and change management, work preparation, work scheduling, permitting, and more to the STO event management process to ensure a safer, more efficient event outcome.
STO Planner
STO Planner provides a web-based command center to unify and integrate your various systems to optimize your facility or plant shutdown, turnaround, or outage management strategy, from planning to execution and beyond. Leveraging STO Planner streamlines communication, reporting, and documentation.
Scope Management: A robust scope management system allow teams to manage and maintain control over the STO scope throughout the duration of an event; this includes a configurable set of permissions that help minimize scope creep, increase visibility of scope documents and schematics, provide more transparency.

Materials Management:

Request, approve, and track materials for your STO. Integrates with your ERP system to

provide

real-time status.

Staging and Kitting Materials

: Stage and kit materials post goods-receipt. Indicate material delivery and assign materials to project-specific storage locations. View kit and material status in STO Execution schedule.
Detailed Work Package Planning:

Leverage a rich library of existing work packages and standards to fast-track planning. Push planning changes to SAP and P6 on demand.

Planning Progress Tracking

: Transform your turnaround planning from "gut feeling" to data driven. Know that your plant is ready for your upcoming STO.

Role-Based Access:

Employees and contractors with role-based access to the appropriate data to avoid unnecessary access to owner-operator's or other contractor's data.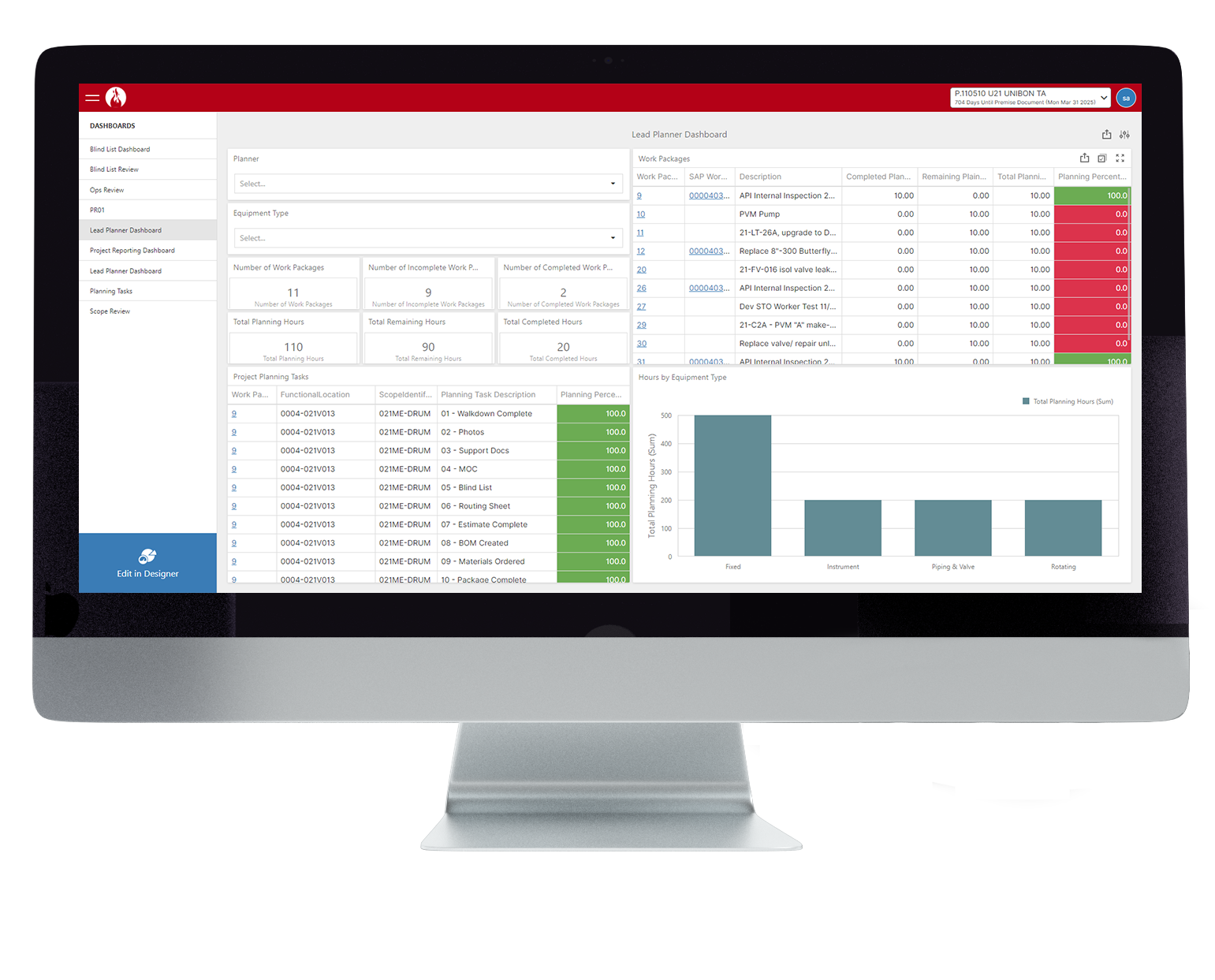 STO Execution
STO Execution is a state-of-the-art solution that integrates and extends your existing systems to create a single, unified command-and-control center for managing the execution of a turnaround, shutdown, or outage. For outside contractors working on an STO event, STO Execution serves an extension to an organization's record of truth and allows for them to enter data without ever having to access your ERP, EAM, or CMMS.
Integrated STO Management System:

Integrates all work order, schedule, clearance, and RP data into a single unified view accessible to all members of your STO team during the execution phase of a shutdown, turnaround, or an outage.

Real-Time Access to STO Schedule:

Places information in the hands of decision-makers by providing a live interactive schedule that reflects job completions, progress, delays, and problems from the field.

Simplified Progress Collection:

Easily create and collect progress updates from the field throughout the lifecycle of an STO event from any device; teams can continuously review schedules and prioritize jobs that require updates based on specific criteria.

Job Alerts:

Enables users to flag specific jobs they need updates for and are automatically notified of any changes made to the status of a job or task from the field.

QA/QC Packages:

Minimize production system downtime by building and tracking QA/QC package completion. Build and track QA/QC package completions by generating a sweeping checklist and ensure that teams followed the configured processes.
Inspection Planning & Execution:

Prepare for inspection jobs and be ready to handle "discovered" work.

Punchlist Management:

Hold Contractors accountable to performing their work to specification. Track punch list closeout through STO completion.

Mobile Progress Collection: Collect progress updates directly from the field, perform instant analysis, and notify supervisors, schedulers, and OCC management as needed.
Multi-System Data Integration: Integrates with all major systems involved in a shutdown, turnaround, or outage, including Ventyx Asset Suite, SAP, Maximo, Primavera, Ventyx eSOMS.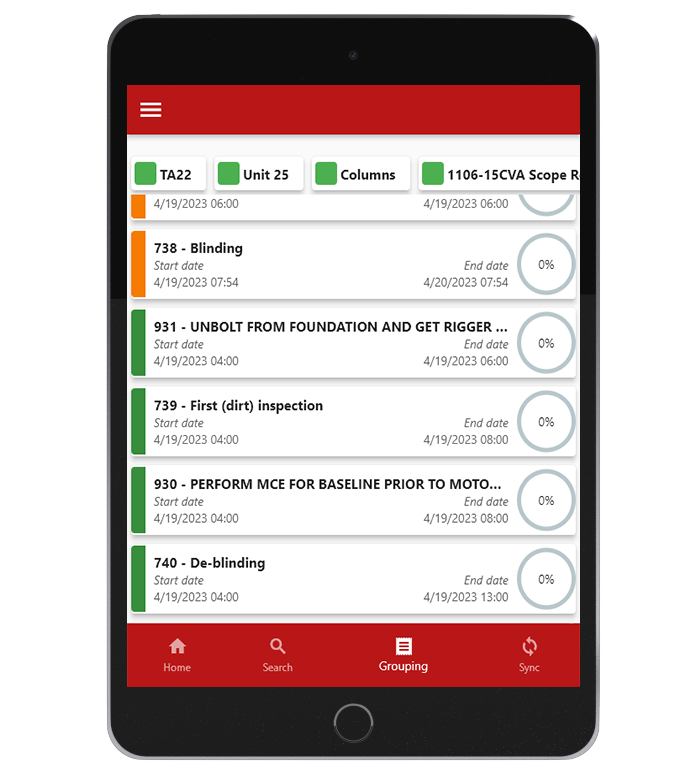 STO Isolations
Safely shutting down and de-energizing units is essential to a successful STO event. A turnaround's success hinges on Operation's ability to correctly identify the proper sequence and procedure of shutting down equipment. STO Isolation allows for Operations and Turnaround teams to collaborate on isolation plans, mark up P&IDs (Piping and Instrumentation Diagrams), and track isolation progress as the plant safely shuts down and starts up in an incident-free event.
Identify Isolation Conflicts

: Centralize isolation planning to prevent conflicting isolations from resulting in lost time injuries.

Combine Work and Safety Planning

: Associate isolation and discipline plans to effectively combine isolation plans for similar work, reducing the number of blinds and isolation devices needed.

Template and Reuse Isolation Plans

: Build a historical list of isolation plans to eliminate the need to rebuild isolation plans from scratch.

Build Isolation Lists

: Digitally prepare isolation lists with blind points, and isolation activities. Identify the isolation devices needed, and their dimensions to understand blinding demands.

P&ID Markup

: Mark-up P&IDs to indicate isolation steps. Color coded cards indicate isolation types and progress to give users a real-time isolation state on the P&IDs.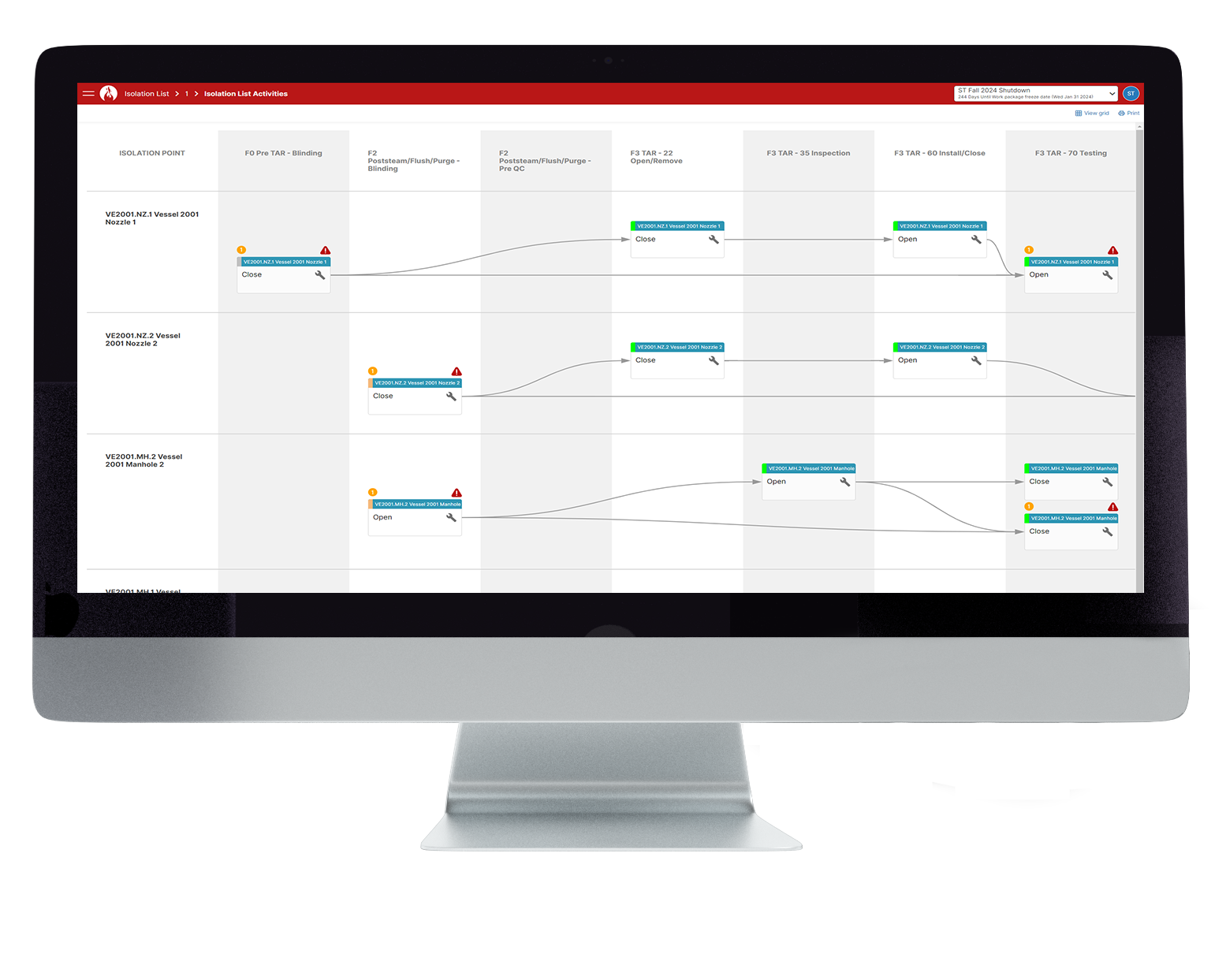 STO Budgeting
Gain more control and visibility into your shutdown, turnaround, and outage's budget the STO Budgeting add-on. Create long term plans, rough orders of magnitude (ROM), and definitive estimates easily within the STO budgeting module. Gain historical data on past turnarounds and perform comparisons on material, labor, and rental costs.
Control Over Budget Versions

: Reduce

spreadsheets

and PDF reports by

leveraging

budgeting snapshots in STO Budgeting.

Snapshot Comparisons

: Compare trend estimates and identify changes between base and current estimates.

Consistency

: Leverage standard breakdown structure templates to ensure standardization in budgeting process from project to project.

Generate Long Term Plans:

Project a multi-year outlook for executive teams based on historical information.

Intelligently Calculate ROM During Scoping:

Utilize a parameter-based model to calculate the rough order of magnitude for each discipline involved in a scoping item.

Produce Definitive Estimate:

Form definitive estimates of costs, contractors, labor, and materials required for your turnaround.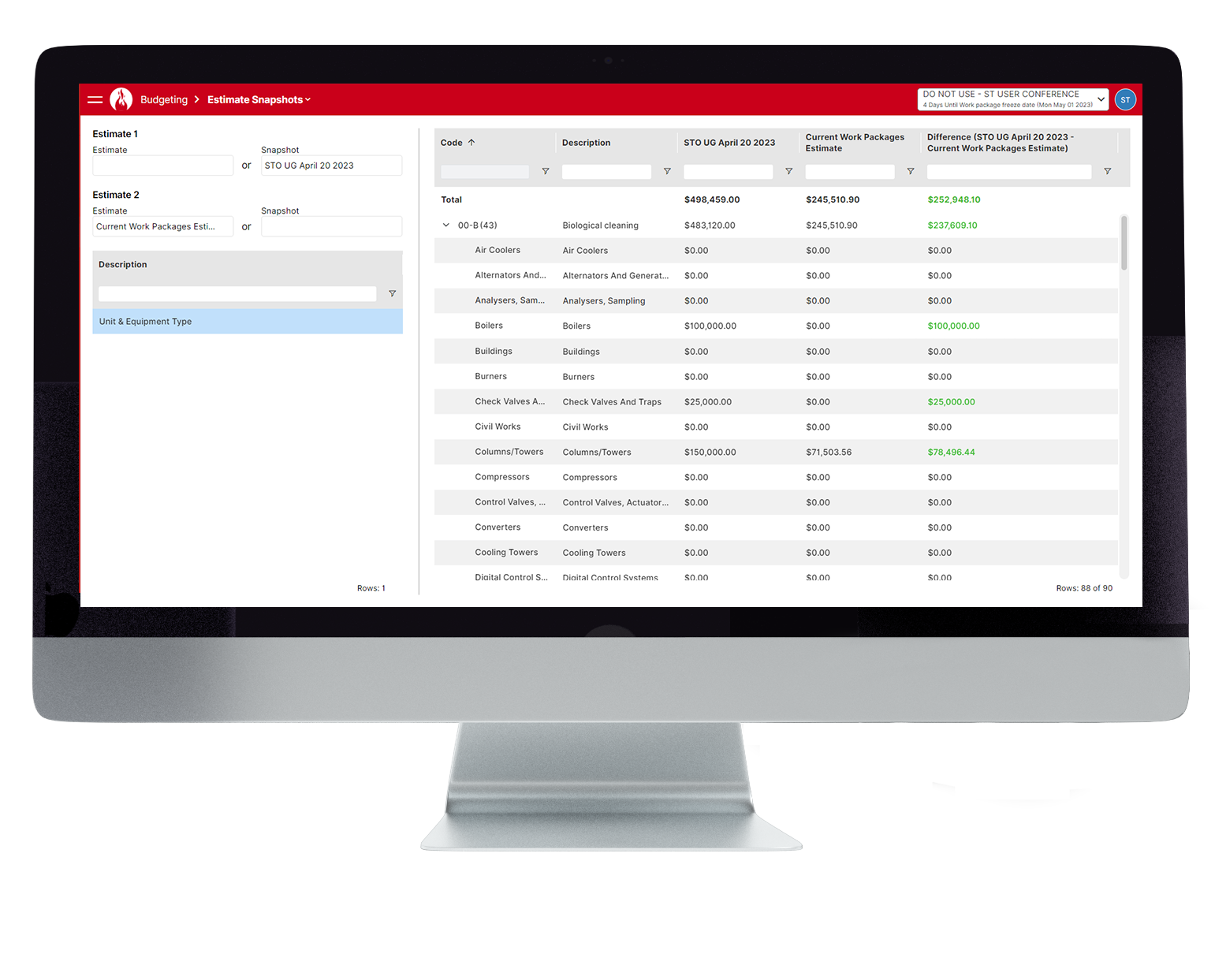 Benefits
Control Over Scoping Process:
Build templates and workflows to ensure that scope is collected with the proper justification and estimates. Freeze scope and implement addendum process to highlight changes to scope post-freeze.

Improved Visibility to Materials Post Goods Receipt

:
Most ERP systems do not track non-stock materials after a goods receipt. As turnarounds heavily leverage non-stock materials, STO Planner gives confidence that materials are staged and available with visibility of material availability on 36-Hour schedule lookaheads.

Increased Planning Accuracy:
Utilize templates, standard activities, and norms-based estimates to simplify work package planning.
Reduced Material Spend

:
Limit spend on free text materials by leveraging SAP Material Masters through Material Shopping Cart.

Integrated Platform:
The Prometheus Platform is a web-based, comprehensive solution that can easily integrate into all other systems used by a team to manage a shutdown, turnaround, or outage.

Improved User Adoption:
Increased user adoption rates with a simplified user-friendly tool that can keep your STO maintenance, operations, and safety teams on the same page through each phase of the STO.

Reliable and Fast:
Locate and review approvals and status updates quickly and efficiently.

Configurable Interface:
Configure and manage user access through an easy-to-use centralized system which is ideal for teams working with short-term contractors.

Comprehensive STO Execution Management System:
Streamline business processes and deliver actionable information to all departments, teams, and workers at all phases of an event, ensuring that a plant or facility can get back online on time and under-budget. Capital Projects:
STO Execution's advanced communication, progress collection, schedule analysis, and resource coordination features can provide an easy-to-use, standardized approach to extending project schedules to the parties involved in your project and improve the execution performance of any shutdown or turnaround capital project.

Real-Time Updates:
Review and track real-time progress updates collected in the field.

Controlled Access to Primavera:
Minimize the number of contractors that have access to Primavera (P6) with configurable permissions and conditions to prevent unauthorized changes to data.
REQUEST A DEMO
We look forward to learning about your asset management needs and opportunities, simply fill out the form below to schedule a personalized demo.
Featured Customers
Join 50,000+ Users Across the Globe in Achieving Maintenance Excellence