Prometheus Environmental Health & Safety is an Integrated Safe System of Work (ISSOW) that enables teams to create and maintain a safer work environment. By integration with existing ERP, EAM, or CMMS (such as SAP, Oracle, IBM Maximo, and more) to deliver digital transformation for your control of work systems.
ePAS (Electronic Permit Administration System) is a web-based solution that supports and manages safe work permits, isolations/LOTO (Lockout Tagout), risk assessments, Job Hazard Analysis, and Operations and Maintenance interactivity. ePAS integrates with all of your work management processes and existing safety systems, and it works on any device, online or offline, allowing users to continue with their safe work processes no matter their connectivity status.

As a fully configurable ISSOW/Control of Work software solution, Operations and Maintenance teams are able to work on their individual tasks on their individual screens but stay completely connected at every step. This industry-leading system offers total flexibility by implementing exactly what you need in an ISSOW solution.
Electronic Permit to Work
Web-based electronic permit to work system that increases efficiency and accuracy by eliminating redundant, manual paper-based work.
Streamline workflow based on organizational procedure.
Gain full transparency into hazards and controls, including visibility into at-risk areas which highlight other issues in an adjacent location.
Configure field-specific phrase library.
Standardize PTW practices and ensure compliance according to your company's workflows and business rules.
Bring consistency to permitting practices with intelligent templating.
Fully auditable tracking of permit practices across multiple departments and sites.
Enhance communication between maintenance and operations.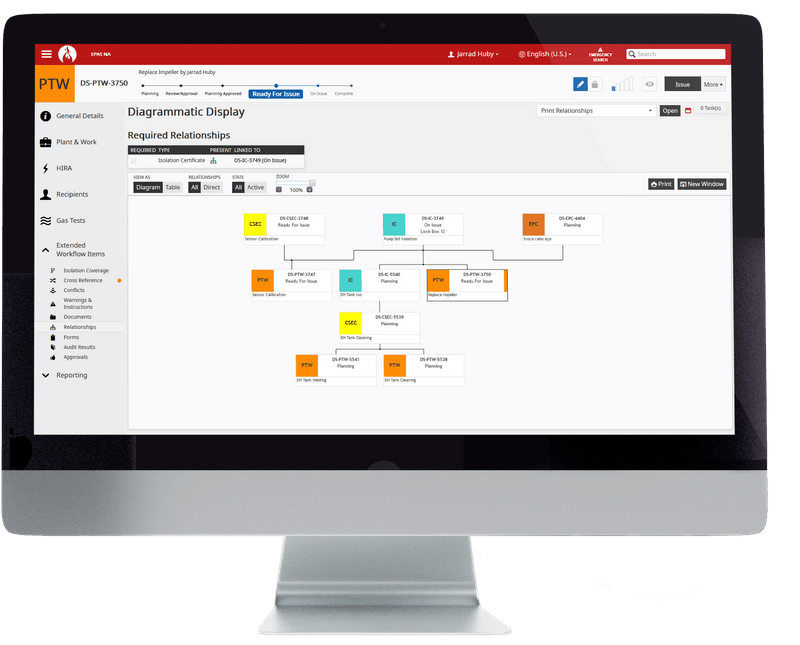 Lockout Tagout
Powerful isolation management and lockout tagout software functions include templating, cross-referencing, isolation point validation, and tag printing.
Full key safe and lock box management.
Import your own P&ID files to create interactive isolation plans by adding actions, rules, and isolation points.
Digital logbook system with shift logbook, shift handover, incidents, rounds, and more.
Incorporate a technician's lockout/tagout accessories.
Dynamic LOTO and isolations designed, templated and managed through an extensive library that evolves with your business.
Isolation tags and barcodes configured to your design.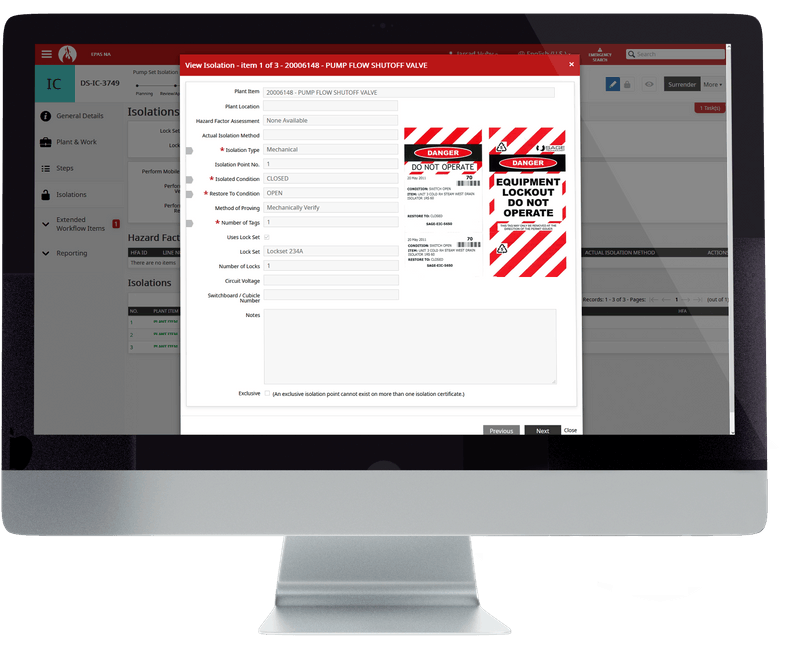 Risk Assessment
Standardize hazard identification and risk assessment through an electronic permit to work system to capture lessons learned and add a new level of visibility and safety to your worksite.
Create a safer work environment and reduce human error with HIRA (Hazard Identification and Risk Assessment).
Capture, manage, and investigate incidents at the operational level from any location.
Assess process and job safety with audits, skills/competence, P&ID Isolation templates, and more.
Specify and design functional safety systems.
Boost visibility into hazards and controls.
Configure your industry-specific hazard and control library.
Develop clear processes around MoC with clear overview of change requests, configurable workflow and approval cycle, and real-time implementation tracking, including commercial and technical authorization.
Generate, update, and monitor Management of Change (MoC) records, control records processes, and MoC modifications.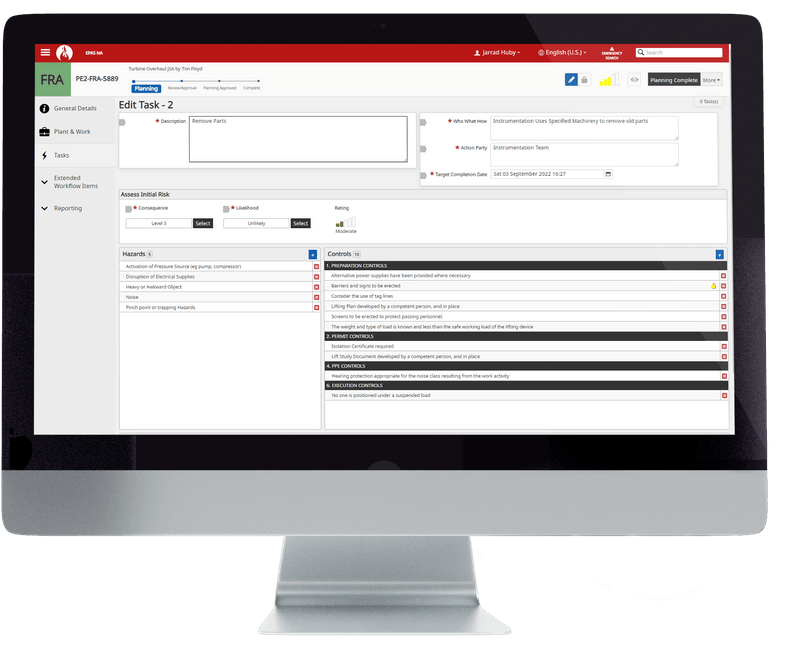 GIS Integration
Through integration with Esri, teams can supply geo-spatial location data on an easy-to-view map, giving planners and schedulers the ability to prioritize work orders for maintenance technicians and operators.
Provides flexibility for several configurable map layers.
Add important work order logs for operations, maintenance, and other departments.
Better allocation of resources and time of technicians by providing more accurate location data of assets.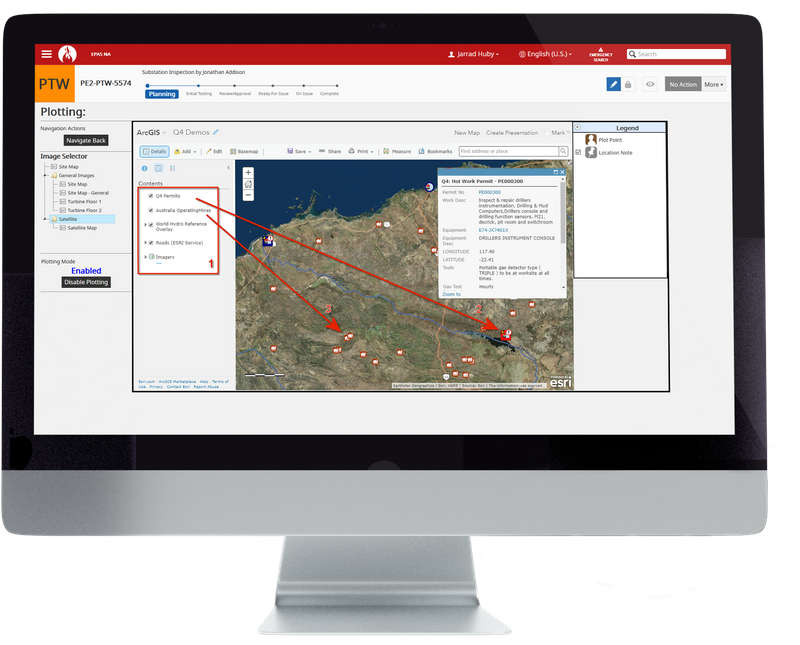 Audits
Maintain compliance for organization logs and records in an easily accessible system.
Perform audits on safety documents.
Configurable workflow and questions.
Set and review assessment scoring for pass or fail.
Dashboard KPI for performance and deviations.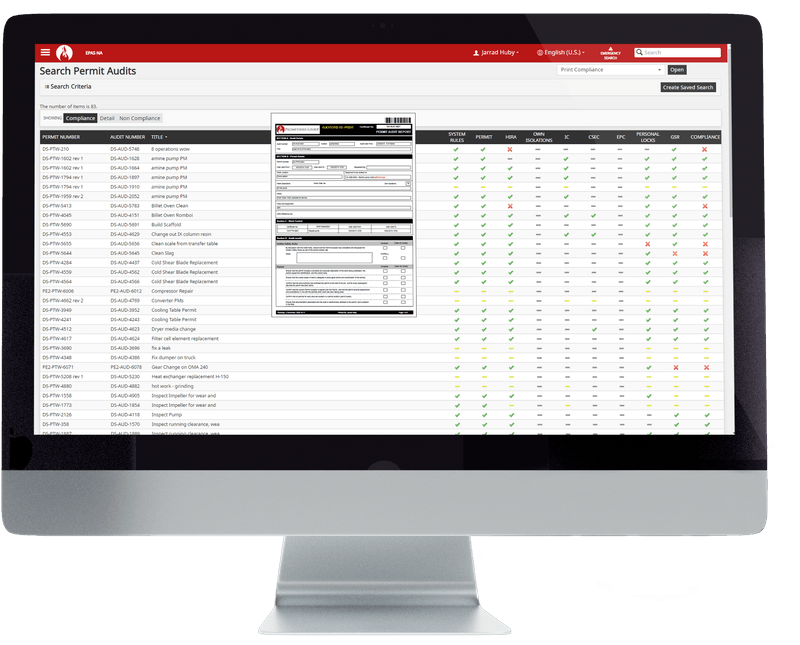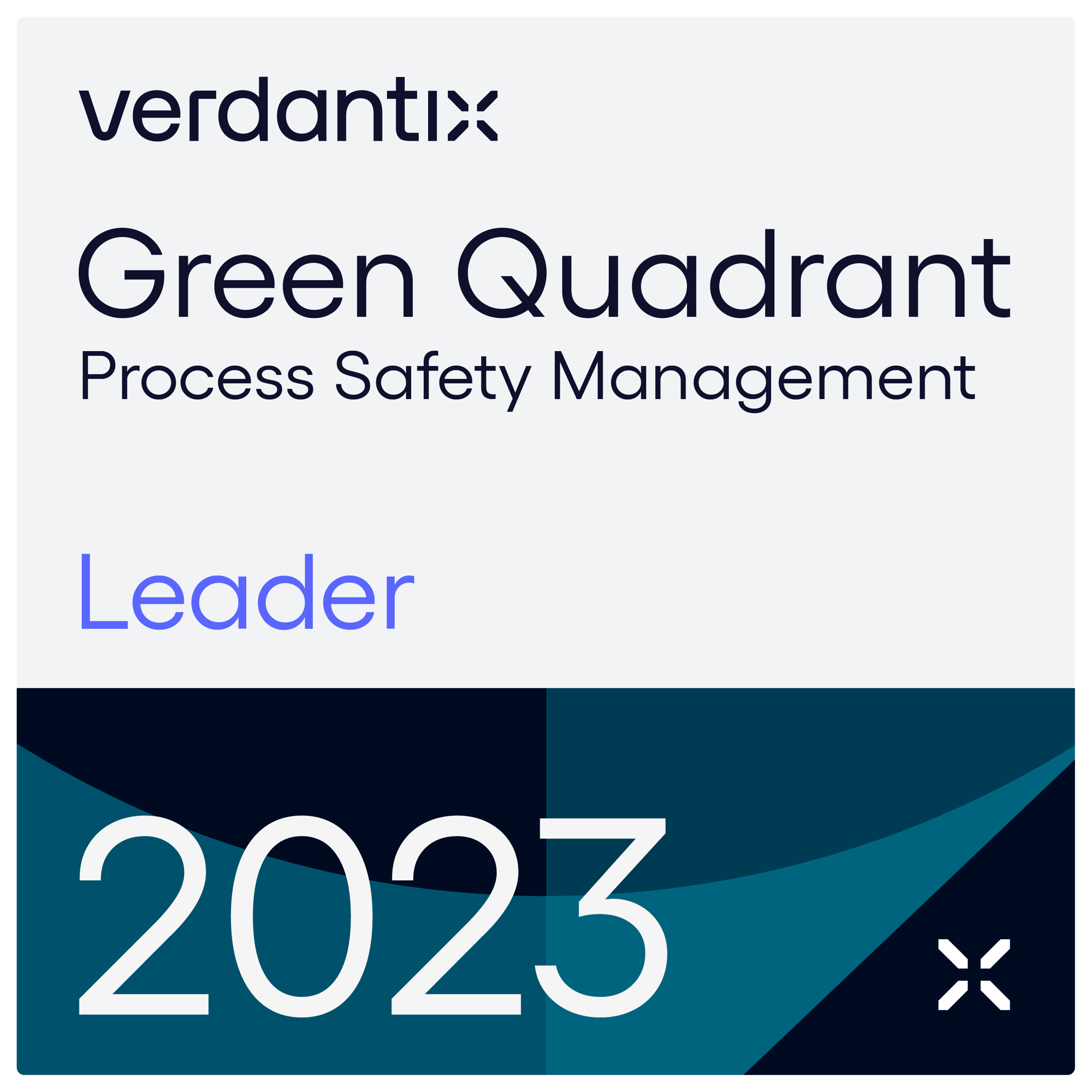 Prometheus Group Ranked as Leader in Process Management Software for 2023
Benefits
Having a robust, comprehensive ISSOW system that serves as a digital workspace to support Operations, Maintenance, and Safety teams not only creates a safer environment but streamlines control of work, risk assessment and incident management, and compliant record keeping processes to keep teams on the same page.
Fully adaptable solution to fit into permitting and safety processes
Flexible and fully configurable to suit specific requirements. Seamlessly integrates into existing processes and saves hours of preparation time while enhancing plant communications.
Increased visibility in to permitting approval, review, and management process
Make proactive decisions based on real-time visibility across all sites or locations
Easily deployable across departments,
team, and workers
Organizations can strategically implement Environmental Health & Safety at a single site or carry out a full enterprise global roll-out.
Reduce reliance on
individual knowledge
User-friendly and configurable to roles makes software training simple and easy to follow
Configurable interface to fit workflows and roles of maintenance, operations, and safety
Simple interface that can be configured to provide a specific role or team permit access, approval permissions, and visibility into certain permit workflows.
Features
Leverage powerful tools from an adaptable, scalable, and mobile-enabled ISSOW/permitting and isolations software. Consolidate workflows, enforce safety measures and compliance, and enhance collaboration between your safety, maintenance, and operations teams with real-time access to information.
Real-time visibility
Real-time visibility into e-permit to work system and instant reporting across all sites
Agile role-based access
Fast and simple role-based user interface
Fully mobilized work environment
Streamlined system with 24/7 access anywhere, from any device
EAM, ERP, or CMMS integration
Eliminate data and communication silos between systems and teams
Dynamic menus
View menus, dropdowns, and workflows that are responsive to changes based on input (current state of task, who is logged in, job risk level, etc.)
Advanced reporting
Instant reporting across all sites and platforms.
List views
View configurable, color-coded list of active or pending permits, certifications, requests, and more
Cloud-based system
Web-based access to data, records, and documentation means teams aren't tied to a localized drive or system
REQUEST A DEMO
We look forward to learning about your asset management needs and opportunities, simply fill out the form below to schedule a personalized demo.
Featured Customers
Join 50,000+ Users Across the Globe in Achieving Maintenance Excellence