The Prometheus Reporting & Analytics module delivers intuitive, role-based, scalable business intelligence across your plant or facility. Reporting & Analytics is fully integrated into each module on the Prometheus Platform, providing a full picture on the effectiveness of your maintenance or operations strategy. A team can extracts real-time asset data from any system or database like SAP, IBM Maximo, Oracle, and ABB, and view visual, interactive data that can be configured into many user-based layouts across individual sites or at the enterprise level. Your dedicated Prometheus data analyst partners with your organization to track progress on sites, corporatewide initiatives, continuous improvement, reliability, costs, and more.

Gain deeper understanding of your data through custom maintenance reports and report calculations and determine how to source the required information from your maintenance system. In addition, we support many out-of-the-box reports. If you are looking to build out your reporting suite, we have a library of maintenance KPIs sourced from industry best practices and can provide recommendations for your business. Our goal is to build reports tailored to your business, so you can track the performance metrics that matter most to your success.
Core Work Order Metrics
Gain more visibility into your work order management process through customized maintenance management reports. Each report captures data from the platform, such as from our Planning & Scheduling solution, to provide actionable insights to improve your maintenance processes and workflows.
Scheduled (planned) vs Unscheduled (reactive).
Work (% Break-In Work).
PM and Regulatory Work Compliance.
Man Hour Compliance.
Open Safety Critical/Emergency Notifications and Orders.
Schedule Compliance %.
PM Compliance %.
Planning Accuracy (Actual / Planned Hours).
Capacity Utilization (Planned Hours / Total Available Hours).
Planned vs Actual Costs and more.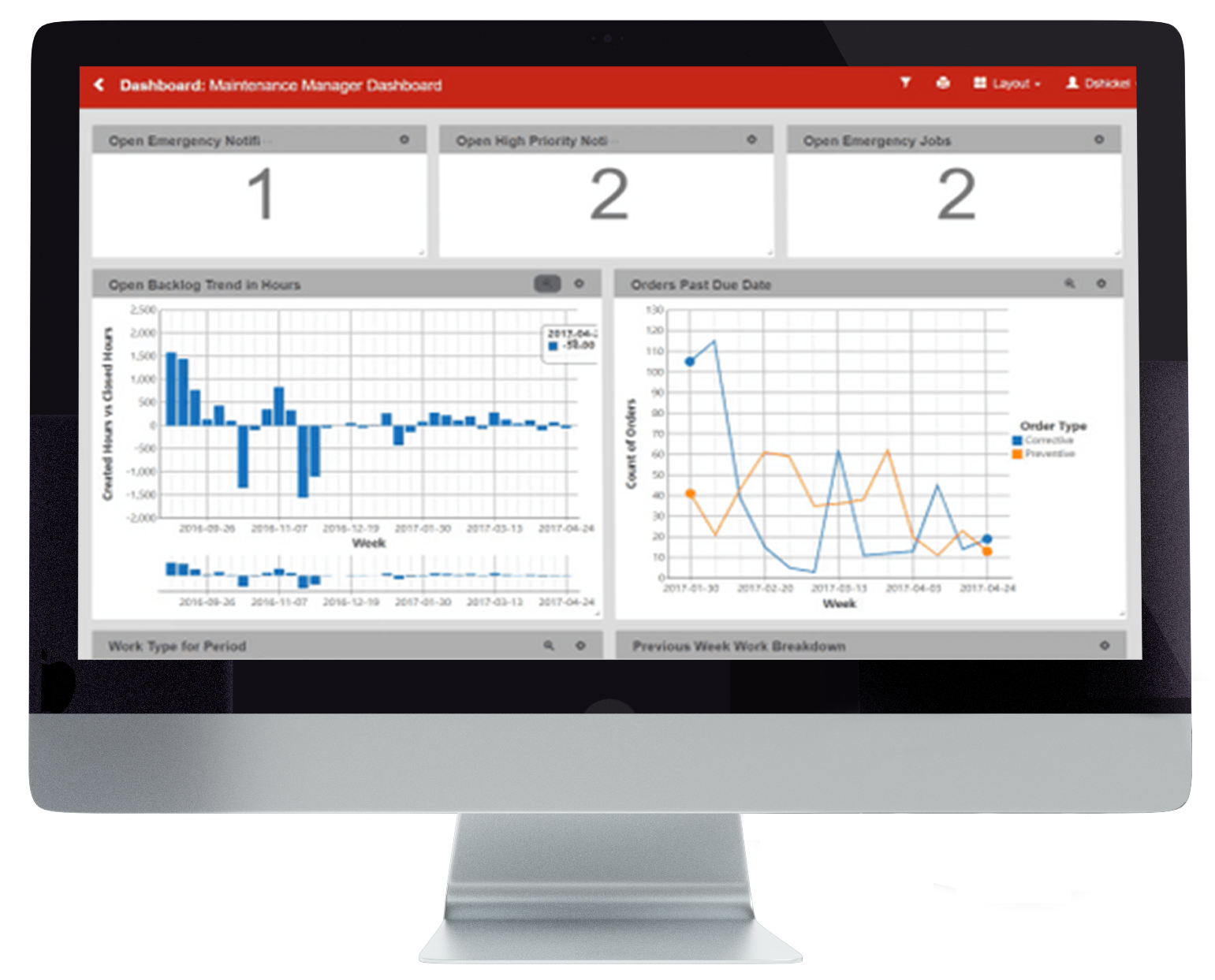 Key Improvement Metrics
Monitor key changes across your organization over weeks, months, or years by tracking core business KPIs for key insights into ways to create a more efficient workflow.
Top 10 Most Used Delay Codes.
Backlog Hours (Total Backlog, Ready to Schedule, by Order Type, etc.).
Open Backlog Trend in Hours or Weeks.
Contractor and External Services Costs vs. Budget.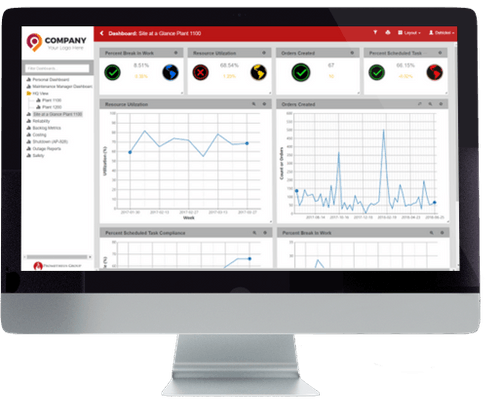 Reliability Metrics
Industry standard reliability metrics to minimize equipment failures and maximize availability.
Mean Time to Failure.
Mean Time to Repair.
Mean Time Between Failures.
Top 10 Bad Actors.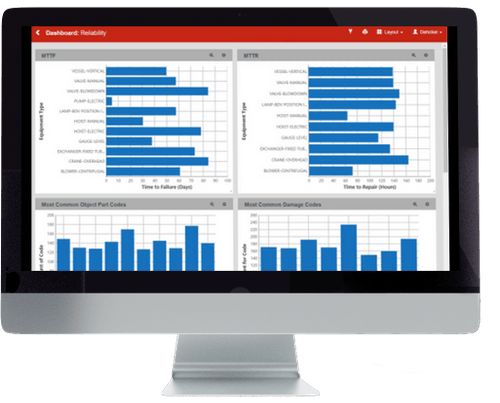 Master Data Management
Gain actionable insights about your master data with Master Data-as-a-Service (MDaaS).
Duplicate records reports.
Free text spending tracking.
Data cleansing and sustainment.
Progress efficienct reports.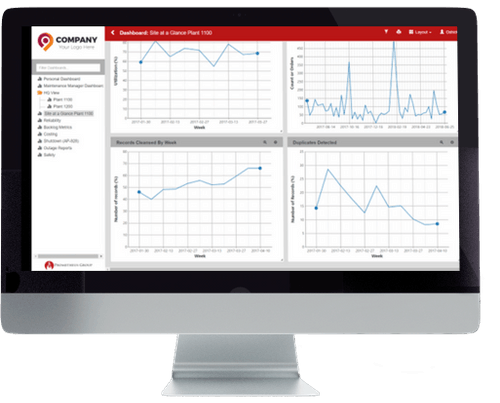 Benefits
Maximize productivity across all teams, improve business outcomes, gain more visibility into individual and team progress, and more with Prometheus Reporting & Analytics.
Provides a full view of progress made or loss throughout the organization
Holistic view of individual, team, and department progress.
Leverage historical data to determine maintenance strategy or goals
Easily prioritize work orders, task, or repairs based on historical data.
Supports intelligent decision-making within teams or crews
Data-driven decision-making helps improve maintenance or operations work outcomes.
List of Customizable Reports
---
Leverage EAM analytic tools to drive intelligent decision-making through the power of data with key performance indicators. We curate metrics based on industry best practices, allowing customers to gain insights into areas they don't have visibility in to.

Tracking and monitoring historical data is a critical part of building future success for any asset-intensive organization. Developing key metrics or key performance indicators (KPIs) to track improvements allows all teams and departments to measure weekly, monthly, and yearly progress and make adjustments to reach desired outcomes. With Prometheus Reporting & Analytics, organizations have access to several out-of-the-box reporting and analytics tools that are configurable to fit the needs of a team or department. Any of these KPIs can be broken down by Plant, Work Center, Planner Group, Priority, Criticality, and more. Organizations can generate reports for key tasks or departments including but not limited to:
Maintenance
Break-in Actual Maintenance Cost
Total Planned Maintenance Costs
Total Actual Maintenance Costs
Total Actual Maintenance Hours
Preventative Planned Maintenance Hours
% of Preventative Maintenance Completed within Tolerance
Total Backlog Hours
Corrective Actual Maintenance Hours
Work Orders
Open Emergency
Notifications
Open Emergency Work Orders
Resource Utilization
Operation Start Compliance
Average Work Order Cycle Time
Schedule Compliance Hours
Work Order Schedule Compliance
Work Order Priority Distribution
Reliability
Mean Time Between Failures (MTBF)
Mean Time to Repair or Replace (MTTR)
Mean Time to Failure (MTTF)
Mean Time Between Maintenance (MTBM)
Count of Most Common Damage Codes
Count of Most Common Cause Codes
Permitting & Safety
Number of permit violations observed during local PTW Audits Permit to Work
Number of PTW reviews per week by asset managers/asset Permit to Work
Lost Work Day Case Rates
Number of safety work orders submitted
Frequency with which preventive equipment maintenance tasks are initiated and completed on schedule
Percentage of incident investigations that include a root cause investigation
Percentage of daily/weekly/
monthly inspections completed
Percentage of inspections that include a follow-up inspection to ensure that the hazard has been controlled
STO
Prior vs. Estimated (labor costs, labor hours, material costs)
Daily vs. Weekly (task completions, projected labor hours spent, QA/QC approvals)
Scheduling progress
Number of activities added to scope
Hours elapsed vs. amount of work that's been completed
% of work packages completed
% of materials on site and accounted for
Integrations
---
ERP, EAM, CMMS, and EHS Systems

Reporting & Analytics integrate with asset management data sources including SAP, Oracle, IBM Maximo, ABB, MS Projects, Excel, Reporting/BI Systems, Custom Applications and more.