Maxavera is an integration software solution that communicates and connects multiple systems. It transfers all necessary information such as work orders, operation/task lists, work center, personnel, and equipment details, and past and active permits, between systems so that all workers, teams, and departments are working with the same data. Maxavera has preconfigured integration packs for common integrations, but has the flexibility to integrate nearly all EAM software, including in-house built solutions.
Dashboard
View a dashboard of recent integration jobs, showing jobs performed by individual users or all users. Maxavera allows end users to easily run integration jobs without needing IT's assistance. Easily access information such as:
When was the job executed?
Who ran the job?
Did the job run successfully or "error out"?
What parameters were used in the integration scenario?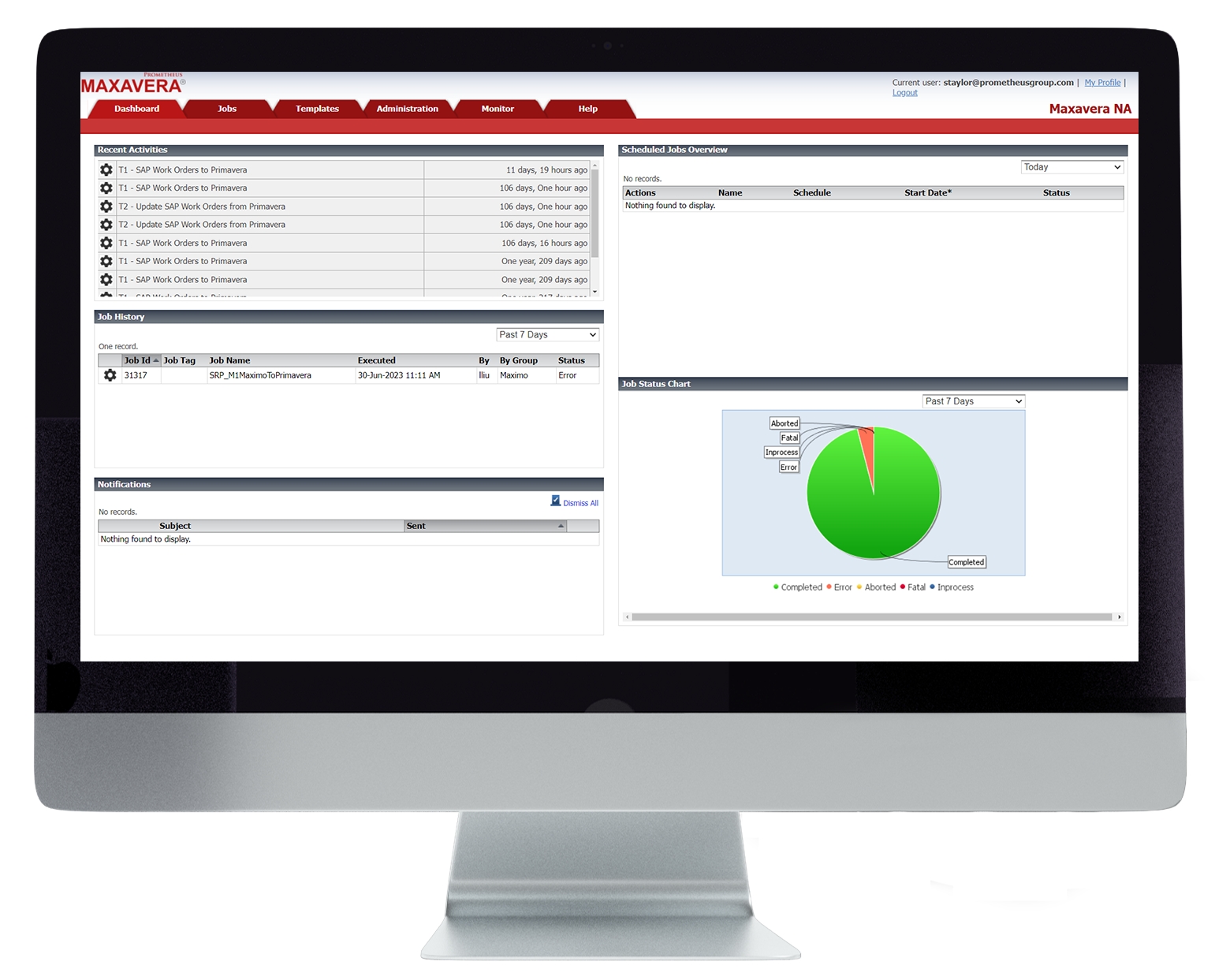 Job History
Access a job history report within Maxavera that allows you to identify successful and failed jobs and Filter by date range, user, group, and more to view curated details on integration jobs like:
Job status.
Job name.
Start date.
Finish date.
User.
Group.
Source.
Target.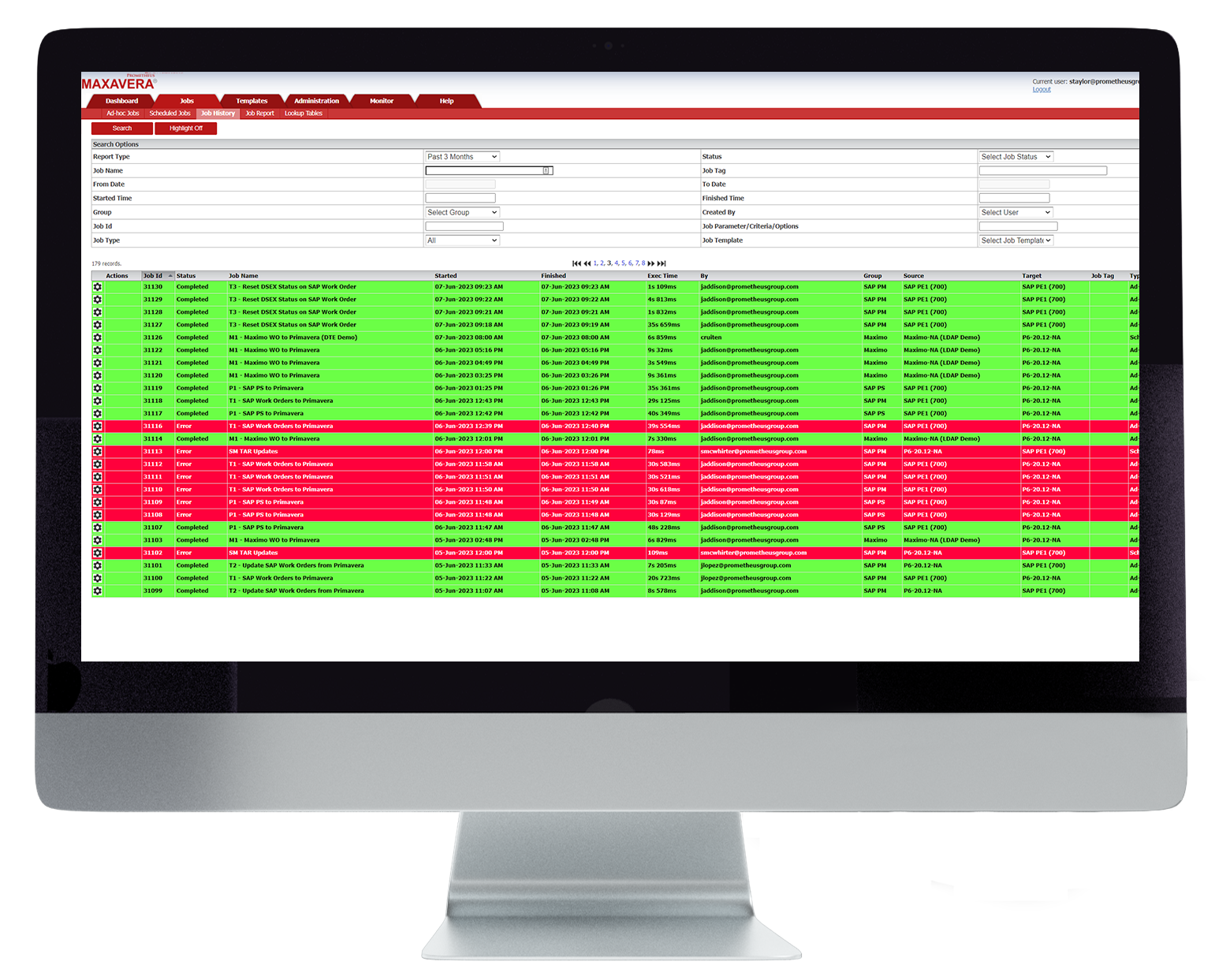 Lookup Tables
Set destinations from ERP fields to activity codes within Primavera to ensure data makes its way into P6. Add new columns in Maxavera lookup tables and select items like:
Work Order Number.
Equipment Tag.
Functional Location.
System Status.
User Status.
Asset Information.
And much more.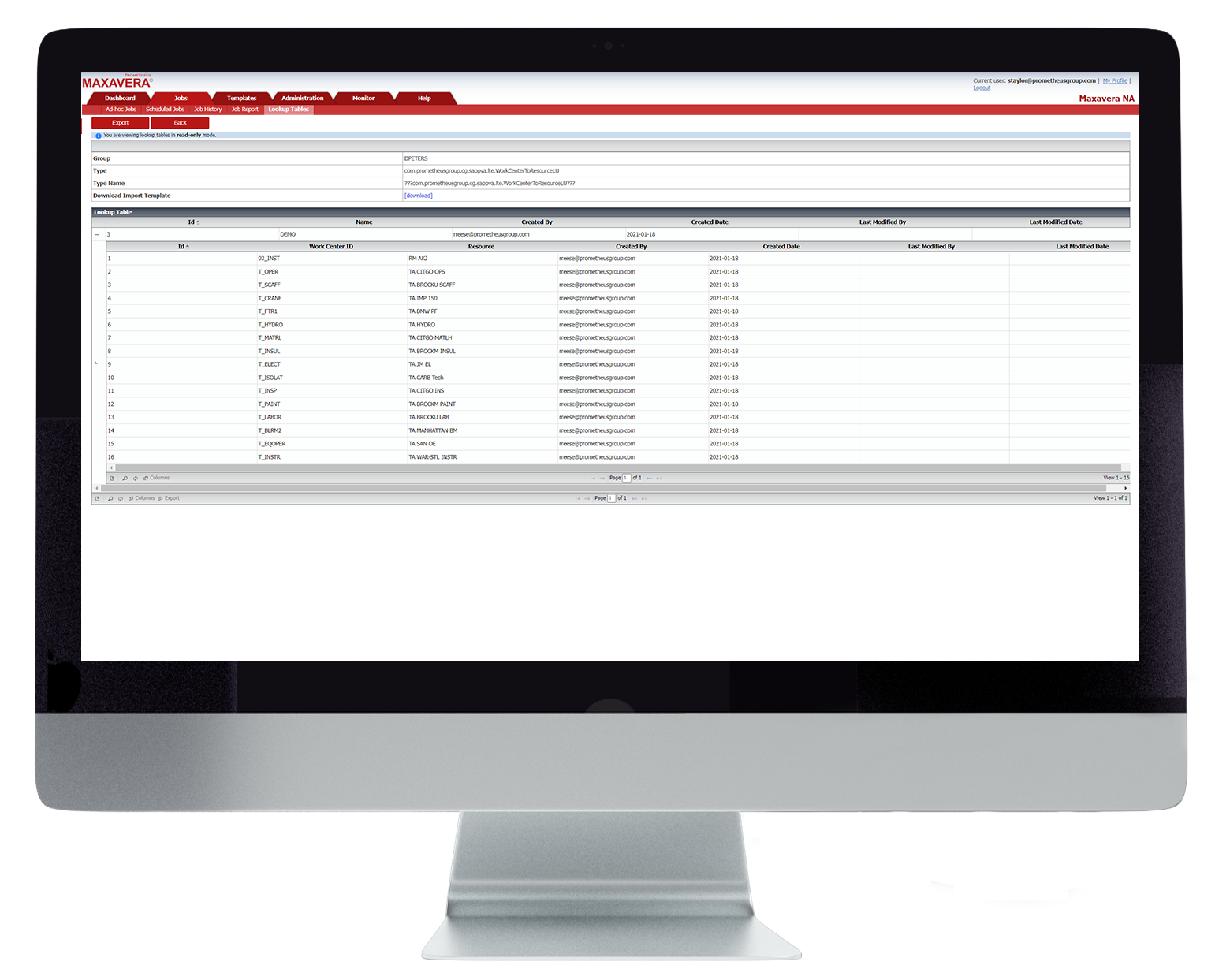 Scheduled Jobs
Schedule integration jobs to suit your STO event needs. Set up emails to alert integration job owners about any warnings or errors for jobs to allow for timely troubleshooting. Schedule jobs:
To run frequently (10, 15, 20 minutes).

To run during slower periods (2 or 3am).

To occur at less frequent cadence (weekly or monthly).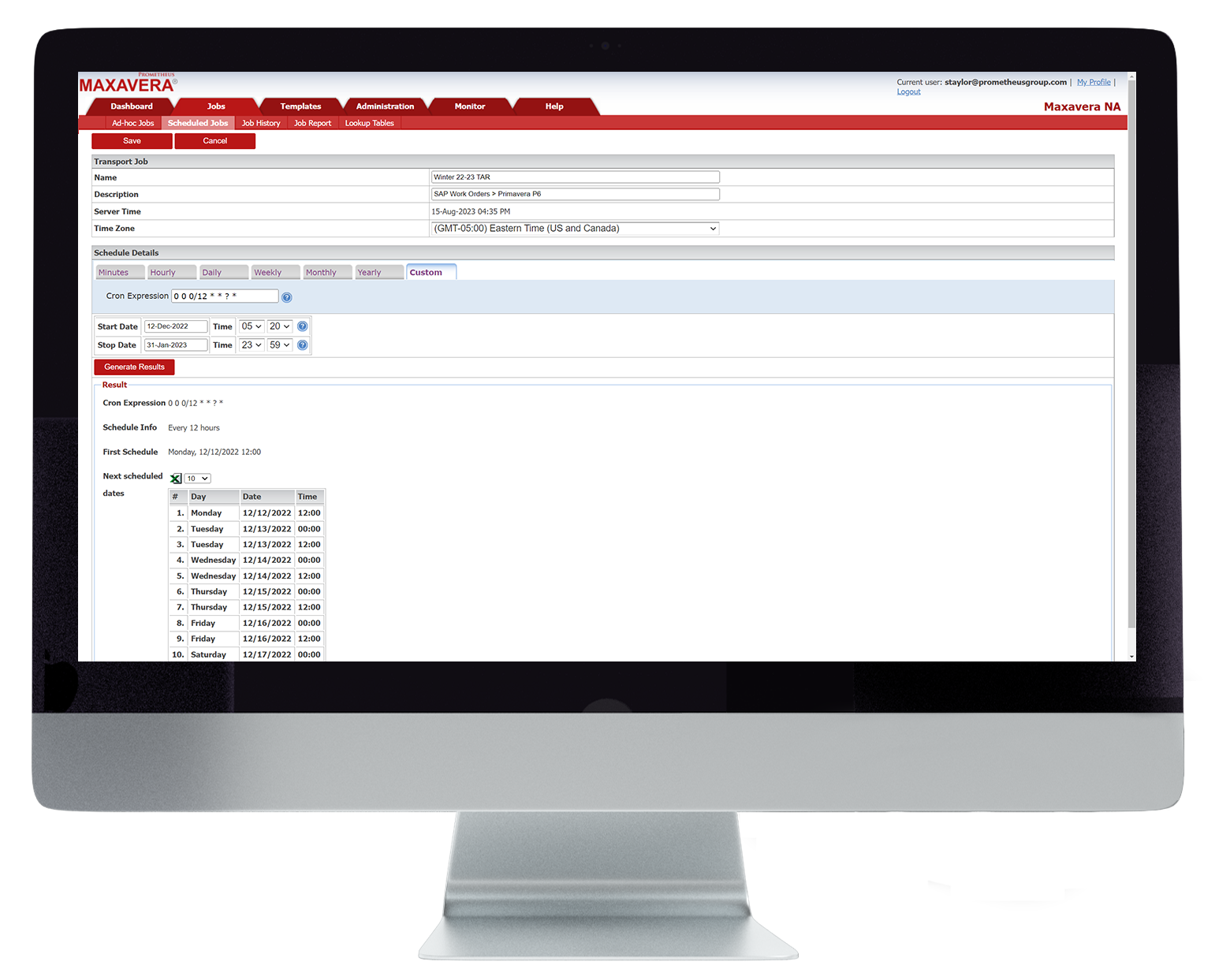 Integration Packages
The Maxavera solution provides integration between common STO management solutions to help you reduce the amount of time and manpower it takes to transfer critical STO event information from one system to another.
Integrations between P6 and common SAP solutions like SAP PS / Project Controls; SAP PS/OM BTO; SAP PM / TAR/Outage, SAP PM / Routine Maintenance; SAP PM / Prev. Forecast.
Integrations between P6 and Oracle systems such as Oracle eBS / Projects; Oracle eAM / TAR/Outage; Oracle eAM / Routine Maintenance.
Integrations between Maximo solutions like Maximo / TAR/Outage; Maximo / Routine Maint; Maximo / Prev. Forecast.
Integrations between Microsoft solutions such as Microsoft Project and Microsoft Excel.
P6 <> AssetSuite / RM, TAR.
P6 <> PeopleSoft / Cap Projects.
P6 <> JDE / Cap Projects.
P6 <> Infor / Maintenance.
Contractor Integration.
P6 <> Analytics Datamart.
P6 <> eSOMS.
P6 <> P6.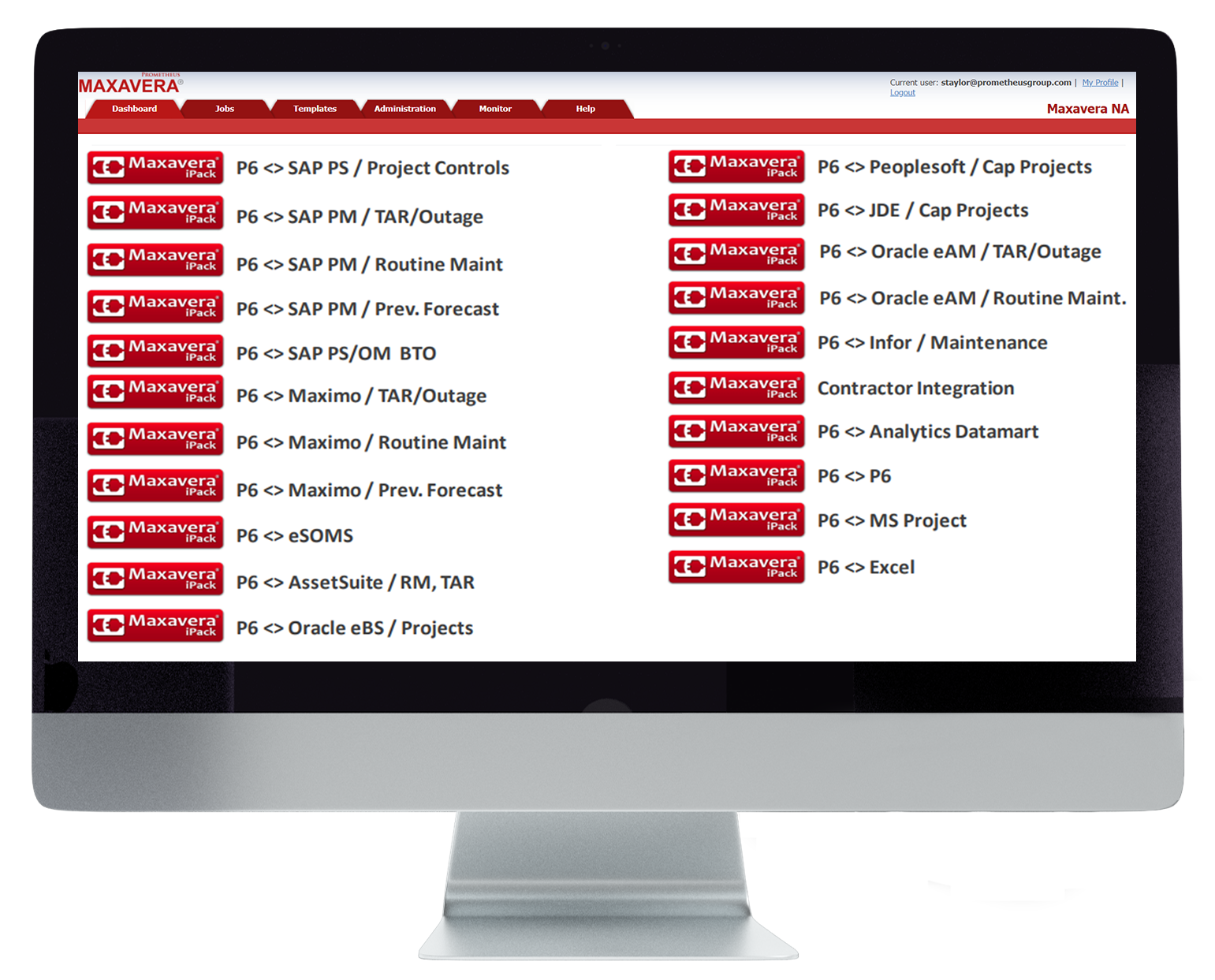 Mapping for SAP
Easily set up integrations from your SAP system into P6 throughout your STO event to ensure that information matches between the systems. Specify integration details like:
Work Order mapping to WBS elements and/or summary activities.
Mapping relationships from the work order in IW32.
Date processing settings for new and existing activities.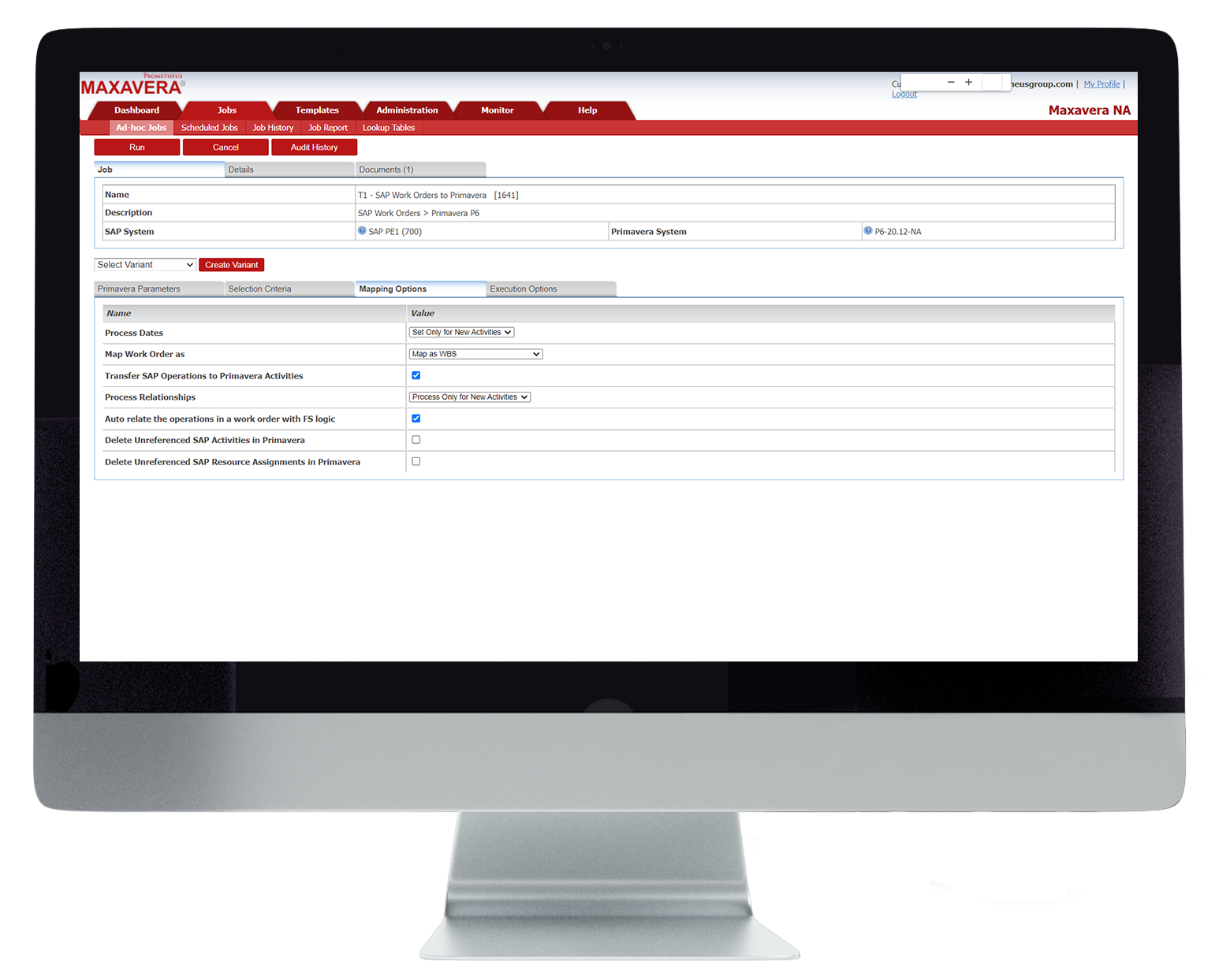 Maximo to P6
Create integrations from your Maximo system to Primavera throughout your STO project to keep data up to date between your ERP and project system. Select integration specifications such as:
Work Order Mapping behavior.
Activity Mapping behavior.
Relationships between Maximo Tools, Services, Labor, and Materials, to P6 Resources.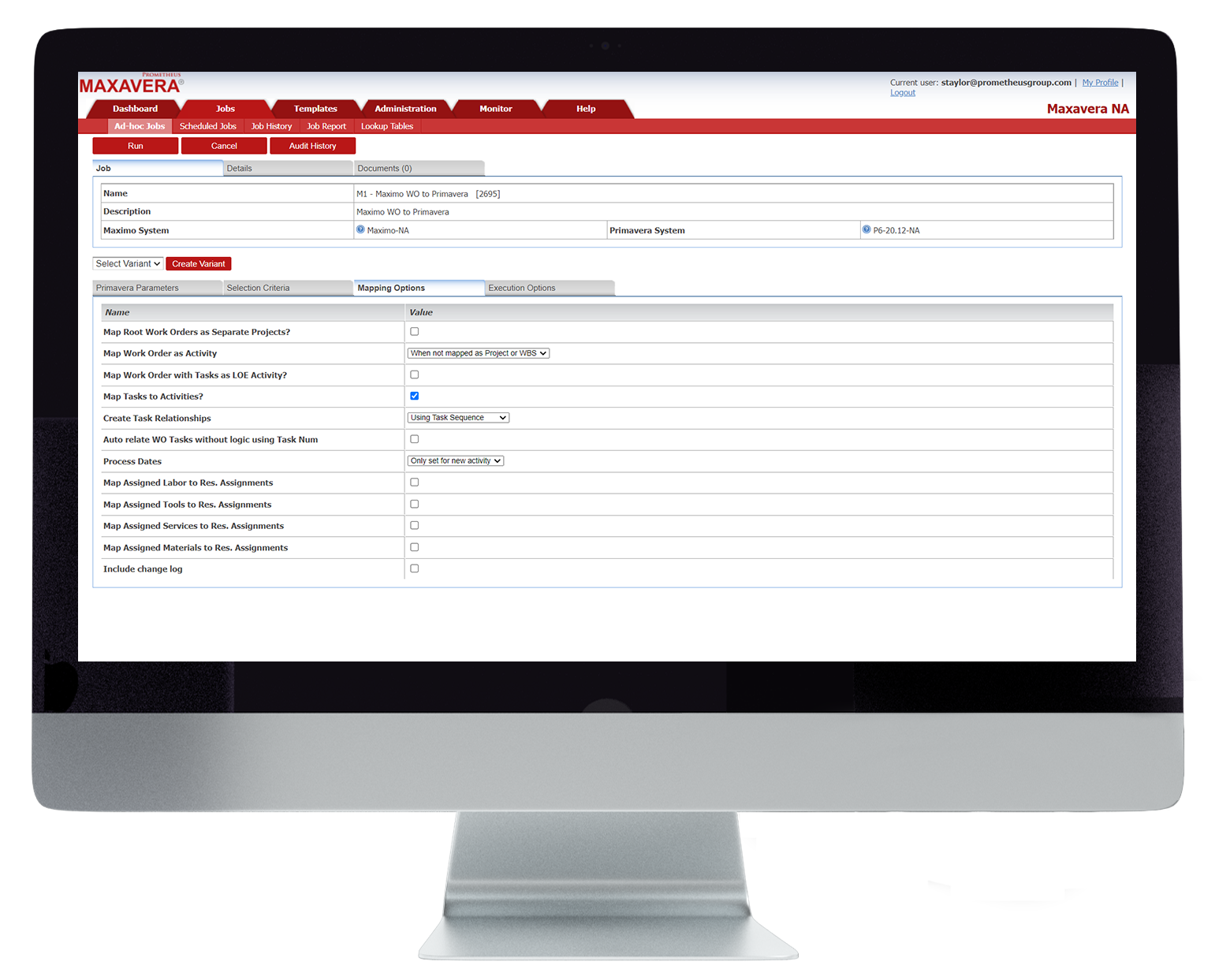 Benefits
Seamless Integration of Multiple Systems
Intelligent integration hub that supports seamless communication for planning, scheduling, work management systems, processes, and financial information. Complete Process Automation
A first-rate solution that simplifies and automates your scheduling process to support your operations and maintenance workflows and large projects such as a STO event. Avoid Data Duplication
Increase data accuracy by eliminating duplicate manual data entry; all transferred data is synced with all other systems integrated with Maxavera. Quick Access to All Transferred Data
Fast data transfer speeds using proprietary technology provides quick access to information held in multiple systems.

Maxavera Connector Studio
All integration solutions leverage the Maxavera Connector Studio (MCS) product when transferring data in and out of databases. MCS is one of the most reliable integration technologies in the industry and is continuously updated to stay compatible with new software releases.

Eliminates Information Silos Across Teams
Access to data across multiple systems allows any and all teams working on an STO to easily view the same data, lessening the chance of miscommunication.

Enterprise Ready
Solves common challenges faced in data-intensive integration projects; provides a singular view into job status, scheduling, and logging.

Performance Optimized
Designed for optimal performance so data is transferred in minutes, not requiring scheduled overnight jobs. Engineered specifically to perform the types of data transfer required by our customers.

Easy To Adopt
End-users don't need to think about how or when data transfer occurs, they simply rely on the systems they already know to remain up to date. CMMS Alignment
Align PMs with other maintenance requiring downtime to maximize maintenance when equipment shutdowns occur at a reduced frequency.
REQUEST A DEMO
We look forward to learning about your asset management needs and opportunities, simply fill out the form below to schedule a personalized demo.
Featured Customers
Join 50,000+ Users Across the Globe in Achieving Maintenance Excellence