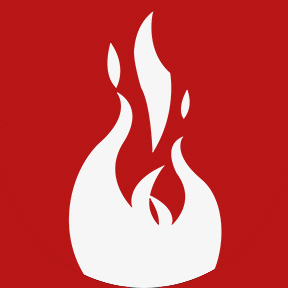 Author: Prometheus Group
CATEGORY:
Maintenance & Reliability
August 09, 2022
Resolve Challenges Faced by Enterprise Maintenance Management Teams
How robust is your maintenance scheduling process? Are your tools up to the job? Or is there room for improvement to help you increase efficiencies?
An oil and gas customer of ours has all employees and contractors working in IBM Maximo. When they began the onboarding process with Prometheus this equated to 70-plus unique crafts across the workforce and labor contracts.
When they started the implementation process, though, the company determined that they wanted every craft—be it a contractor, apprentice, employee or foreman—to roll into one craft to more easily schedule their work.
At the recent User Group event in Denver, Colorado, representatives from this company explained how they were able to simplify the process with a capability that provides.
Prior to implementing Prometheus, another customer performed all their scheduling in an Excel spreadsheet, where they used conditional formatting to color-code each work order row based on 12 to 15 different conditions (e.g. Is a permit required? Is it an emergency WO? Is it a PM record?).
However, their needs began to surpass the popular spreadsheet program. This customer was looking for a way to implement a system that supported their color-coding process to ensure a smooth transition for their users.
These are just a few of the challenges faced by enterprise maintenance management teams across the world. Although companies can share similarities through services offered or standard procedures, each one is unique and their challenges can't be easily solved by cookie-cutter approaches.
Before I describe how the above problems were resolved, I'd like to focus on how efficient planning and scheduling is a vital part of maintenance excellence. My colleague likes to underscore the fact that most companies are only running at 35% wrench time (time spent on productive work).
This is why we were fortunate to have the User Group keynote presentation delivered by Jeff Shiver, CEO and co-founder of People and Processes. His vast experience in resolving challenges faced by enterprise maintenance management teams set the stage for how Prometheus is used to resolve similar challenges.
A vision of maintenance success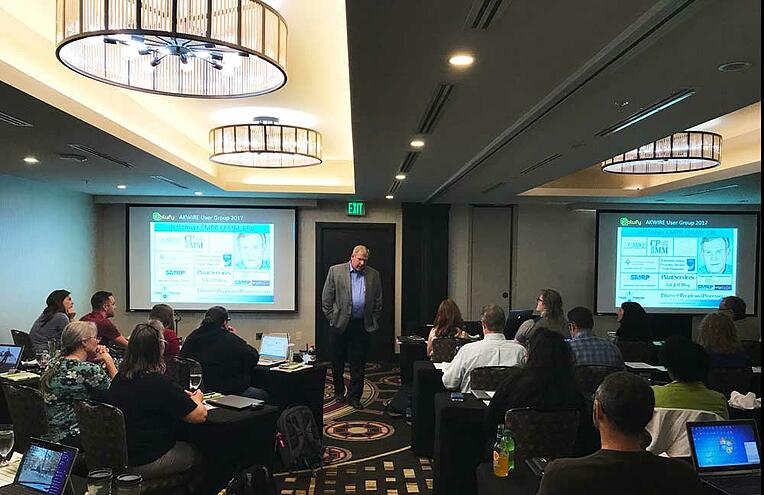 Jeff Shiver delivers his Keynote to a rapt audience at the User Group in Denver, Colorado
We felt Jeff would be a valuable contributor to the User Group because both people and processes are his passion. With a career that had its genesis as a maintenance technician, he also worked as a controller overseer to a maintenance manager and then an operations manager. Through these positions, he became motivated to help change work behaviors and standardize maintenance processes to reduce downtime costs.
Jeff did an excellent job relating his material on reliability and best practices extremely well to the audience in his keynote speech, 'Driving Success with Planning and Scheduling'.
I asked a couple team members about their impressions regarding Jeff's tips on effective planning and scheduling and how it fits into the big picture. Keith Schramm, Senior Business Development & Client Services summed it up by saying, "There was a lot of education there by the speaker. He opened a kind of vision so that we could start working toward that vision."
Beyond the valuable information Jeff provided, he went above and beyond to encourage questions. In his experience, Jeff said, some people are willing and open to asking questions, while others are not as comfortable putting their questions 'out there', so to speak. To that end, he handed out pieces of paper and suggested that questions could be submitted anonymously.
Jeff also urged people to ask as many questions as they had. I think it's safe to estimate that there were between 50 and 60 questions, and they were posed in a nice, comfortable setting.
Light bulb moments to simplify enterprise maintenance scheduling
So, let's talk solutions. Remember that oil and gas company I mentioned at the beginning? With Prometheus' configurable labor data selection query, they were able to work with the Prometheus team to change the "normal" way a laborer's craft is displayed to accomplish the desired craft consolidation. In contrast, had they made these changes in Maximo, it would likely have taken weeks, if not months, to accomplish.
The time savings of changing one configurable query, which probably took an hour or so through Prometheus, was huge for them.
And with the other client I mentioned in the beginning of this post, we configured Prometheus to replicate every color-coded condition. By duplicating the color-coded methods that they had used for so many years, this client reported that it was easier for users to transition to the new tool.
The configuration potential of the Prometheus Routine Maintenance is definitely surprising to a lot of people, but it is a benefit that customers acknowledge and share with us all the time.
Beyond those, and other valuable customer presentations at the User Group event, there were several trainings led by Prometheus Group team members. For example, Keith held a training session on SQL for beginners. "It was great to work with these people and see the light bulbs come on," he said. "SQL is not just a conduit to connect Maximo and Prometheus, but it opens the door to opportunities that might not be intuitive."
With the company for almost a year now, Tracy Huynh, Solutions Architect at prometheus Group, also conducted a few training sessions for customers. "It was terrific to get a lot of positive feedback," she said when I asked her how things went at the end of the event.
Solutions go both ways. Training the trainer
And you know what? Even though several team members were conducting trainings, we were learning at the same time. Boy, were we learning!
For example, during one of the conference sessions, we showed users how to freeze columns, thinking that this was a capability our customers could benefit from. It's fairly simple to do but it has a big impact. When we showed how to do this, the response was phenomenal—practically a standing ovation.
"It was really funny," Tracy explained. "Of all the things we have, that is really a more low-level feature. But it is something that will obviously help our customers."
One consistent suggestion we received from our surveys was to put the training portion on the first day of the UG, to help new customers familiarize themselves with the Prometheus platform, versus holding this training at the end of the three-day event.
Because we hold these User Groups for all customers—and even people who are not customers but want to learn more about our product—this is something we are considering for our next gathering. For example, in the first two days, we brought back the wildly-popular Jeopardy-like version of Prometheus, but realized it was an uneven playing field, since new customers didn't receive training until the final day.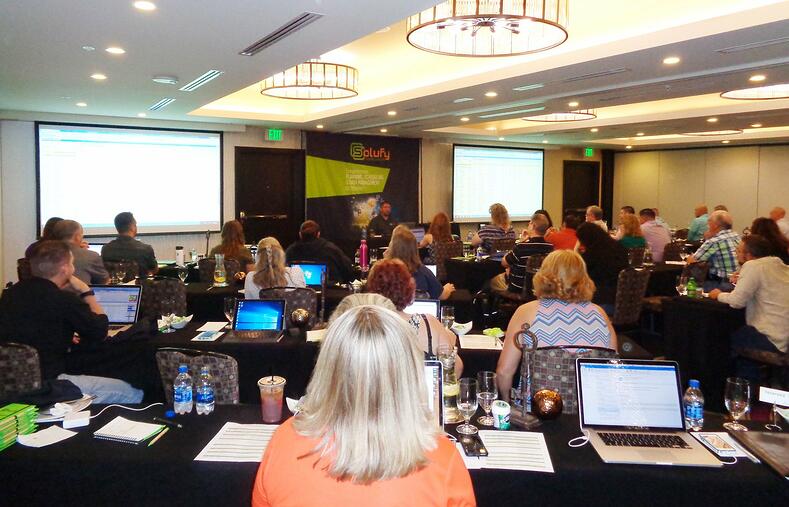 Encore? You bet!
Another question we posed to the group was how often we should schedule the UG, not knowing if an annual event was overkill, or if we should bump things back to every other year. The vast majority of Prometheus clients responded with an emphatic "every year" vote, with one person suggesting every six months.
Personally, I'm glad that there was so much support for keeping this an annual event. We are so fortunate that we can interact with customers remotely, but there is something magical that takes place when you can meet each other in person.
"I love to put a face and a personality with a name," Keith summed up. "It flavors the relationship when you have a meal together and take selfies together.
"It's great to hang out with our customers, but it's also rewarding knowing that I'm transferring a solution, and I'm making a difference."
An event such as this is a great demonstration of how involved we are with our clients. For instance, as we were preparing for the User Group, it was interesting to realize just how intimately we work with people. We were aware of who had dietary restrictions and knew which customers have children that they were going home to.
I think that personal relationship that we start to develop with our customers sets us apart from other organizations.
Those three days in Denver with our clients were both memorable and inspiring. At Prometheus, we welcome and encourage feedback so we can keep making the Prometheus product the best tool possible for our users, and this was a fantastic forum to both teach and learn at the same time.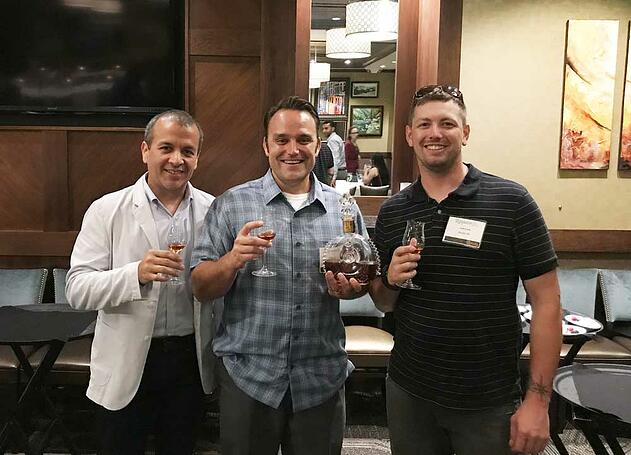 (L-R) Elliot Bonilla, Matt Wagner, Kyle Cook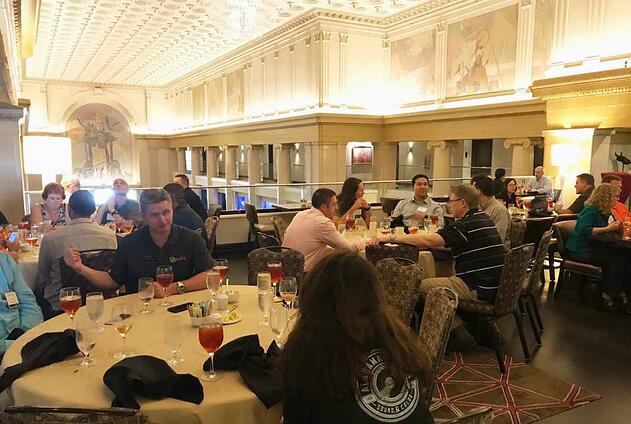 The Renaissance Denver Downtown City Center provided an amazing ambience for the event