Doc-Console is a Co-Console extension that integrates with your document management system (DMS) to allow you to load design drawings and add additional construction/commissioning data such as sub-system scoping and test packaging data. The system also scrapes documents for tag data and highlights differences in drawing versions. Utilize Doc-Console to markup drawings, compare documents, verify tags, and incorporate changes. Use built-in re-visioning to seamlessly manage complex scope, such as sub-systemization or piping test packaging, making document management seamless and more effective.
Verify Scope
Utilize a site automation tool that naturally fits in the work processes carried out at your site today.
Use the electronic scope check feature to ensure your engineering data is in line with the drawings in the document server.
Increase quality and remove cumbersome manual markup processes with scope check.
Easily export and send discrepancies of tags on drawings to engineering for correction.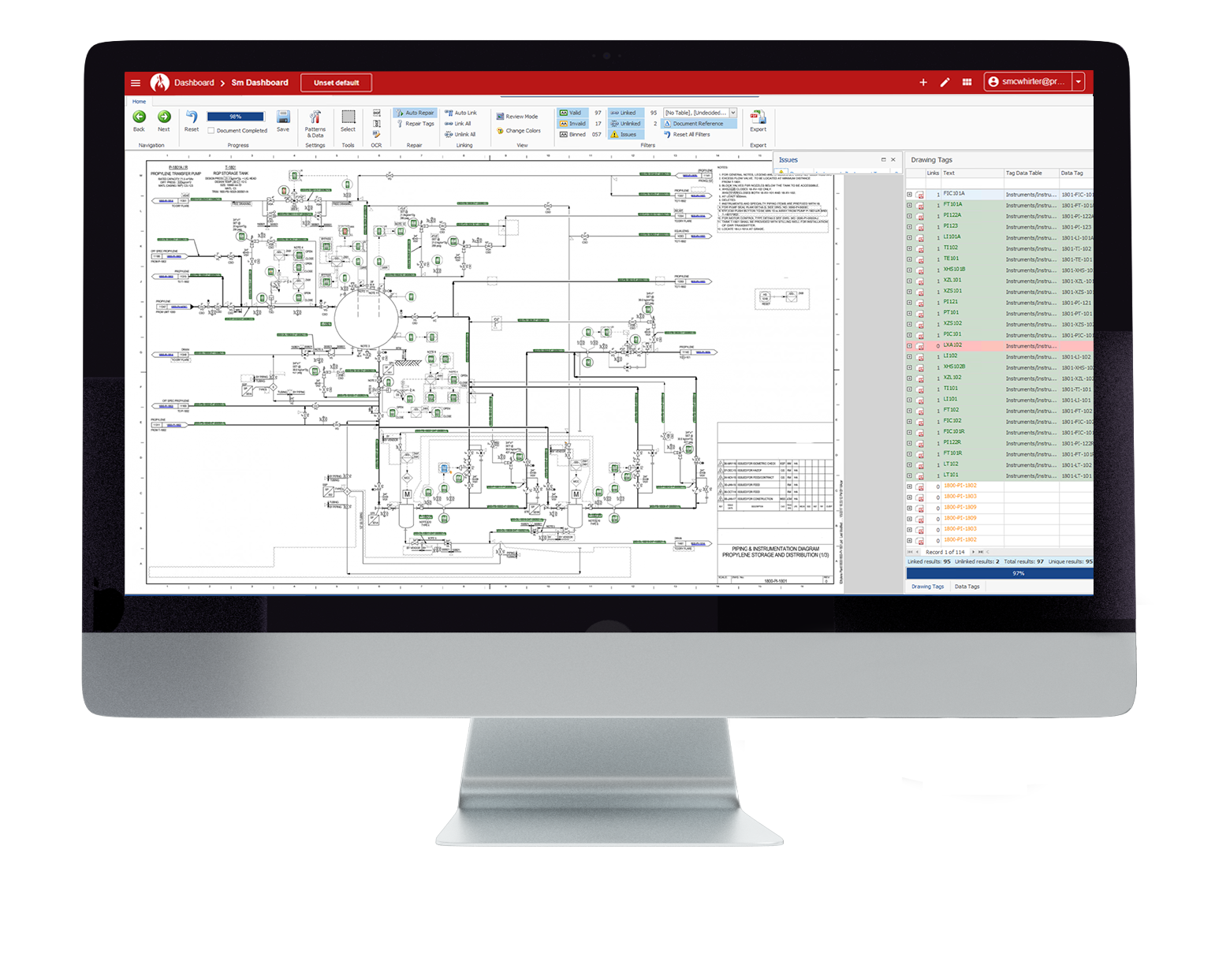 Tag Relationships
Create and maintain tag/ sub-system relations easily directly within Doc-Console.
Mark up P&IDs in Doc-Console and create tag/ sub-system relations automatically.
Cables, IO's, and other relevant details are automatically linked via parent/ child relationships.
Revise commissioning system boundaries gain access to drawing revisions and Delta control.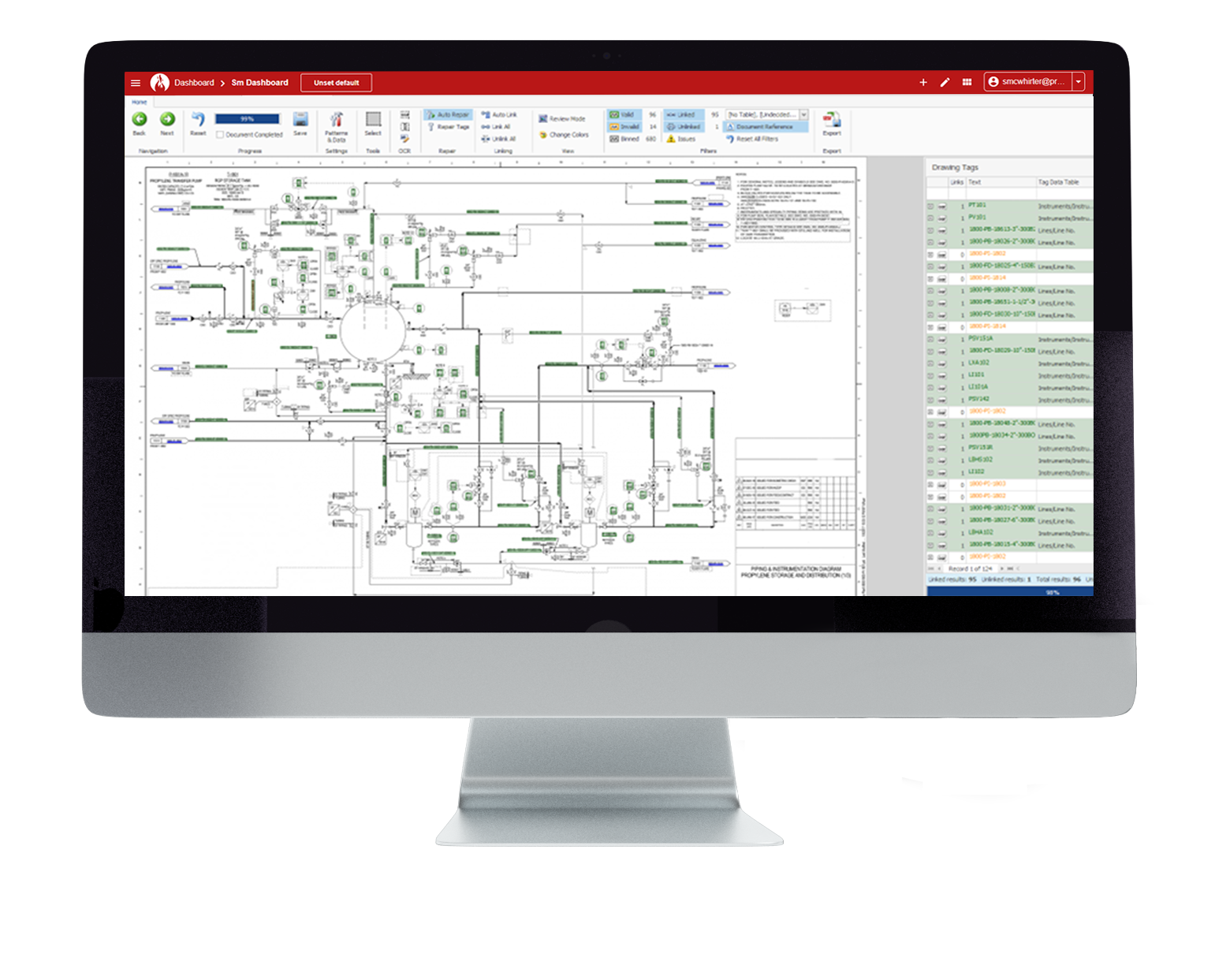 Print Packages
Manage and package documents for print with an electronic dossier that automatically formats and organizes your package.
Viewers can easily use bookmarks to tab through turnover documents.
Gather items like component lists, punch items, MC sheets, drawings, and more in your print packages.
View scopes and red lines of document.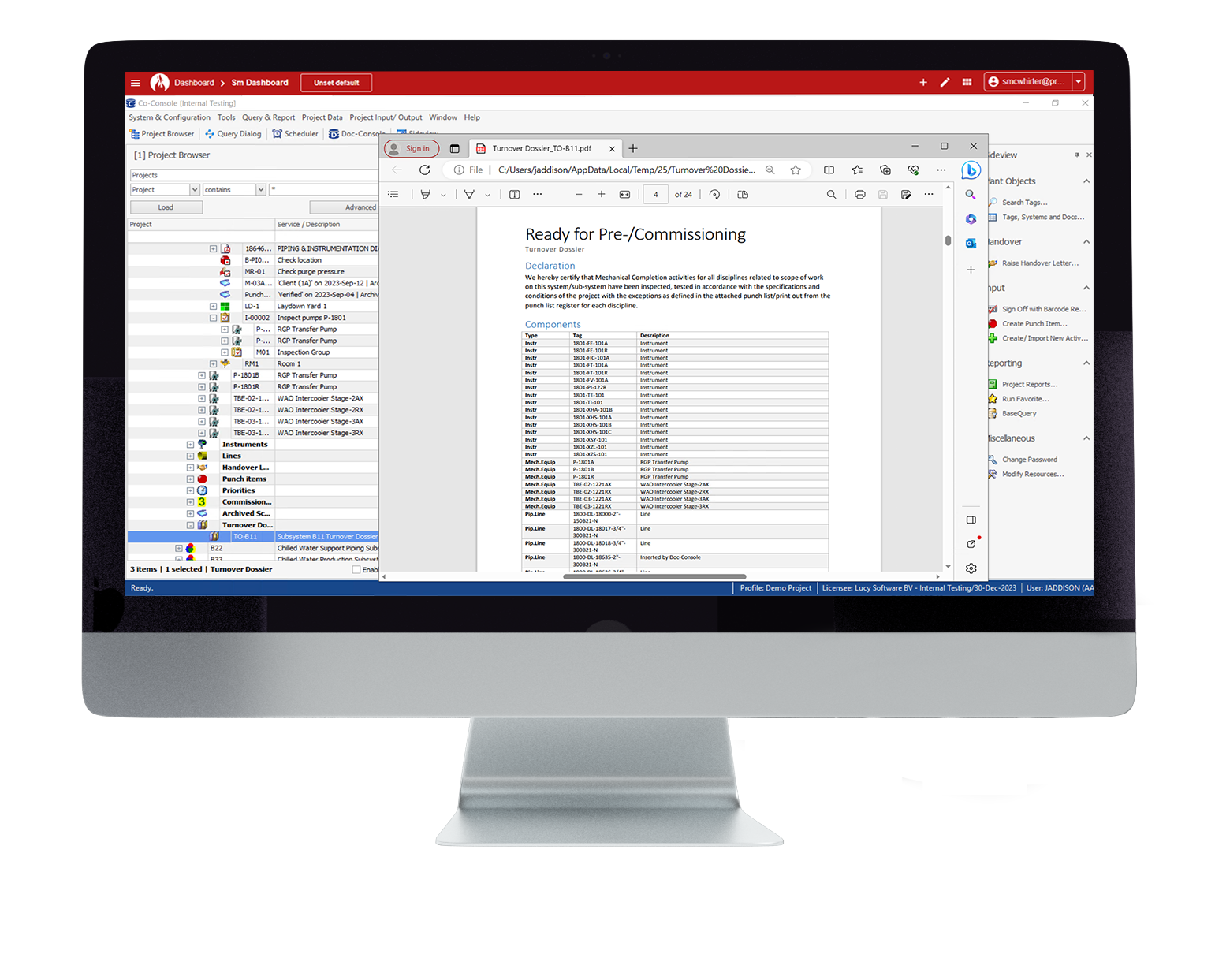 Manage Documents
Doc-Console integrates design documents in existing document servers with tag numbers in Co-Console.
View, print, and analyze available and required documents based on construction, commissioning, and start-up requirements.
Manage any document, from P&IDs, Loop diagrams, Single lines, Isometrics, Datasheets, and more.
Easily access the latest drawings for efficient use at your site.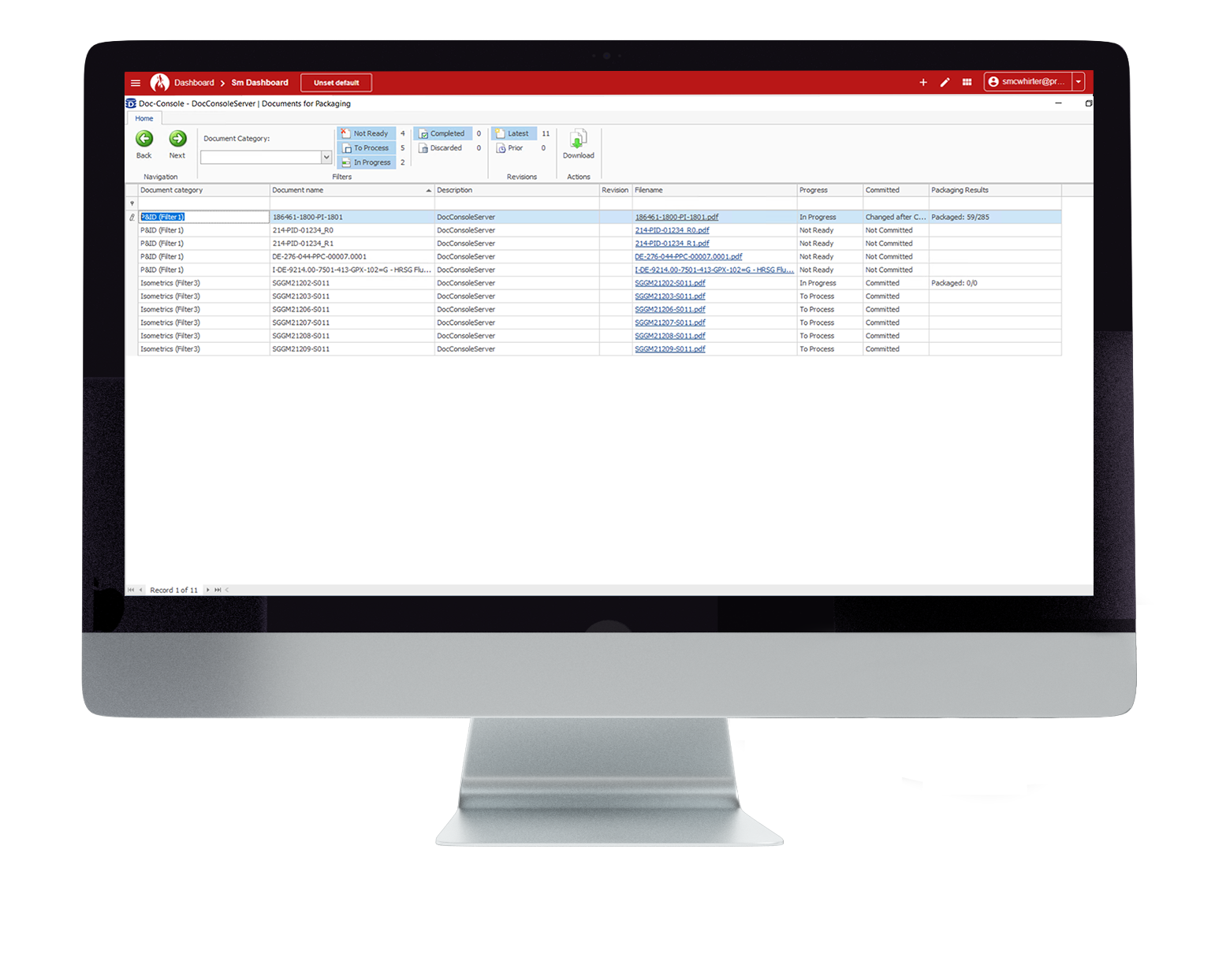 Pipe Test Packages
Manage your pipe test packages directly within the Doc-Console system.
Easily include items like piping tests, loop folders, line folders, motor test folders, walk-down packages in your print packages.
Print inspection & test sheets and drawings directly from Co-Console.
Mark up boundaries and automatically associate tags/ assets with the package.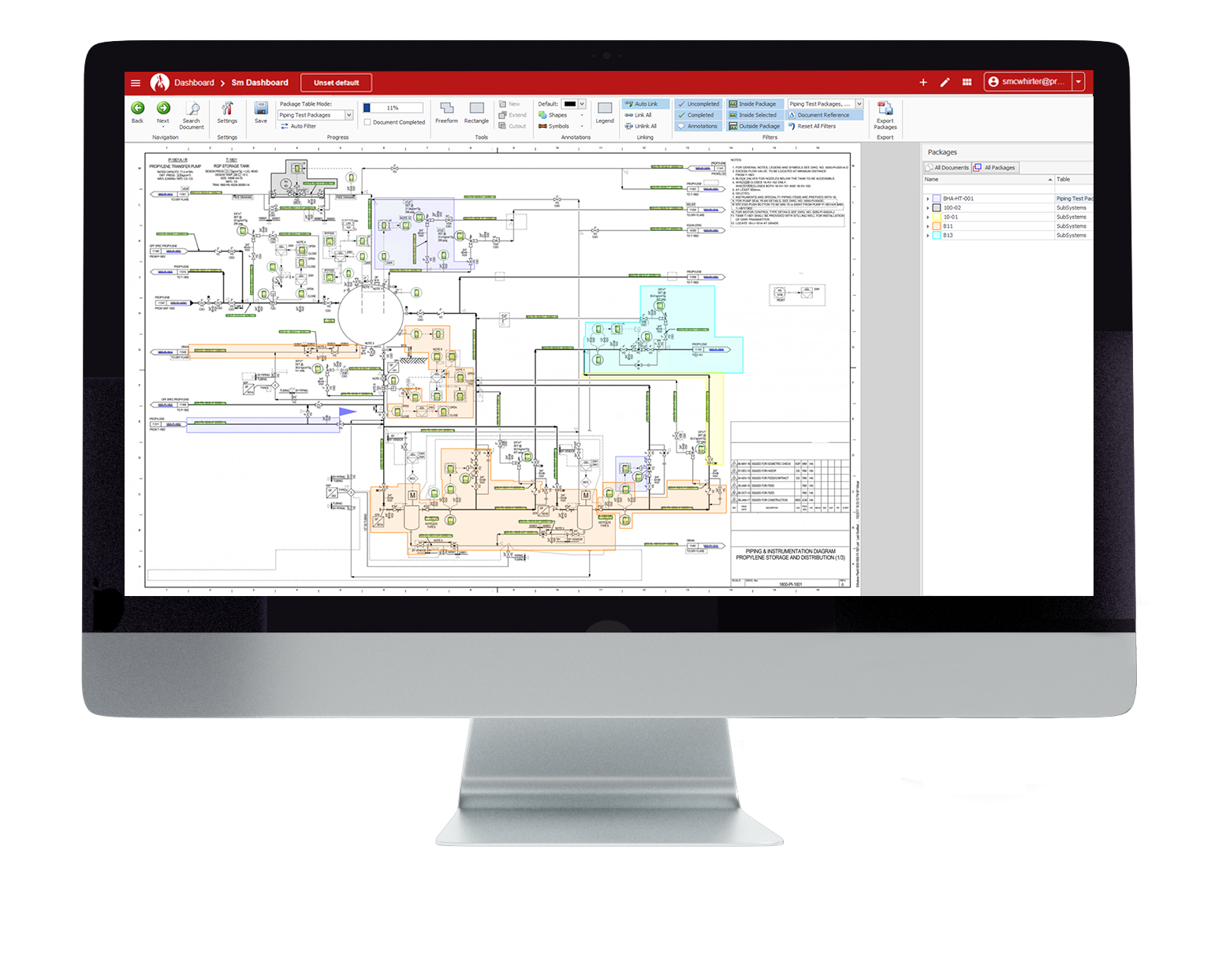 Benefits

Manage commissioning system boundaries at the site easily, with no involvement of home office required.

Manage tag/sub-system relations automatically, driven by commissioning systems on P&ID's. Gain access to revision control on commissioning system boundaries. Make selected drawings available in Co-Console via DMS deep links e.g. P&ID's, single lines, Loop diagrams, Isometrics, and Data Sheets. Create tag-document relations without extra manpower. Find drawings via tag numbers.

Print mechanical completion and commissioning status on drawings.

Electronically verify scope, including revision control; get rid of the yellow highlighter.

Compile inspection and test packages automatically, including inspection and test sheets and latest drawings from your document server to save up to 95% of time.

Create visibility on available documents by tag, sub-system, and milestone.

Create visibility on required documents for FAT, SAT, turnover, commissioning and operations.

Detect revised drawings after inspections.
REQUEST A DEMO
We look forward to learning about your asset management needs and opportunities, simply fill out the form below to schedule a personalized demo.
Featured Customers
Join 50,000+ Users Across the Globe in Achieving Maintenance Excellence