Weld-Console turns welding projects into simple daily instructions and validates and ensures that projects comply with contract and law. A comprehensive solution, serving many project stakeholders to work integrated, efficiently, transparently and with higher quality.

Weld-Console interfaces with engineers and sub-contractors on site as well as shops to maintain project overview and control. Update status of joints, spools, and isometrics to stages such as "ready for hydro" or "pipe complete" to bring them through each step of bolting, welding, examination, and documentation.
Piping Welding
Gain full visibility of your welding projects and day-to-day activities in Weld-Console to increase the efficiency and compliance of your projects. View and update items such as:
Piping joints, bolted connections, and fabrications.
Activities and requirements.
NDE's and PWHT.
Spools.
Pressure tests.
Turnover/Handover systems.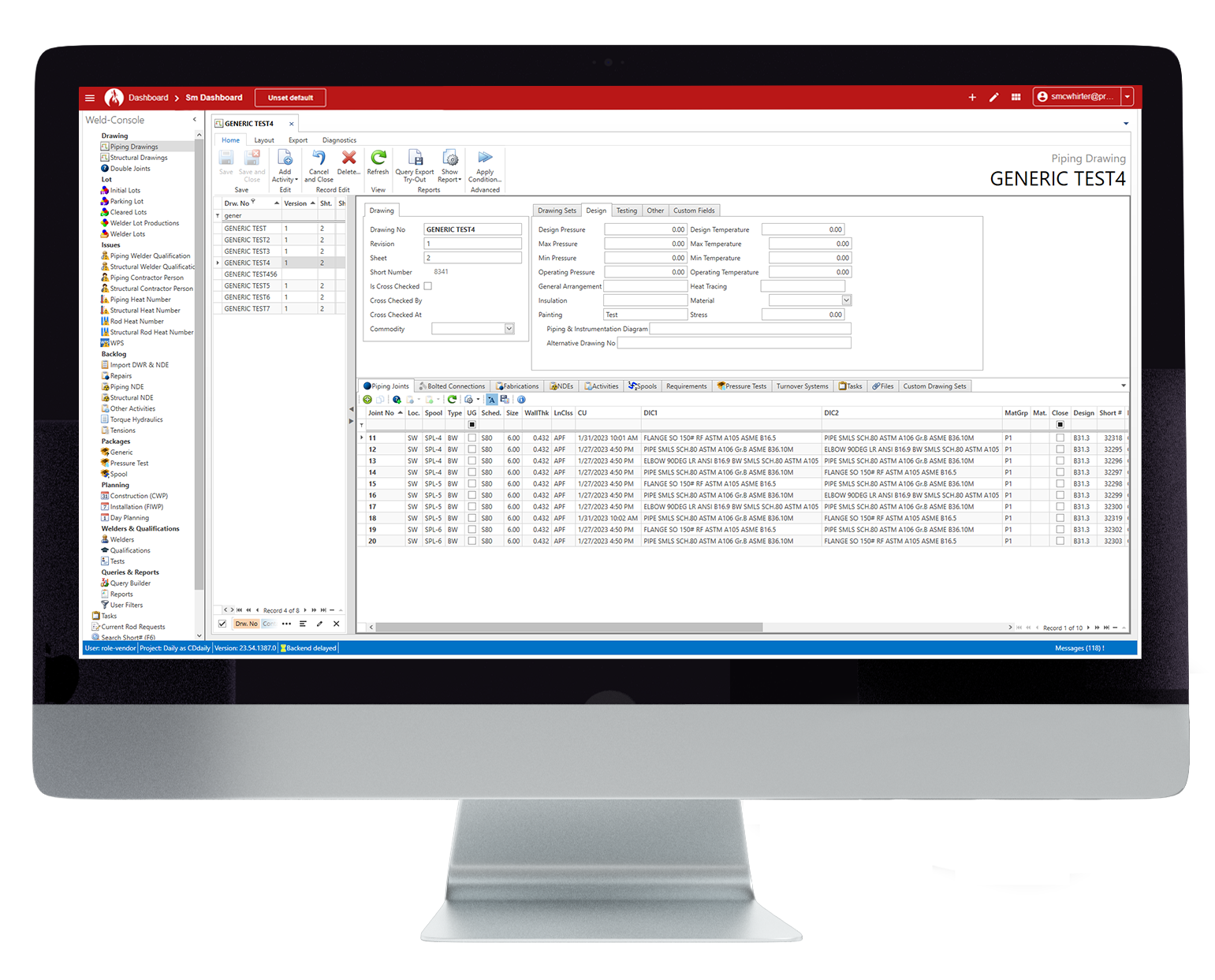 Structural Welding
Easily pull up your structural welding projects to drill down into day-to-day tasks in Weld-Console. Review and edit welding details like:
Structural joints and fabrications.
Activities and requirements.
NDE's and PWHT.
Structural Joinups.
Turnover/Handover systems.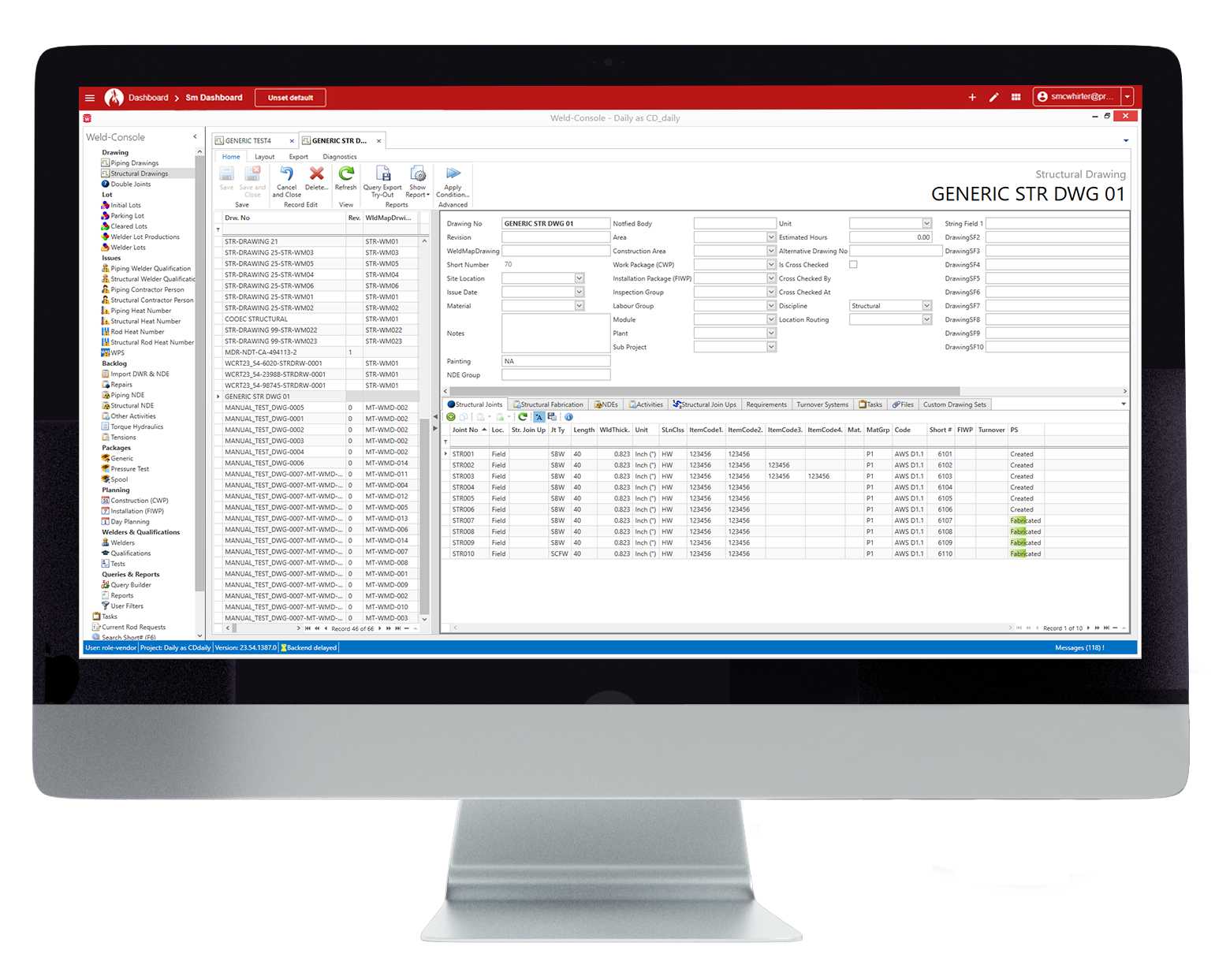 Automatic Assignment
To save costly manhours, the system can assign various demands (based on pre-existing and pre-entered requirements) to ensure execution according to specification and contract, and prevent fail costs. The system allows easy assignment of:
NDE's/PWHT's (Non-Destructive Examinations/ Post Weld Heat Treatment).
WPS's (Weld Procedure Specifications).
Flange Torque/Tensioning values/procedures.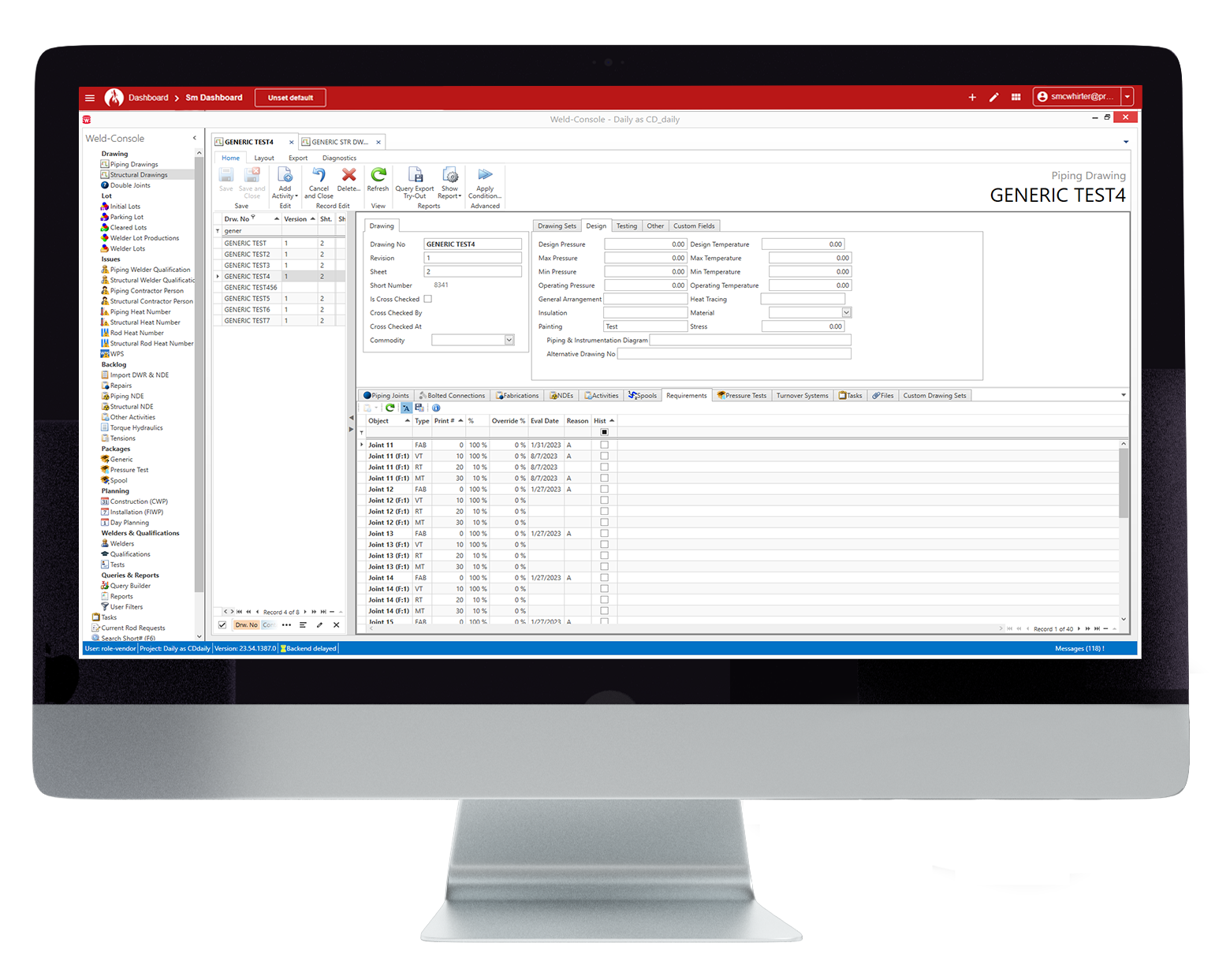 Automatic Validation
While Weld-Console actively tries to prevent mistakes from happening, human errors will still be made. To account for this, Weld-Console will validate every data entry, flag problems immediately, and report the issues to appropriate parties (e.g. the welding engineer for welder qualification or WPS issues). The system enables you to easily and automatically validate entered data like:
Welders/Qualifications.
WPS's (Weld Procedure Specifications).
Heat Numbers.
Personnel Certification.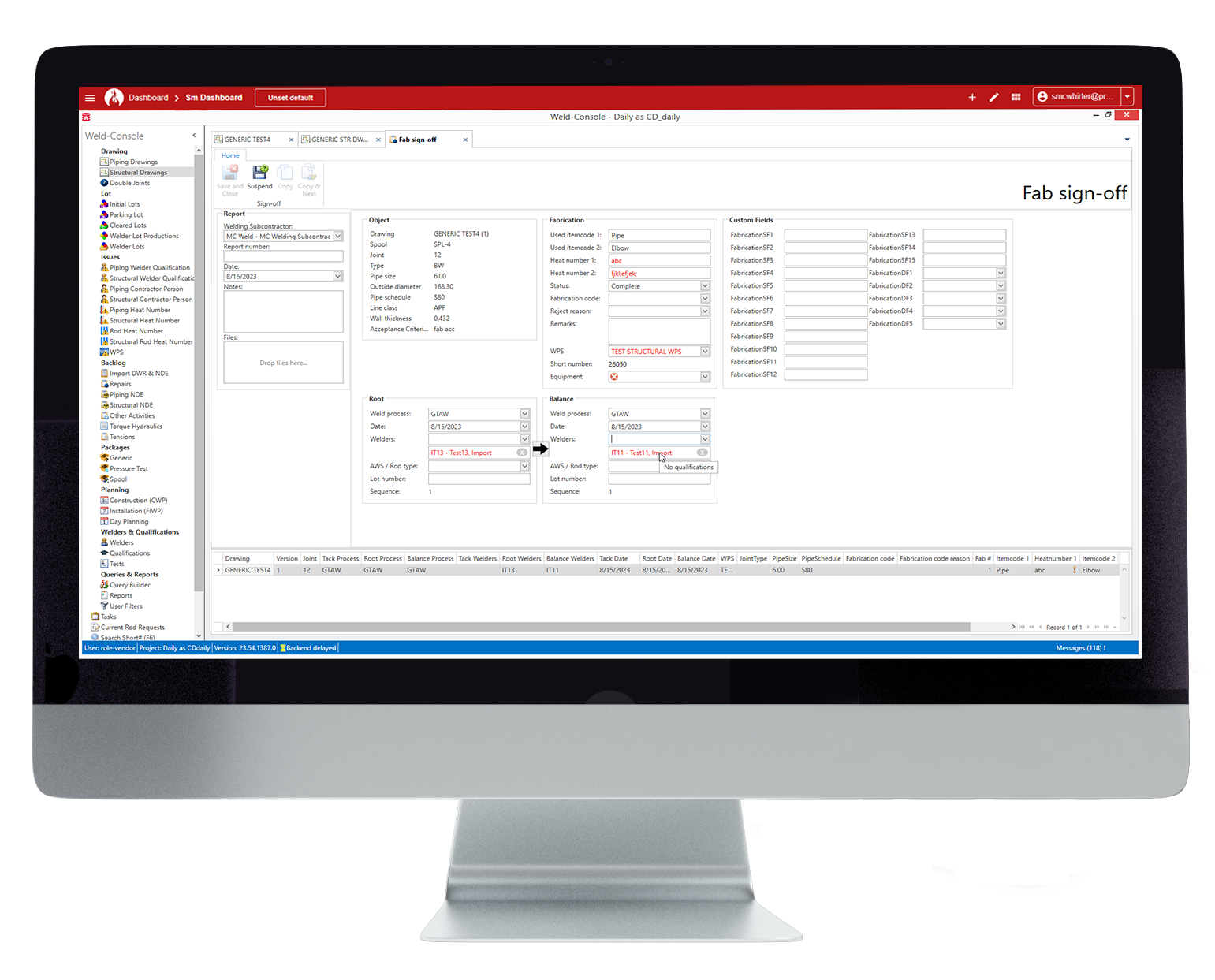 Quality & Progress Reporting
Access a reporting suite that enables you to configure internal reports and external reports for large welding projects.
Easily design queries and reports.
Schedule automated reports (e.g. send outstanding NDE's to your NDE subcontractor).
Customize reports to individual project needs.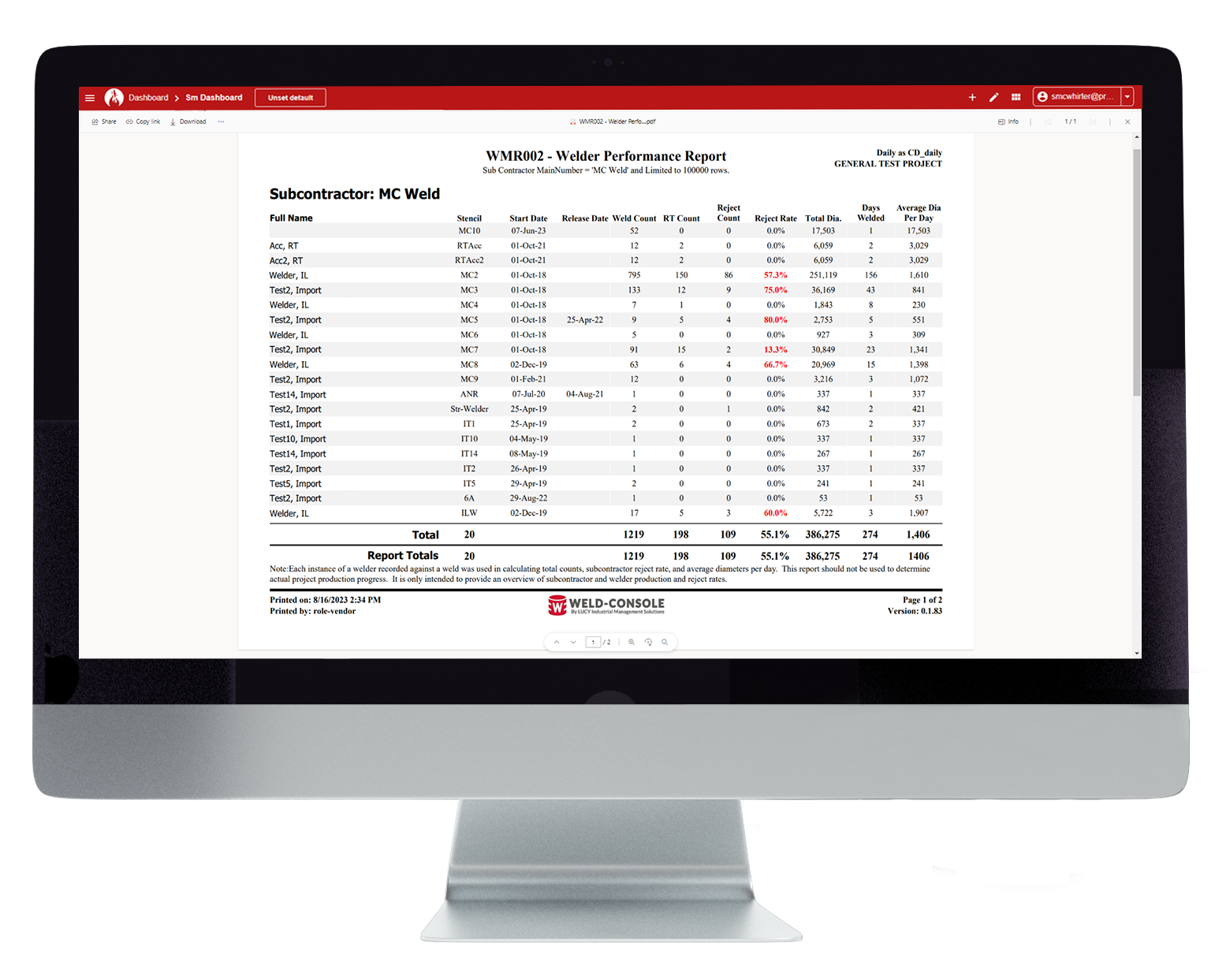 Available
Weld-Console Add-ons

Mobile App
The Weld-Console Mobile App, Weld & Flange Management, bridges the gap between the office and site execution/ fabrication, by enabling foremen, QA/QC managers, etc. to directly report any welding, bolting, or NDE progress. It reports checked welds and flange connections and enables NDE or torque/ tensioning activities to start directly.

PDF Scraper
In some cases, you will not receive spreadsheet data and only have PDF isometrics generated from a 3D system or scan to work with. The PDF scraper enables you to scan drawings in bulk and reads the materials (MTO/BOM) to define welds within an Excel file that you can easily import into Weld-Console, which will define your welding scope.

PCF Converter
3D engineering systems like PDMS, Smartplant or similar produce Piping Component Files (PCF) from isometrics. Prometheus Group's PCF converter can translate this into a suitable Excel file, that can be imported straight into Weld-Console. Bulk mode is supported. Quickly, easy and convenient.
Benefits

Minimize NDE costs, by automatically assigning exactly what is needed.
Increase control, compliance, technical integrity, and ease of handover.

Utilize mobile application for saving manhours, real-time information and improved efficiency.

Configurable to suit both straightforward and complex work processes.

Validate and ensure that projects comply with federal, contractual and corporate regulations.

Improve ability to produce digital documents and reports throughout the project cycle.

Minimize digitalization efforts of isometric drawings, by utilizing PDF Scraper or PCF Converter.
Maximize quality and reduce errors (prevention of fail costs), minimizing administrative/management cost of welding projects.
REQUEST A DEMO
We look forward to learning about your asset management needs and opportunities, simply fill out the form below to schedule a personalized demo.
Featured Customers
Join 50,000+ Users Across the Globe in Achieving Maintenance Excellence