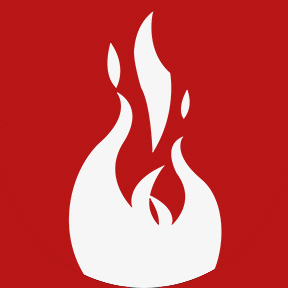 Author: Prometheus Group
CATEGORY:
Maintenance & Reliability
November 28, 2022
Maintenance Scheduling Software: What Works for Your Needs?
A quick Google search will show you that there are quite a few options for those seeking better maintenance scheduling. Simply typing "maintenance scheduling software" into Google provides a number of different results as can be seen below: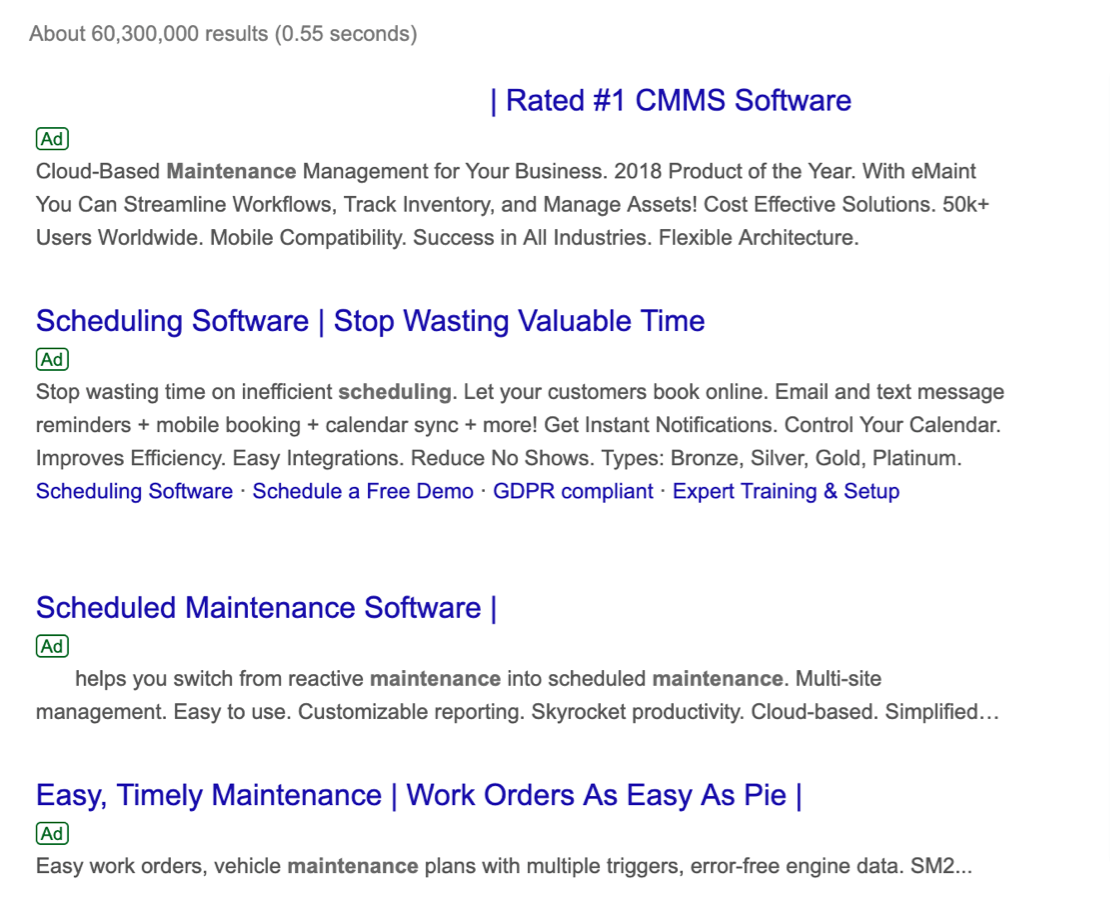 Whether you're rolling out a complete preventive maintenance program or you just want to make improvements to your maintenance schedule, there are many options to choose from just in the paid ads section alone. You have cloud-based solutions, online customer booking solutions, process-improving solutions, and "easy-as-pie" solutions!
Now, I want to make clear that this is not a piece discouraging other maintenance scheduling software solutions. There are many great options out there. The one that's best for you is the one that gives you the best chance to improve your maintenance program. That's the key here.
What Are You Looking For in a Maintenance Scheduling Solution?
To be honest, you might not even know exactly what you're looking for at first. By simply entering the phrase, "maintenance scheduling software," you will be afforded a number (60,300,000-plus!) of different options to sift through.
Furthermore, at the bottom of the first page, you will see a list of related search terms. These tend to become a little more hyper-focused than the original "maintenance scheduling software" term.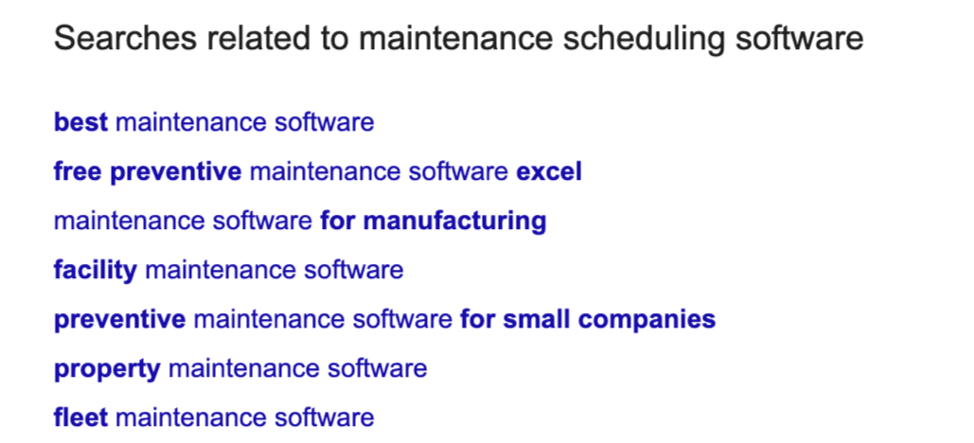 These extended search terms are likely due to the Searcher not finding exactly what they were looking for – or maybe not realizing that there were so many different offerings or options out there.
Whatever the case, this shows that different people are looking for different solutions, from fleet maintenance software to preventive maintenance software for small companies. It is important to know what you are searching for in order to get the results that best fit your inquiry. You should also know which approach you're using to schedule maintenance work orders.
Imagine if you were searching for shoes. You might start out with the search terms "shoes" but then realize, "that's a lot of shoes". So maybe you try "orange shoes". But wouldn't you know it, there's a lot of those too! So, after a few more tries, you finally get down to something manageable – "Orange running shoes size 9.5". And, voila – various different orange running shoes, just for you.

So, getting back to the maintenance.
We've already established that there are many different search results for a generic search term, such as "maintenance scheduling software". This type of search will typically yield an array of results, some of which will be tailored to your needs, while others will have little to nothing to do with what you are looking for.
To ensure that results meet the search objective, it's a good idea to make the search hyper-focused in terms of what you are looking for. An organization with a well-established and effective preventative maintenance program for their equipment will likely have very different needs from an organization that still struggles with maintenance planning, maintenance management, and tracking basic work orders.
For instance, if your organization is currently using SAP PM to schedule your maintenance but is looking for a tool or scheduling solution to enhance the existing functionality, then you may want search for something along the lines of "maintenance scheduling software to enhance SAP PM."

Now, let's take a look at the results below. If we skip over the paid results and move into the organic search results (as these are typically more representative of what is being searched for) you will notice that the number 1 result is Prometheus Planning & Scheduling. And this makes sense too as our maintenance scheduling software requires an existing ERP system, such as SAP, Oracle, Infor, Maximo, and so on. Our products were designed to bolt-on to a company's existing maintenance system.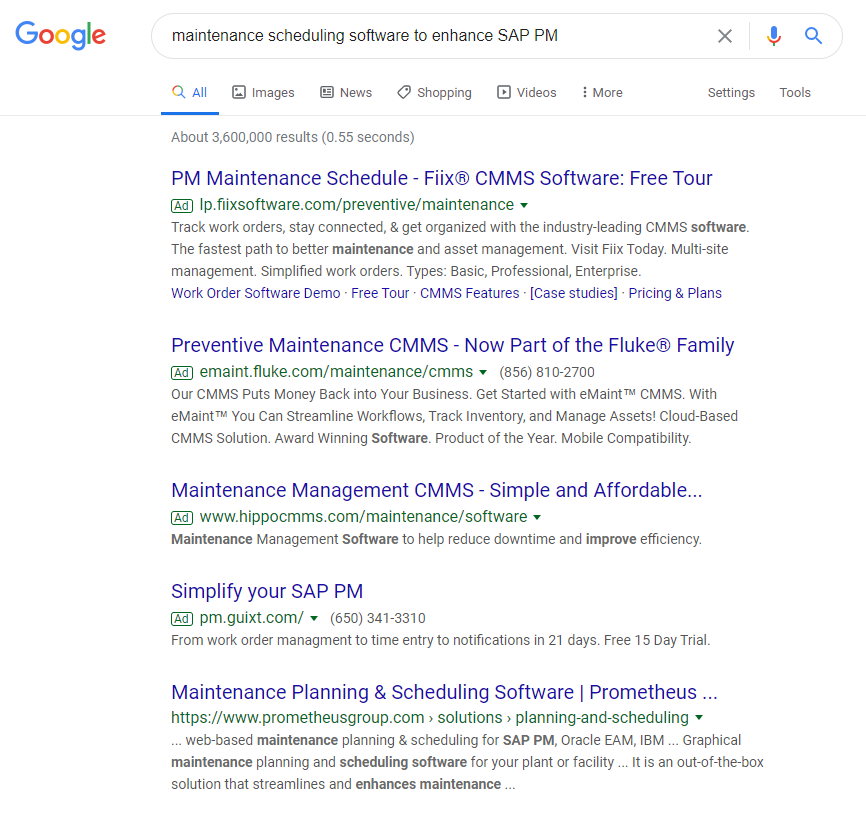 And this makes sense too as our maintenance scheduling software requires an existing ERP system, such as SAP, Oracle, Infor, Maximo, and so on. Our products were designed to bolt-on to a company's existing maintenance system.
Prometheus solutions are built with asset-intensive companies in mind, who have large maintenance organizations, often in multiple locations around the world.
Maintenance scheduling software is imperative for any company that needs to plan and schedule maintenance, and especially so with asset-intensive companies that rely on equipment uptime to optimize production and make sure operations flow smoothly. It is also imperative that companies choose a software provider that can meet and exceed their needs.
There are many different options out there for maintenance schedule software such as fleet maintenance software, predictive maintenance software for small companies, maintenance software for specific industries and maintenance software to enhance the current capabilities of your existing software, like SAP, Oracle, Infor, Maximo, and more.
Prometheus Group is proud to be partners with the top ERP providers on the market today and we have built a suite of maintenance software to support and enhance the capabilities of each of those vendors.
To use an analogy – think of your Family Doctor or your General Practitioner. No matter what your ailment might be, you go see your family doctor first. But, depending on the severity of your ailment or injury, the doctor will recommend you go see a specialist. Someone who focuses on a very specific part of the body. But you can't get in to see a specialist without a referral.
SAP, Oracle, Infor, Maximo, and others alike are your General Practitioners and have some expertise in a number of different areas but when it comes to maintenance, Prometheus is your specialist.
We spend all of our time developing products that will help improve the maintenance process, from scheduling and planning work orders for all maintenance tasks and developing a preventive maintenance schedule, getting the most value of equipment and ensuring the backlog of work requests is visible and accessible to the maintenance supervisor and other staff, and advanced analytics and other functions.
So, if you are using SAP PM, Oracle eAM, EBS, JDE Edwards, or IBM Maximo then we just might be able to help you improve your maintenance execution.