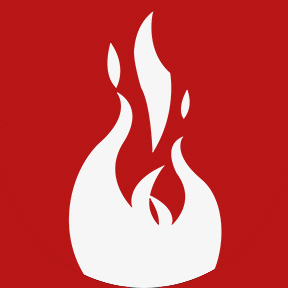 Author: Prometheus Group
CATEGORY:
Maintenance & Reliability
August 09, 2022
The Facilities Maintenance Game Plan for the Penn State Campus
As an employee, feeling respected by peers is a critical key to morale. In any job, stress can run high at times, particularly when there is a process or system failure, and Penn State's Office of the Physical Plant (OPP) is no exception.
How a team reacts to conflict is critical to efficiently handling challenges and preventing future problems. With that mutual respect woven into a team's dynamics, even the most stressful times are handled with a can-do attitude.
While Penn State is most often associated with education, it is also has strong research and service components.
Penn State's OPP is the facilities maintenance component of the university. They are made up of 1,300-plus members, and various departments include a design and construction group as well as the facility resource and planning group.
Its University Park campus alone has 933 buildings and 8,556 acres. Consequently, this large group is responsible for maintaining roofs, paved roads, walkways, classrooms and labs, elevators, hydrants, water lines, street lights and office space.
The planning and scheduling team has the gargantuan task of keeping the campus safe and all components running efficiently. The Work Control Division of the OPP is tasked with keeping facilities up to date and safe for staff and students, and is further broken down into different departments, including the Facility Asset Management (FAM) Program and Project Planning and Scheduling.
An earlier post discussed the overall OPP mission and capabilities, but this post will provide some examples of the challenges Penn State faces, and why a strong team component is important to manage these challenges. Given the enormous area that the campus covers, as well as the complexity of balancing different schedules, scheduling work can be a daunting task.
From critical components such as testing alarm systems, building maintenance and necessary shutdowns to more generalized tasks like ensuring areas such as eyewash stations are up to date, the teams work to make sure thousands of job plans are carried out carefully and by causing the least amount of disruption.
Shauna Nevel, Maximo Business Analyst, is part of the FAM Program, which utilizes a number of components to support maintenance and operations. As a project leader, she describes her responsibilities as, "trying to keep my arms around everything, headed in the right direction. I try to keep everyone moving forward."


Who Do You Call When Cows Take Over the Roads?
She began her tenure with Penn State at the work reception center. For thirteen years in that division, she was on the front lines of the calls that came in with problems or questions. "If someone called because there were cows in the roads at 3 a.m., we need to know how to handle it and who to contact.
"There was a lot of information flowing there."
In that department, she began working with Maximo in 2001. In 2014, she brought her problem-solving skills to her current position. Transitioning her end-user experience with Maximo to the OPP, she now works with Maximo and Prometheus Routine Maintenance more in depth.
A major obstacle the team has faced is that departments will seek out Shauna's team to help solve an issue, but that department's business processes are not always written down.
"Sometimes, we have to start with the very basics," Shauna said. "One of our first questions is, 'Do you have this process written down?' We explain that they need to write down their processes so we can figure out how to configure Maximo to do what we need."
Another challenge, Shauna explained, was maintaining all the job plans.
With tens of thousands of job plans being maintained by 20 people, it's not unexpected that keeping up with job plans would be an arduous task. However, everyone in the OPP brings a problem-solving, can-do attitude.
And when there is a change made in Maximo, she said, they look to the supervisors as well as team members Joe Dinardo and Kelly Gillham, to test the changes.


Transforming Negative Energy Into a Positive, Well-Planned Event
"Everyone brings something different to the table," she said.
For example, Joe Dinardo brings his talents as a Planner Estimator to the team. He agreed with Shauna's assessment of their team's strength. "We just all gel," he said. "When it comes to scheduling, we know what is each other is thinking. We really are a very good team together.
Joe began working at Penn State nine years ago, transitioning to the educational system from the healthcare industry.
He said he enjoys the challenges of the department and thrives in using Maximo and Prometheus to solve problems. For example, by using, they are able to easily schedule fire alarm testing, which used to be problematic because there was no way to effectively determine the best time to conduct these tests. Consequently, the tests were being conducted at potentially inopportune times with very little notice to people in these buildings.
Because of the unpredictability, "there was a lot of negative energy before," Joe said. The challenges are in scheduling the tests when buildings are empty. People now send him a calendar of when specific halls are tied up with events and conferences, never mind regular classes.
"With this forecast, we can easily identify the buildings and days we would like to do the testing," he said. "We are there when we say we're going to be there and when they want us there. It works out well for everybody.
Another key player is Assistant Scheduler Kelly Gillham. Like Shauna, Kelly also started at the work reception center before transitioning into her current role where she works with planning and estimators and supervisors.


The Challenges of Coordinating Maintenance-Related Shutdowns
Once shutdowns are scheduled for maintenance needs, Kelly and Joe schedule work around those times to ensure a fully-loaded schedule.
"We make sure that shutdowns are more in synch with buildings," she said. In certain sensitive areas, they have to carefully coordinate when maintenance is done. "Research areas that can't be taken down unless it's crucial," she said. For example, they know when research areas need no power disruptions, so they avoid shutdowns when it is essential that the power is online and consistent.
"Some shutdowns can be controlled," Kelly said. "If we have a scheduled shutdown projected, we can build their schedule around their shutdown."
In order to determine when it is appropriate to do a regularly-scheduled shutdown, they have to work with both the end users as well as supervisors and people in charge of resources. "I would like to see shutdowns thoroughly planned and scheduled with the coordination of planners, schedulers, and supervisors," she said. "I don't think we are there yet but hope to be soon."
With 30 years of experience at Penn State, Kelly describes herself as a bit of a Sherlock Holmes of problem-solving. "If there's a mystery to do something properly, let's make it right."
When one problem arises, though, she said it can often bring to light other issues as well. Dealing with all the coordinating problems requires a phrase that Shauna coined as 'spider killing.' "When there are issues, I try to solve them," she said. "We are a very large organization. Trying to get everyone on the same page is challenging. We are trying to smooth things out to make sure users don't have peaks and valleys.
"It all comes down to communication."


Keeping the Maintenance Technology Wheels Spinning
While Kelly works closely with Joe and Shauna, Chris Halbig is their IT go-to when there is a problem on the backside. "He does a lot," Joe said. "If something technical goes wrong, we call Chris."
Chris, the Systems Administrator of the team, began working for Penn State in the telecommunications office. "About five years ago," he said, "I moved to the ITS help desk. There we were on the front line for people to put work tickets in. It was more customer related at that point."
Three years ago, he transitioned to the systems administration group. The IT department in the OPP manages about 200 servers, including the servers that are responsible for Maximo and Prometheus. "I learned a lot very quickly," he said.
There is always a balance between making the systems accessible for end users while also maintaining security and ensuring their technology and other sensitive information is not accessed by outsiders. "It can be tough if people don't understand the security concerns," Chris explained. "Someone has to defend the business needs but also defend keeping our systems secure."
Another challenge is performing regular maintenance and upgrades, which means downtime for users. "At first, the business side didn't want any downtime with IBM Maximo," he said. But now that the team works so closely together, he said, their communication helps when it is time to select when to make system enhancements.
"We do a much better job of planning for outages and updates," Chris explained. "Working with Joe, Shauna and the rest of the team has been a very positive relationship."


The Importance of the Right Maintenance Technology Safety Net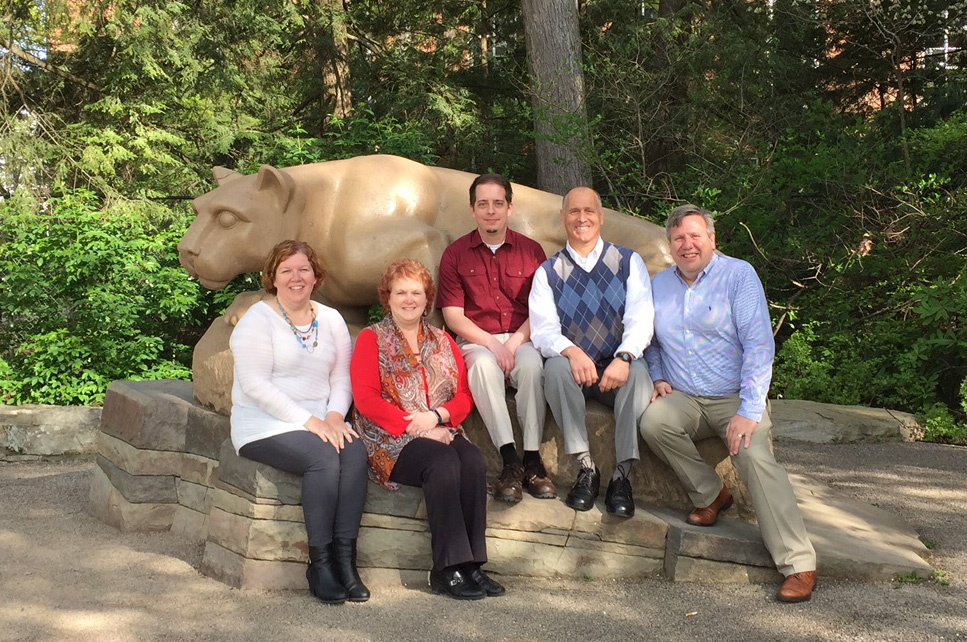 (L-R) Shauna Nevel, Kelly Gilham, Chris Halbig, Joe Dinardo, and Bill Steudler.
Part of their team's success is by having the right CMMS tools in place, such as Maximo and Prometheus. "AKWIRE [Now Prometheus Routine Maintenance] is so simple to use," Joe said. "It allows me to take chances and I know if there is a problem, I call customer service and they get right back to me."
Shauna agreed. She said that they have been working with Solufy's Director of Technical Support Elliot Bonilla since day one and he is readily available to help fix any issues. "If it doesn't seem right, he gets us in the right place quickly."
"Now, we just need to develop the critical thinking aspect," Bill Steudler, another key part of the planning and scheduling team, explained. "If (the system) could do this for me… once you ask the question, you can find the solution. Generally, that question is the hardest thing."
Bill, the Maintenance Engineer for Penn State's OPP, has been working for the system for more than 16 years.
"One of the nice things about the AKWIRE [Prometheus] solution is that it's very configurable," he said. "You can adapt it to do things and meet your business needs."
"I'm not a computer person," Joe admitted,
"But I can teach AKWIRE [Prometheus] to anybody. It's so simple, and so powerful."
With their tools, they are also able to forecast better. For example, somebody recently asked him to provide an estimate on costs to PM all eyewash stations on the campus. "I was able to give them a forecast through 2020," he said. "And I did it very quickly."
The forecasting capability allows Penn State to see into the future, not only planning work but also the associated costs. "That forecast tells all," Joe said. "Sometimes, they like it but sometimes they don't."
With visibility through 2020, it is easy to manage workloads. "We know when a work group is going to be understaffed. We use it to adjust staffing the frequency of PMs."
For example, Penn State will be holding a Millennium Science Blitz in August, where they will be focusing their maintenance efforts around Penn State's 297,000-square-foot Millennium Science Complex which is home to two of the university's premier research organizations.
"I just did a forecast for it, and I know exactly what's going to come due," he said. "We're meeting in two weeks and every group will know what they have to do during this time frame. We set their schedules by this. That way they're not overloaded and their availability is perfect."


Through the Maintenance Crystal-Ball at Penn State's Opp
As the entire OPP team moves forward, they plan to focus efforts on improving the overall process. "The overall goal for Physical Plant is to become a more planned and scheduled maintenance organization," Shauna said. "We want to reduce our unplanned/emerging work and reduce maintenance costs.
One way to facilitate this goal is to improve planning and scheduling, she said,
"The key to this is getting people on board with using AKWIRE [Prometheus] visual suite for Maximo by introducing more groups to AKWIRE [Prometheus] and everything that it can do for us. Not only from a scheduling aspect, but for managing our job plans as well."
As Penn State continues to provide a quality educational experience, the OPP continues to enable proper planning and maintenance through their teams of experts.
"We all have our niche and when we put it together," Joe said. "We are just one great team."


Taking Care of Those Who Depend on Penn State University
Shauna summed it up this way: "We all work for Penn State. Communication and continual improvement is our collective goal."
"Our overall goal is to improve the service that our customers receive," Shauna continued. "We want our customers to know down to a specific time when their maintenance request is going to be completed. Our goal is to notify them prior to a technician arriving at the job site and then also notify them once their request is completed. Overall, just improving customer communication will solidify our relationship with our customers."
"If we do our job perfectly," Joe added,
"That's what we are here for. Everybody deserves an education. We put people in the position to be successful. A good day for me is when I know I've made a quantitative difference for Penn State."