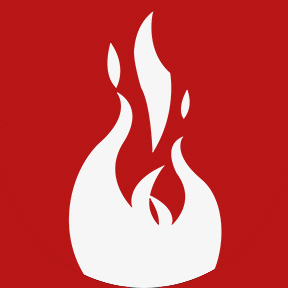 Author: Prometheus Group
CATEGORY:
Maintenance & Reliability
August 09, 2022
Bringing Together IT, Operations, and Customer Service to IBM Maximo
When your passions pull you in different directions, how do you know which one to follow? As Tracy Huynh discovered, with some courage, a smidge of luck, and a lot of hard work, sometimes you can make three separate paths converge into one.
Born and raised in Victoria, British Columbia Tracy had a knack from a young age of being the "go-to computer person" for friends and strangers alike. She got her start helping those less technically savvy in junior high. A popular Facebook-like website allowed users to customize their profiles – but if you didn't know any HTML, you were out of luck.
Friends and classmates started turning to Tracy to dress up their profiles with marquees and tags to make them unique. "I'm not sure I was very good at it," Tracy says, "But I didn't mind trying and putting in the time to figure it out."
"Two roads diverged in a yellow wood…" - Robert Frost
By the time she had to choose a university major, Tracy had more than one avenue she wanted to explore. On the one hand, she was very interested in Computer Science, but on the other, Marketing was also of interest to her as well. "I love it all," she says, "So I chose to major in Computer Science, take a minor in Business, and use my electives to study Psychology."
You might not think it, but the Psychology courses have continued to help me throughout my career. It's important to understand people, and to be able to see things from someone else's perspective. Building a better understanding for where someone is coming from, you'll find you're better able to help them.
Go for gold: application testing for the Vancouver Olympics
After graduation, Tracy started with the British Columbian Ministry of Environment. It was more of a Business Analyst role, spending lots of time interacting with clients, but Tracy quickly found she missed the IT side of things.
Eventually, she became an Application Specialist for the Vancouver Winter Olympics and Paralympics in 2010. In this QA role, Tracy focused mostly on testing, replicating, diagnosing, and remedying issues that other testers were experiencing. "If I could," she says, "I would reproduce the errors the user had encountered and note the possible line of offending code to the development team to help expedite issue resolution." They spent much of the time before the games monitoring the health of the application and making repairs right up until the time of go-live.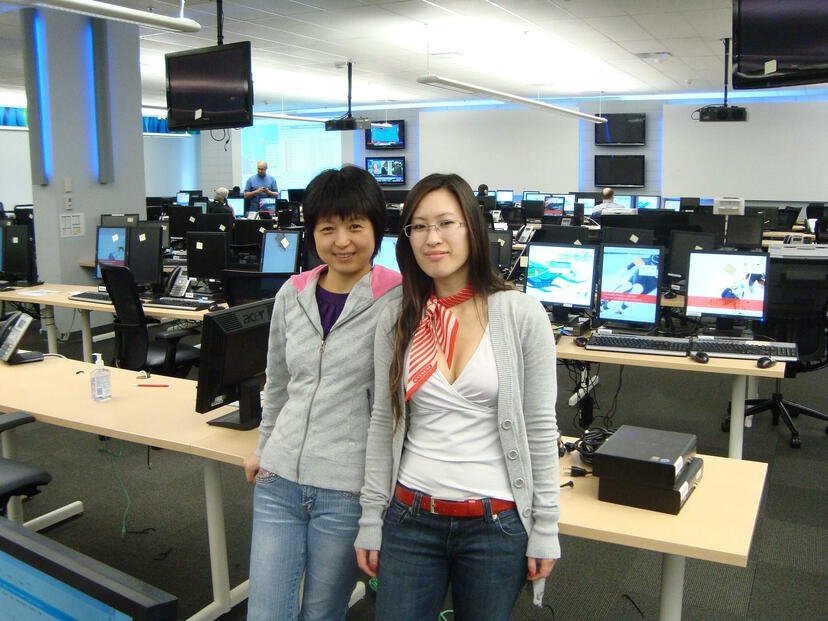 Tracy (right) and a colleague at the Technology Operations Centre of the Vancouver Olympics
"It was an incredible experience," Tracy recalls. "I was working with people from all around the world. Most of the application teams were based out of Spain. We had so much build up, and when the Olympics finally happened, I got to meet everyone with whom I'd been working with, in person. But even though we'd been working remotely, we'd built that sense of team spirit. In sports and in life, I'm all about good team dynamics. I love seeing many people come together – whether at the office or on the field – to work or play as a unit; every one of us are working pieces that contribute to the function of the whole."
On-the-job asset management training with IBM Maximo
In 2011, Tracy made the jump to become an Intermediate Application Analyst with BC Ferries. "Originally, I wasn't going to apply," she recounts. "I didn't think I met the requirements. But a friend convinced me to and I got the job. From day one, I had no experience with IBM Maximo, nor with any Asset Management experience/methodologies either. So, everything was a learning curve."
Tracy describes being a little "thrown to the wolves". Her first project for BC Ferries was to upgrade their Maximo application from 7.1.1.4 to 7.1.1.9. "It was a little intimidating at first," she says, "But also great hands-on experience to learn how the application worked as I was upgrading it. I eventually took the lead when it came to upgrading to 7.6"
Maximo, of course, is not a simple software. "It took me about a year to start to really understand it better," Tracy says. "And being in an IT role, I wasn't in the system the way the users/business were in the system. So, I was aware that this limited my experience and knowledge."
"I was by no means an expert in the beginning, nor would I say I am now. But a colleague of mine was a great mentor. He never just gave me the answer. He encouraged me to try, to experiment, to keep at it, but would always give me help if I couldn't quite get there yet. His mentorship really helped me to learn and challenge myself."
Bridging the gap between IT and Operations
But being conscientious of the differing perspective her colleagues had, Tracy paid keen attention whenever she had the chance to talk with the end users. "From time to time, I got to work with Maximo users and eventually, I became sort of a go-to person for reporting when time permit. I go to talk to the users who wanted the reports, and an opportunity to understand what they needed, and how they were going to use the information. It reminded me of my Business Analyst role in many ways; I could only succeed in helping if I understood the person's requirements."
This, Tracy says, is one of the common places of friction between IT and Operations: a lack of communication, visibility, and understanding of the other's perspective. "It can be hard for Operations to get buy-in from IT in some cases," she says. "Particularly when it comes to third-party solutions."
Both departments need to work together to understand the other's needs, challenges, concerns, and goals. You may get pushback. But that's how you build a solution that works for the greater good of the company.
Bringing IBM Maximo expertise to Prometheus Group
Eventually, the Planner group at BC Ferries decided to implement AKWIRE (Now Prometheus Routine Maintenance). Tracy helped with the start of the implementation, and took to the software like a fish in water. "I had a hand in changing a couple of things on the front-end of the application," she says, "and I was immediately impressed with the set-up process. It was so fast and easy to use. The team was great to work with; everyone was so enthusiastic and helpful."
After nearly six years at BC Ferries, Tracy decided she was ready to move her career in a new direction – one that encompassed all of her passions. So, she became a Senior System Analyst/Implementer at Solufy in 2016 and is now a Solutions Architect in Professional Service at Prometheus Group.
"Making a career change is always a little nerve-wracking. But I thought, 'If there's ever a time, it's going to be now.' My role at Prometheus Group brings together my love of helping others, my fascination with business, and my passion for IT," Tracy explains.
"Now, I get to travel the world, going to client sites, conducting demos, giving training, gathering requirements, and really figuring out what our clients want Prometheus to do."
Helping utilities, facilities, oil and gas clients succeed with Prometheus for Maximo CMMS
It's her love of helping others that makes Tracy perfect for the role. Her now colleagues, Richard and Elliot noticed it right away when they first met. Tracy's curiosity, ability to ask insightful questions, and creative thinking help our clients in various industries, from Facilities Management to Oil and Gas to Utilities and Power Generation, configure Prometheus. The result is long-term, sustained continuous improvement for their Planning and Scheduling processes rather than a one-time fix.
I help our clients determine how Prometheus can meet their daily Planning and Scheduling needs, and how we can tweak our software according to their unique requirements.
Thinking back on her career, Tracy says that the disconnect between IT and Operations is a stereotype. She thinks it's a cliché that better communication can resolve, or at the very least, reduce.
"The Operations/business team really needs the additional software, but IT has a lot of questions. And there seems to be this struggle between the two. I think it comes down to the two teams not talking from the beginning, not understanding where the other is coming from. If you can communicate early and often, you can get that crucial buy-in early."
But effective communication is not just about communicating the why – it's as much about the how. Says Tracy, "It's not just about a one-sided conversation where Operations says, 'we need this'. It's about having the answers that the IT team need to know. They want to know about installation requirements, upgrade scenarios, how it will affect their day-to-day work, etc. And that's where we come in.
When it comes to Prometheus, if IT understands how easy it is to install/configure and how little time it could take, that's a good thing. I know from experience how much time and money goes into upgrading IBM Maximo just to get a new patch or a new fix. As an IT person, what I love about Prometheus is that you can get a vanilla version up and running in about a week's time with few resources and low costs. The Prometheus upgrade process doesn't even require an upgrade of Maximo!
"The way I see it, the old expression 'If it ain't broke don't fix it' can often do more harm than good. I'm not saying we have to reinvent the wheel all the time." But, she contends, complacency, close-mindedness, or a lack of communication can be the troubling attributes that leave businesses stuck in the way things have always been done.
"I think businesses succeed when the decision-makers aren't just thinking about what's broken, but they're also thinking about how far they could get with sustainable, ongoing improvements. It's less about fighting fires and more about using greater efficiency to propel long-term growth."
Enterprise maintenance planning opens doors: who knew?
For Tracy, working with Prometheus Group is like a dream come true. The opportunity to travel, to work with real people in need of help, and with an IT element is the perfect combination. "It kind of feels like everything came together. All my passions in one cool job."
And travel she has. Tracy has already been all over North America meeting clients, training them on how to use Prometheus, helping them to implement it and conducting needs analyses.
"I love travelling for work because of the amazing places I get to see and of course the people I get to meet. So far, the most beautiful place I've travelled to would be Page, Arizona. But I have to say, the best food I've had in my travels has got to be the crab cakes in Newark, New Jersey!"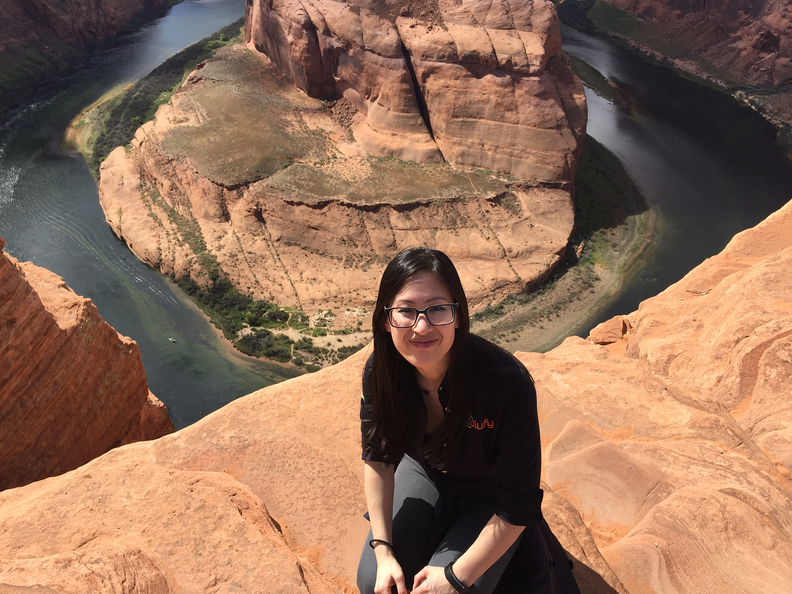 Tracy in Page, Arizona
When she's at home, you likely won't catch Tracy on the couch. Though she's not that big of a sports viewer, she's certainly a player. In her downtime, you'll find her playing badminton, basketball, golf and basically any team sport that exists.
Both personally and professionally, bringing people together to work as a unit is her mission in life.