RiskPoynt is an industry leading software to integrate real-time asset telemetry into day-to-day management of operational risks. It translates complex risk assessments for each safety barrier into visual displays that are easy to interpret and act on by people at all levels of your organization, locally and globally. Using RiskPoynt creates a stronger safety culture by managing the workflow for mitigating risks using real-time data, communicating what actions have been taken, and providing management and audit reports. The focus of organizations using this tool shifts from crisis management to risk management. This results in significant process and operational savings, catastrophic risk avoidance, and a higher ROI on capital assets.
RiskPoynt goes beyond simple visualization of risk and allows proactive management of mitigating activities to lower risks:
Global view of asset integrity barriers

Monitor risk mitigation tasks

Record of adherence to mandated risk control processes

Real time integration of systems that identify risk and reliability of equipment

Drive collaboration to prioritize work
Manage Mitigation Streams
Asset Integrity barrier health represents operation risks displayed through our data visualization dashboards
Status reports clearly denote potential safety barrier risks for every asset in your portfolio
Records of pending actions that require review, endorsement, or follow through are displayed on the homepage providing transparency and accountability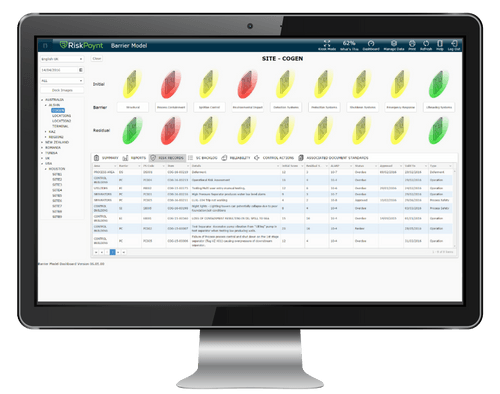 Realize Higher Production
Ongoing operation savings: reduced loss of production, focus on safety critical elements when planning and validation of primary and secondary risk mitigation events combined with effective management of inter-related dependencies
Major event cost avoidance from loss of life to environmental catastrophe are integral to protecting a company's reputation and shareholder value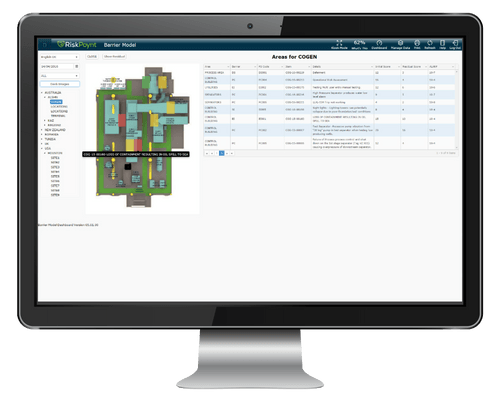 Foster Your Accountability Culture
Workflow and accountability is managed within the tool that seamlessly with other decision support and execution systems
RiskPoynt provides everyone with the same transparent risk data as well as workflow processes that align peer reviews, endorsement, and execution of safety- critical tasks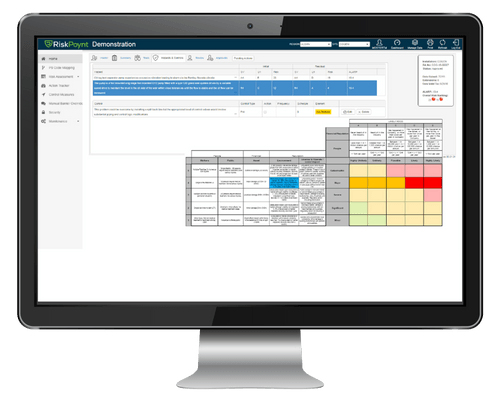 Foster Your Safety Culture
The system provides accurate and timely regulatory and compliance reporting. RiskPoynt is in compliance with PSA risk-based regulation, management regulations on barriers and performance-based regulations
RiskPoynt assures that proper mitigation measures are put in place and properly executed upon. The tools available in the software assure that mitigation measures are tracked to completion
‍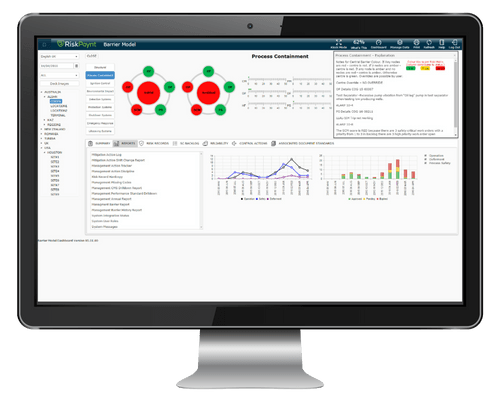 Benefits

Increase Revenue and Decrease Costs
Reduce planning and unplanned downtime, reduce loss of production and avoid catastrophic loss

Creates Effective Safety Culture
Enhanced risk mitigation improves workforce and environmental safety

Regulatory Compliance
Enhanced regulatory reporting and industry compliance

Standardization of Processes
Site, regional and global views that assure effective site and cross organization collaboration

Better Resource Allocation
Prioritize flows based on highest risk exposure
REQUEST A DEMO
We look forward to learning about your asset management needs and opportunities, simply fill out the form below to schedule a personalized demo.
Featured Customers
Join 50,000+ Users Across the Globe in Achieving Maintenance Excellence