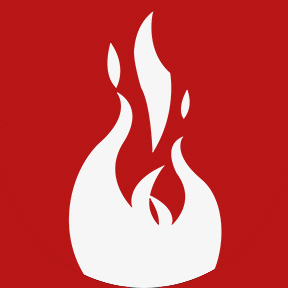 Author: Prometheus Group
CATEGORY:
Maintenance & Reliability
August 09, 2022
The Present and Future of Predictive Maintenance and Reliability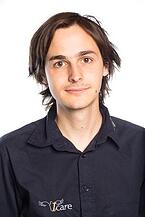 When seeking insights about new industrial maintenance concepts and technologies, it's always good to listen to practitioners' opinions, as they typically carry practical experience from the implementation of numerous maintenance projects.
In the case of maintenance solution providers, this experience spans many different plants, along with a wide array of maintenance technologies. So, we set out to get one such opinion by interviewing Mr. Cosme Somogyi, R&D Project Manager at I-care.
Founded in 2004, I-care is the market leader in Europe in asset health management solutions. The company has already deployed over 200 maintenance and reliability projects for clients in Europe and North America. Every day, over 150 I-care engineers work at client sites.
The company emphasizes predictive maintenance; its portfolio includes many condition monitoring technologies such as Vibration Analysis, Lubricant Analysis, Motor Current Analysis, Infrared Thermography, Ultrasound and more.
We asked Cosme to tell us about the current challenges and future trends in industrial maintenance, covering the digitization of maintenance systems in the scope of the fourth industrial revolution (Industry 4.0) and the value of standards, including some of the standards (e.g., ISO 55000) that are worth understanding in-depth.
Q. Based on your experience, what are the common day-to-day challenges enterprises face when deploying predictive maintenance and reliability solutions?
A. There are many challenges in the implementation of reliability solutions. Many of them stem from the fact that reliability is not always considered at the early stages of a new plant's development. Rather, it is usually deployed at later stages, which requires significant efforts for reengineering existing systems and deploying new ones.
For example, the deployment of reliability solutions requires the allocation of resources for performing measurements and analyzing the data to have an overview of the condition of the equipment.
Apart from dealing with technical and organizational factors, there is also a need to change people's mindset about maintenance. In many organizations, production and maintenance are seen as competing activities, which is a set-back to successful deployments.
Maintenance and production must, of course, work hand-in-hand. This is not easy, given the differences in the tools used for maintenance and the ones used for production. For example, production has its own control room, while maintenance usually lacks a clear overview of their own processes.
Q. What's the added value and importance of standards in your work in general and of the ISO 55000 standard for managing physical assets in particular?
A. We use ISO Standards in order to ensure alignment to industry best practices, as well as the adherence and use of state-of-the-art technologies. Standards help us ensure a consistent approach in our work and solutions.
For instance, the ISO 18436 standard for vibration expertise allows any reliability engineer to read a report and perform the same analysis based on the same data. Similarly, the ISO 55000 standard, which is an international standard covering the management of physical assets, enables us to introduce new management systems that focus on asset management in a dynamic way.
The overall goal behind standards adoption and adherence is to increase OEE (Overall Equipment Efficiency) and to reduce maintenance costs, while keeping potential risks under control. Standards provide a guide to do this based on widely used best practices that consider the evolution of technology.
Q. Could you describe how to use ISO 55000 in practice?
A. First, you need to prepare your plan-do-check-act loop, which requires management support and acceptance from all stakeholders. Then, you can start running the loop by implementing priority actions and performing regular assessments about the decisions made.
Once the system is up and running, managing it is roughly the same as other management systems (e.g., ISO 9001, ISO 14001). Therefore, it's important to allocate resources to ensure that the management system enters an improvement loop.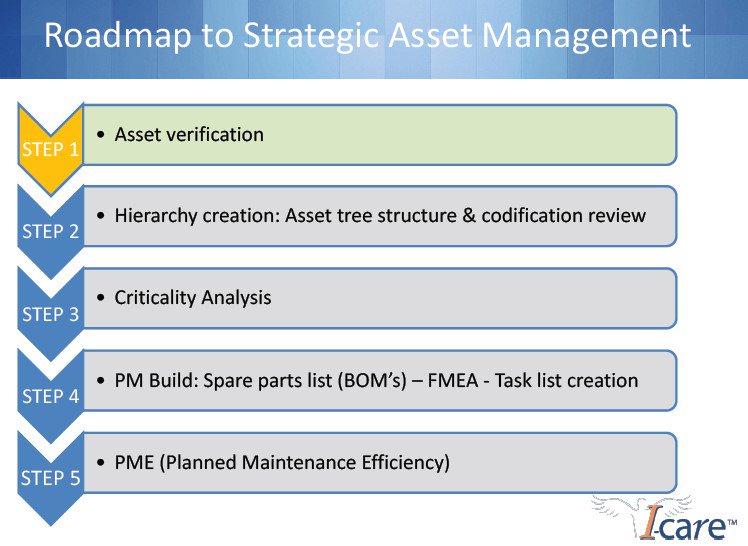 Q. Does using ISO 55000 involve special training or certifications?
A. The short answer is yes.
ISO 55000 requires training of employees with different roles in the company, given the need to align different viewpoints and mindsets. The training doesn't have to be for everyone, but there should be strong support from upper management.
Moreover, it can be wise to invest in certifications as a means of ensuring a baseline quality level for maintenance activities. There are also Conformity Assessment Bodies, which perform external audits to certify that the system is kept alive and dynamic.
Q. I-care serves clients on different continents. What are some of the major differences in the general practices of maintenance and reliability in Europe versus North America?
A. Our experience in serving the US market for nearly a year is quite short compared to our experience in working with European customers. So far, we have not identified any major differences in the general practices of maintenance and reliability in Europe and North America. It seems that many of the concerns, challenges and constraints are similar.
However, there are notable cultural differences: In Europe, the technical culture brings a diversity of forms and methods, while US companies are more used to some standards and protocols that they find simpler and more reliable.
Moreover, local after-sales support is vitally important in the US, while Europeans prefer good support, even if not local. Finally, European companies are more sensitive to prices and are therefore eager to hire services and buy products from different companies, whereas US companies are usually loyal to established market leaders.
Q. How is technology playing a part in the adoption and trends of maintenance and reliability? More specifically, what's the impact of the emerging digitization of industry?
A. Technology is key to improving maintenance at all levels. Some of the most prominent technologies that we use include dedicated sensors for data collection, automated solutions for data processing, new wireless sensors for remote diagnosis.
We also use corporate analytics and analytics for calculating KPIs (Key Performance Indicators) for all levels of an organization. Industry 4.0 and the on-going digitization of industry bring together several of the above technologies as a means of providing a virtual control room for maintenance.
Q. What do you see in terms of general trends in maintenance and reliability? Is it becoming more accepted or is there continued resistance to these basics concepts? How has the industry changed in the last 10-15 years, if it has changed at all?
A. Most industrial maintenance roadmaps comprise trends associated with consistent data collection, wireless devices, data standards, deployment of new sensor technologies, improved security, as well as the use of NoSQL databases for maintenance data management.
Maintenance concepts have also evolved over time. When I-care started in 2004, predictive maintenance was clearly a high-end service. It was difficult to reach customers; many weren't open to an external expert audit of their assets' health. Nowadays, such expertise is considered key to improvement.
Requests for reliability projects are also rocketing, yet such long-term projects have never been easy to sell. Now that standards and big corporations have decided to start many reliability projects, reliability is becoming more widespread.
As resources are becoming scarcer and operational costs are under tight scrutiny because of competition, improving the OEE and reducing maintenance costs is becoming key to successful operations. Plant managers are fully aware of the need to improve OEE, yet the immediate costs are still very high. In this context, demonstrating short-term ROI (Return On Investment) is still one of the main challenges that lies ahead.
The future of industrial maintenance: progressive advancements on the rise
Interviewing Cosme reinforced that industrial maintenance is a challenging field with an exciting future in store. As new technologies and standards are being progressively deployed in plants, they are providing unprecedented opportunities to improve OEE and reduce maintenance costs. Nevertheless, the significant investments of industrial maintenance projects still require thorough justification.
As for the future of enterprise maintenance and reliability, Cosme is confident that a growing number of organizations worldwide know that they have so much to gain by adopting maintenance and realibility best pratices.
Trends are showing an increasing number of companies moving from curative to predictive maintenance. More and more organizations are increasing automation, adding new technologies, and implementing new management solutions because they know that with the results, they'll be better able to deliver in their markets.
Do Cosme's viewpoints align with your experience and perspective? Let us know in the comments. We look forward to reading your ideas on maintenance trends and the future of reliability.