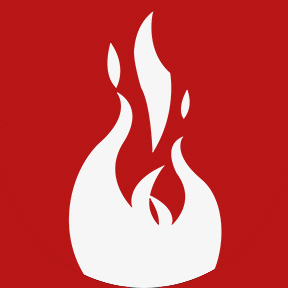 Author: Prometheus Group
August 09, 2022
How Flipping Burgers relates to Managing Asset & Location Availability
Planning and Scheduling maintenance is both an art and a science. There are tons of variables at play, best practices and methods to choose from, and there's a lot on the line. Thoughtful, strategic maintenance Planning and Scheduling influences an organization's bottom line. It can also directly and indirectly affect many other elements, from employee safety and satisfaction to ROI on assets.
One of the many factors that a skilled Maintenance Planner or Maintenance Scheduler must consider is that of the availability of their company's Assets or Locations. Some assets and sites/facilities can remain operational while maintenance work occurs, but this isn't always the case. In many circumstances, maintenance technicians cannot perform work on an asset or at a location/facility unless it is "offline". More often than not, this is because it would be unsafe to work on the asset or at the location while it is operating/online.
Why is asset or location availability important to Maintenance Planners and Schedulers?
It's vital to get this right during the Planning and Scheduling process. Nothing kills wrench time more quickly than sending maintenance technicians out to perform work on an asset or location that is not available at the present time.
It's no surprise then that managing asset or location availability is a feature that is "available" in many different Planning and Scheduling software solutions out there. But not all tools were created equal, and this feature is no exception.
This is a task that Planners and Schedulers have to do often, and one that can directly impact their efficiency – let alone the wrench time and safety of the maintenance technicians. So, it should be something that they can do quickly and easily.
Unfortunately, that's not always the case.
Managing asset or location availability in your Planning and Scheduling tools for IBM Maximo
In some solutions, managing your asset or location availability can be quite a pain. It often involves creating individual rows for each day of exceptions, which is a ton of repetitive work. Plus, it can be difficult for Planners and Schedulers to know they've inputted the availability correctly when it's in an awkward, hard-to-read table format.
There's no good reason for it to be this way. To anyone in the industry, it would seem obvious that Planners and Schedulers should be able to:
Quickly manage and revise an asset's or location's availability in a few simple clicks
Use an easy-to-read calendar to manage the availability
See the availability overlaid in their Gannt so that they can make Scheduling decisions without having to leave the screen
The new Asset or Location overlays in Prometheus Routine Maintenance do just that. Prometheus pulls in the resource types, such as asset/location directly from Maximo. You can configure your system to see one or multiple asset or location data sources as needed.
Asset/Location calendar overlays in Prometheus Routine Maintenance
In the familiar calendar view, a Planner or Scheduler can simply click and drag to mark assets or locations as offline or operational for partial days, full days, whole weeks, or any timeframe they choose. And it's just as easy to amend those exceptions if necessary.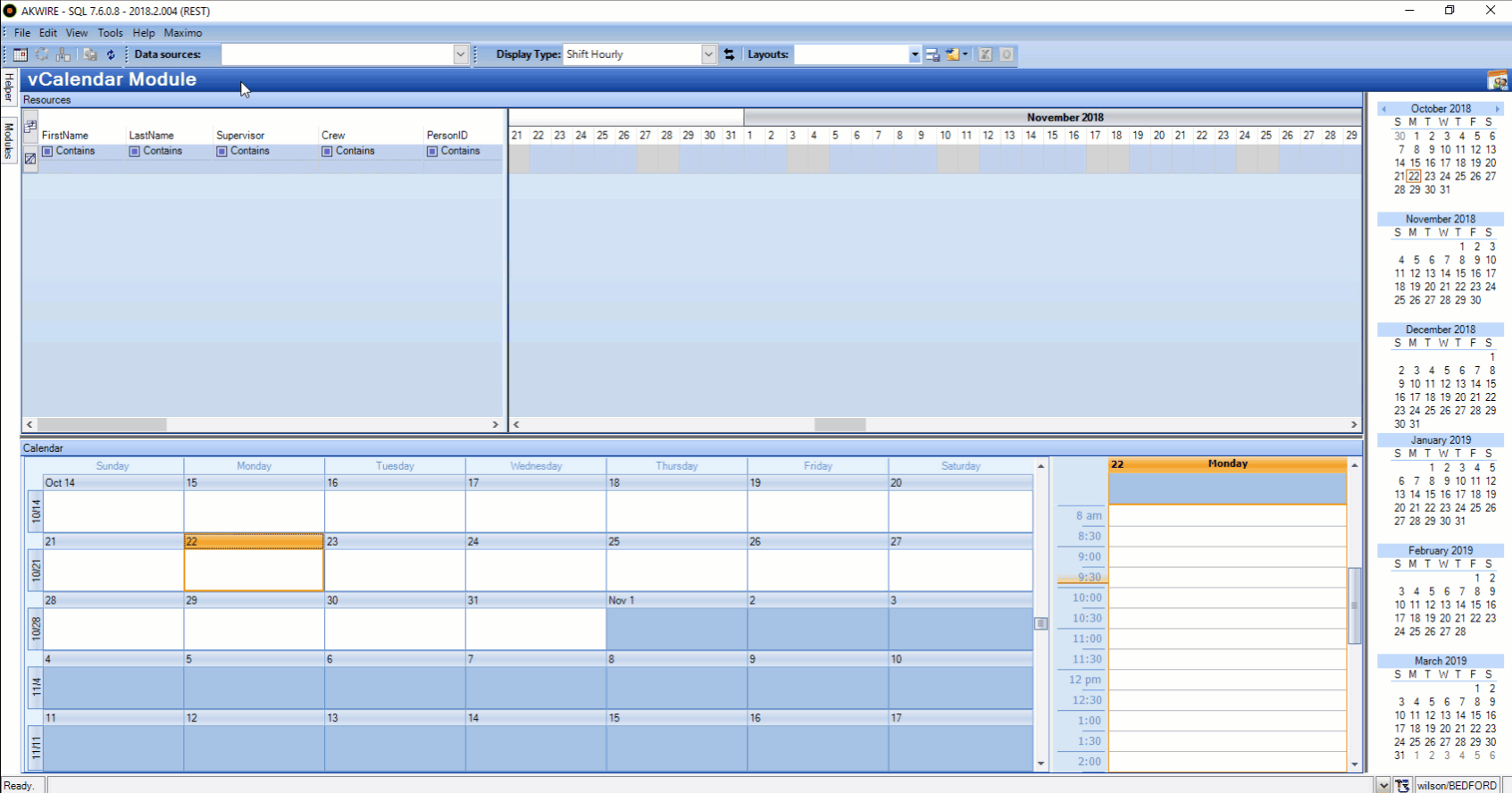 Then, looking in the Gantt, it is obvious which Work Orders and their assets or locations are ready to be scheduled – and the Planner/Scheduler can drag and drop or use the one-click scheduling feature to move Work Orders in and out of the appropriate timeframes.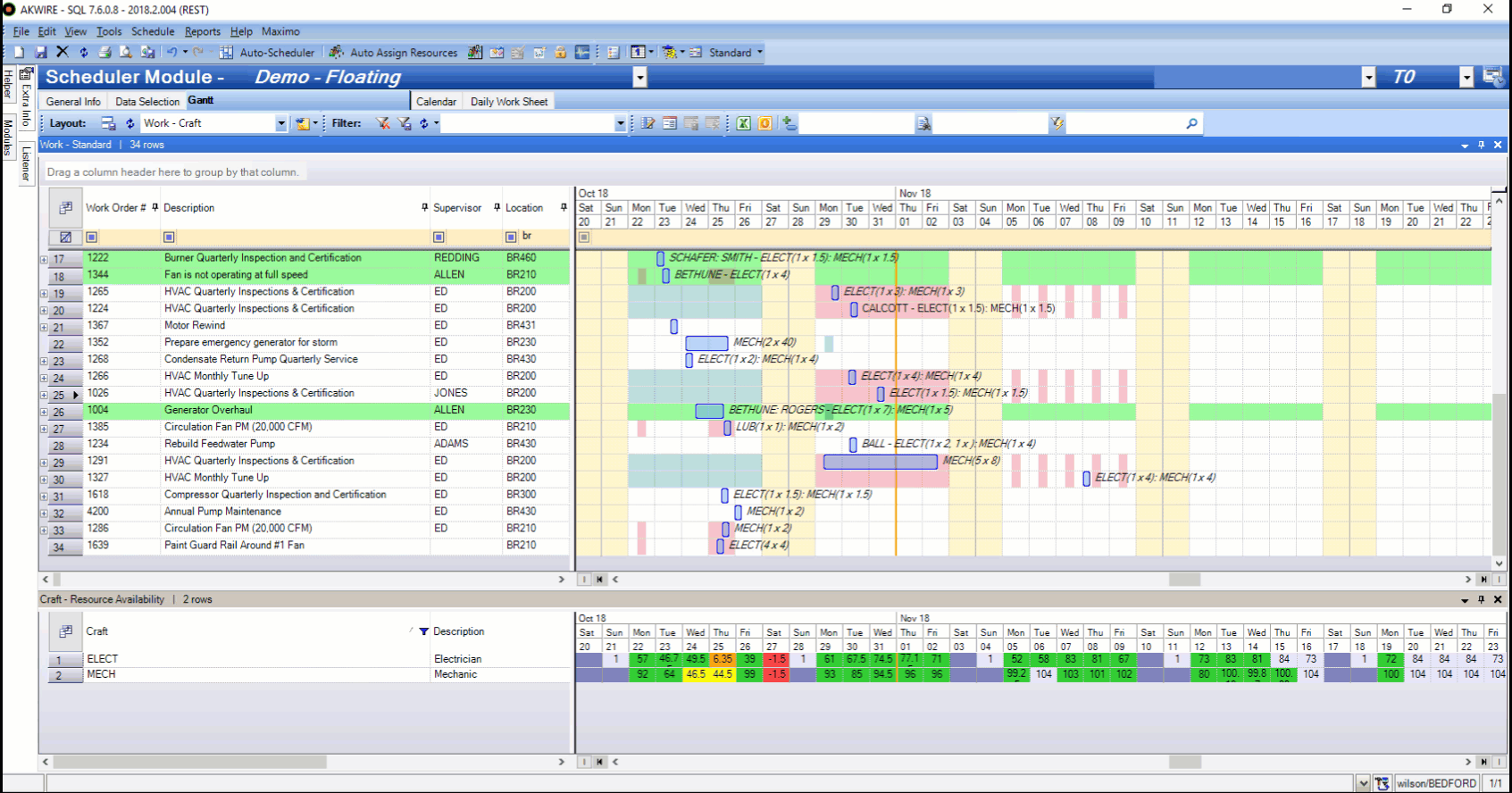 Now that's visibility.
Purpose-built tools make Planning and Scheduling in Maximo CMMS painless
When I think about Asset and Location availability and look back on my time as an Outage Scheduler at the Kennedy Space Center, I think about how much time we would have saved if we hadn't had to repeat the task of scheduling downtime so often. Scheduling it for Monday. Scheduling it again for Tuesday. Scheduling it again for Wednesday, Thursday, Friday… It was such a pain! What would we have given to just click and drag the whole week and be done with it?
It reminds of that scene in The Founder when Michael Keaton's character watches the McDonald's burger making process: the dozens of patties on the grill in tidy rows, the buns on the lazy susan, each getting the same dose of mustard ketchup, pickles, and onions in quick, precise shots. John Carroll Lynch's character says, "Speed. That's the name of the game." They've mastered the art of making a delicious burger, and the science of making it rapidly, consistently and with quality.
If you're a McDonald's employee and you're going to make hundreds of burgers in a day, you want that process to be fast, easy, and consistent, since you're going to be doing it so often. It would make no sense for this process to be any more time-consuming than absolutely necessary.
If you're a Planner or Scheduler, you're likely going to be managing asset or location downtime pretty often, too. It'd be nice if it wasn't a pain, right?