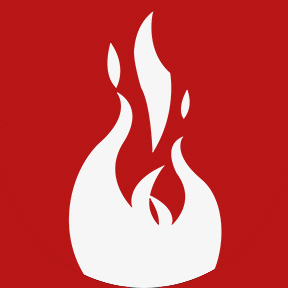 Author: Prometheus Group
July 07, 2022
MaximoWorld 2021: Your Behind-the-Scenes Recap
After so many events had been conducted in the virtual space, being able to attend Maximo World in-person was a great refresher. We loved connecting and reconnecting, just like the conference theme suggested, with our partners and customers at the conference.


Prometheus Group Customer Wins Big: Maximo Awards Ceremony
Awards ceremonies are always a great way to bring people together. We loved seeing all of the accomplishments from our fellow Maximo teams and what they've been up to over the past year.
One of the award winners we worked closely with, the University of Delaware, earned the "Best Work Execution Management Implementation" award – which you can read more about next week! We were honored to have our own, Richard Almendarez, accept the partnered award with the UDel team.
Says Richard, "I attended Michael Guns Jr.' presentation on "Performance Analytics to Drive Maintenance Strategies", and I was very impressed by the mechanism put in place to measure their performance. It's no wonder why the University of Delaware was awarded the "Best Work Execution Management (WEM) Implementation" award."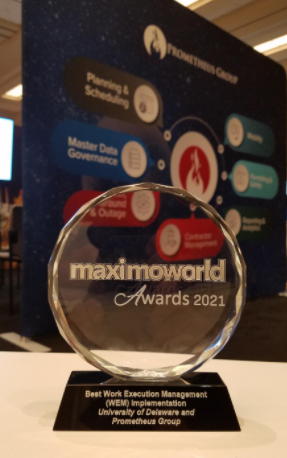 Product Demos at the Prometheus Group MaximoWorld Booth
Throughout the event, we had a number of product demos and presentations. From permitting safety demos to job plan walkthroughs, we loved seeing how engaged and innovative our customers were!
Says Kevin Emard, "I really enjoyed the level of engagement within the Maximo community! Our booth was continuously filled with users excited to receive an on-the-spot interactive demo of any product across the entire Prometheus Platform. It's one thing to read about a product or watch a video; it's another thing to get to talk with the experts in real-time and have them show you how the software responds to your specific real-world scenarios, questions, and needs. The hottest topics this year were Planning & Scheduling, Mobility, Digital Permitting and Master Data."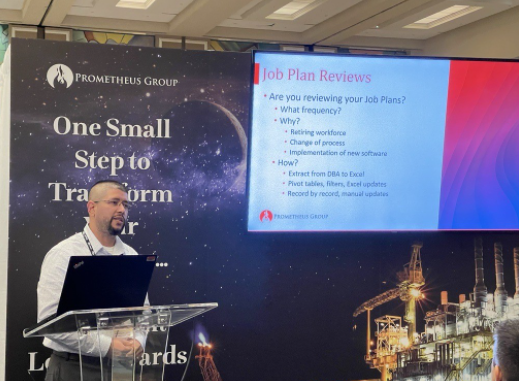 Adam Gross, an Account Manager at Prometheus Group had this to say: "While I was demoing our digital Safe Work Permitting solution, a member of the audience wanted to see more of the Maximo Integration with Work Orders. It was great to show them how we tie safe work permits back to Maximo because they could instantly see the value of being able to template them and attach the permit directly to the job plan for future use."
‍
Out and About at MaximoWorld 2021
As most Maximo users know, Maximo User Groups (MUGs) played a critical role in carrying on the peer-to-peer networking during the pandemic with the move to virtual meetings. Said Terrence O'Hanlon during one of his keynote speeches, "These user group meetings were the glue that held the Maximo community together". This year, a major focus for many user groups has been on digital transformation. Another has been on master data accuracy. There were plenty of participants at the MUG events at MaximoWorld, showing how this community continues to value the learning opportunities that can come only from peer-to-peer, real-world discussions.
Walking around the exhibitor floor you may have also caught sight of some technological innovations!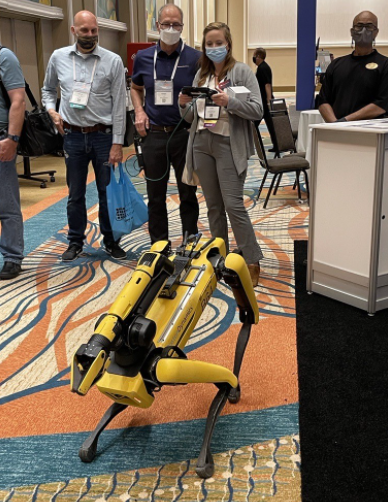 MaximoWorld 2021 Highlights
For those who weren't able to make it, and for those who enjoyed the event in-person, Prometheus Group had a number of highlights from the 2021 MaximoWorld event! Our friends at Women in Reliability and Asset Management (WIRAM) held a panel on diversity during the opening day.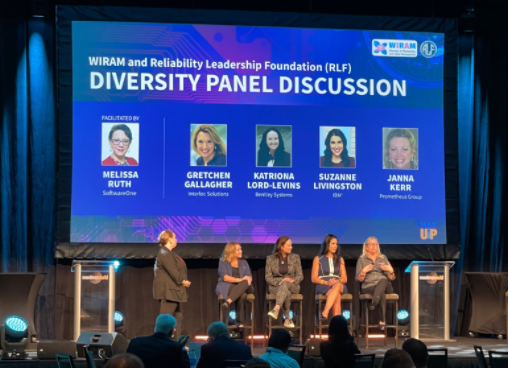 Later on in the conference, our master data master, Mike Jordan, presented a keynote on the theme of "getting your master data clean and keeping it clean". If you're interested in hearing more about the near immediate ROI of master data cleansing and governance, please watch snippets of Mike Jordan's presentation from our spring user conference here.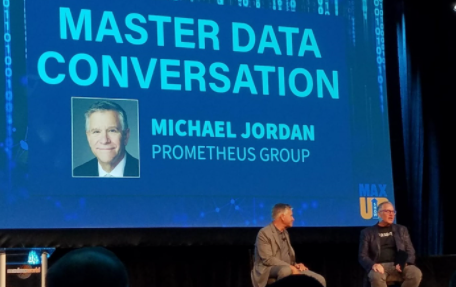 As we wrap up this year's recap of MaximoWorld, we'll leave you with some observations from our own Maximo pro, Elliot Bonilla. "First of all, it was amazing to be able to see all the familiar faces of our customers, partners, vendors and our friends that we have not seen since MaximoWorld 2019.
"Regarding the breakout sessions... WOW! I was amazed to see how many things people have been able to achieve during this pandemic. You can see how strong and committed the Maximo community is.
"One thing that I knew-- but it hit home during this MaximoWorld-- is that "Maximo people LOVE sharing knowledge". Not only that was seen in the sessions, but also in the booth. Everywhere I looked there was somebody sharing something they had learned or built since MW 2019. The perfect example of this insight sharing was Michael Guns from UDEL. What an amazing presentation and willingness to help. I had seen what he was working on before, but every time I see it again, I find something new and something else I like. Watching him present and share his knowledge was awe-inspiring. I'd like to share my congratulations to him and the entire UDEL team once again."
As we are every year, the Prometheus Group team was blown away by the quality of the learning and the strength of the community at MaximoWorld. To the conference organizers, who worked tirelessly to bring us another premier educational event, we say, "Thank you!". To our fans and new friends who kept our booth busy and whose thirst for innovative solutions always keeps us pushing boundaries, thank you too. You are the reason we do what we do and being able to connect with you in-person at this event is sure to be one of the biggest highlights of our year.
To catch team Prometheus Group at other events (in-person and online) please visit our events page here.