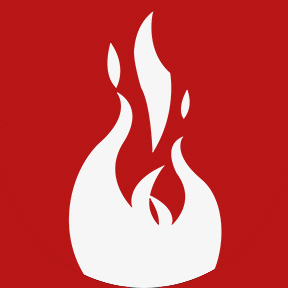 Author: Prometheus Group
CATEGORY:
Planning & Scheduling
August 18, 2021
A Journey from Space Telescopes to Simplifying Maintenance Scheduling in IBM Maximo
If you ask Janna Kerr why she loves her job, she's quick to answer: helping people. "I absolutely love helping people," she says, "and now I get to travel around the world to do it."
It may sound surprising, considering the exciting and one-of-a-kind career she's had so far; a career where she has worked around some of the scientific community's best and brightest. But at the end of the day, even rocket launches can't compete with the joy and satisfaction that comes from seeing someone "get it".
That's right. After 25 years at NASA – literally NASA – Janna Kerr traded in Planning and Scheduling for one of the most innovative and complex organizations in the world for training and teaching other Planners and Schedulers.
Liftoff: Planning and Scheduling for NASA with IBM Maximo
Janna began her career working as an admin assistant at a construction office receptionist, where she got to know the ins and outs of the business like the back of her hand. Eventually, she became the payroll and accounting person at a property management office. Though she learned a lot, she was ready to take her career to new heights.
Janna landed a position at the Kennedy Space Center in 1989 working security and doing key control. It wasn't long before she moved up into Facilities, doing scheduling with IBM Maximo. It was exciting and new, but there was no time to be awe-struck. Janna was thrown in to one of the toughest areas of scheduling: outage scheduling.
"Back then," Janna explains, "You needed to schedule an outage every time even some of the most basic maintenance was going to take place. Electrical or HVAC work… any time an AC unit was being turned off. So, I'd need to coordinate the outage with about 30 different customers in the building, get their approval, and coordinate the work with the facilities scheduling."
It was, as you can imagine, a ton of work. "But I learned a lot and got better and better at what I did," Janna recalls.
If that wasn't enough, she also earned a Business degree from Barry University and was raising her son.
Star struck: a behind-the-scenes look at NASA and the air force
Eventually, she was promoted from outage scheduling into facilities and maintenance side of things. Bringing her years of scheduling experience to the table, Janna was more than capable of coordinating the facilities maintenance work that maintained the payload and launch facilities at the Kennedy Space Center.
"Growing up in Florida," Janna says, "You take NASA a bit for granted. But working there is a whole other story. Being there in its heyday was amazing. It was a fantastic, energizing working environment, being around the astronauts and on occasion, the celebrities who were filming movies there."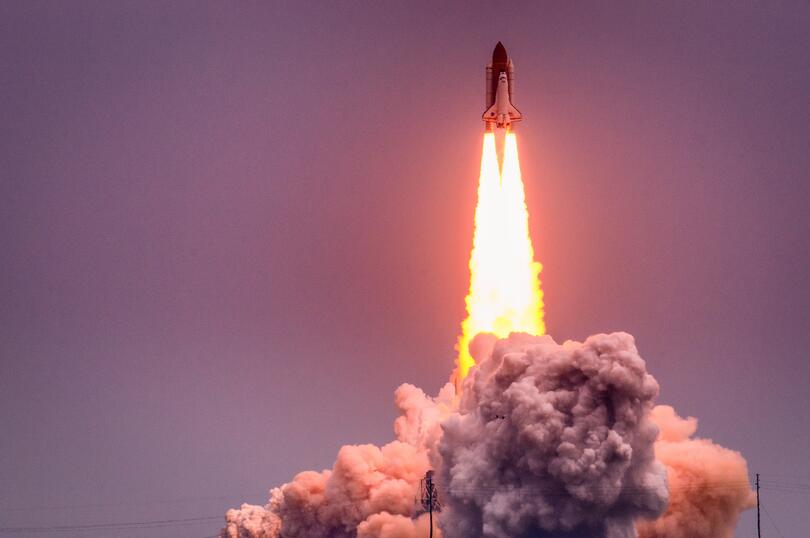 One of the rocket launches Janna witnessed was that of Atlantis STS 135.
Much of her Planning and Scheduling work contributed to the bigger goals of supporting the Space Station and Payloads like the Hubble Telescope and Mars Rovers. We provide support / maintenance for the payload processing facilities. The facilities supported the Payloads missions and Supply mission to support the Astronauts living on the Space Station.
After working at Kennedy Space Center for the NASA side of things she moved to the Cape Canaveral Airforce Station. There she again worked supporting the military launches and private sector satellite launches. For the next five years, Janna managed the PMs and Maintenance Compliance reporting to the Air Force.
Bringing the Air Force into the new age of enterprise planning and scheduling
One of the biggest changes she helped to bring about while working at the Airforce Station was the adoption.
"We'd been working in Maximo for years," she says, stressing the word. "We produced about six schedules every day – and the hoops we had to jump through just to get that scheduled into a file that could be emailed were very time consuming.
We would export the data from IBM Maximo, bring it into Excel, then import it into Microsoft Project. Every step of the way we had to manipulate it. Finally, we'd make it into a PDF. It was so infuriatingly time-consuming!
She recalls just how tenuous and "delicate" the whole procedure was. "To resource load, we had a complicated Excel spreadsheet. It was so complicated that if anybody touched the queries or formulas, the whole thing would break."
But Janna knew of a better way and was quick to bring it up when a like-minded manager finally looked at the situation and said, "Enough is enough."
"I'd seen AKWIRE over at NASA. We'd implemented it there with great success. I knew it was so much faster and simpler, and that we could accomplish so much more in much less time. When the new manager started, I told her right away to check out AKWIRE [Prometheus], and she was instantly hooked.
With AKWIRE, what used to take us countless steps, we could now do in one click.
Janna describes how the team came to love Prometheus based on a simple difference that makes a world of difference: "To me, the hardest thing about IBM Maximo is that you're doing everything on a Work Order by Work Order basis. You pull up Work Order to make a change, like changing the date and changing the person assigned to it. Everything is at the Work Order level.
"With AKWIRE [Prometheus], you're making changes to all the Work Orders you need to change, on one screen. And then you publish it back to Maximo. You can look at multiple Work Orders at a time, change them all, and then publish. It's so much faster, more convenient and easier. The Airforce team wondered how we ever lived without it."
Putting her enterprise planning and scheduling know-how to good use: joining the Prometheus team
After 25 years at the Kennedy Space Center, and with a few of those years using and loving Prometheus, you could almost call it fate when Janna ran into Solufy's [now Prometheus] co-founder Gerry Lamarche at a Maximo Usergroup event. Gerry himself had conducted the training Janna had received on Prometheus a few years back, and she was thrilled to reconnect with him.
As they chatted, it became clear that Janna had to join the Solufy [Now Prometheus] team: not someday. Now.
So, for a little while, Janna did double duty. As she wrapped up her last contract with the Airforce, she also started working as a trainer for Solufy [Now Prometheus] – and she hasn't looked back since.
"I'd never done training before in my life," she says. "I saw Gerry do our training, but that was it. But I was ready for a change and I love helping people. So, it was a perfect fit." Not one to shy away from something new, Janna jumped into her role. Not to mention that her 25 years in Planning and Scheduling and many years using the software in real-world situations helped ease the transition too.
Janna's career has changed wildly since her days at the Space Center. She used to help manage the maintenance and repair of the facilities and of equipment to send people into outer space. Now, she travels all over planet Earth helping Planning and Scheduling departments implement Prometheus for their organizations.
She's been to California, Germany, and Canada, but her favorite place that Prometheus has taken her so far? New Zealand. "It is a breathtaking country," she says.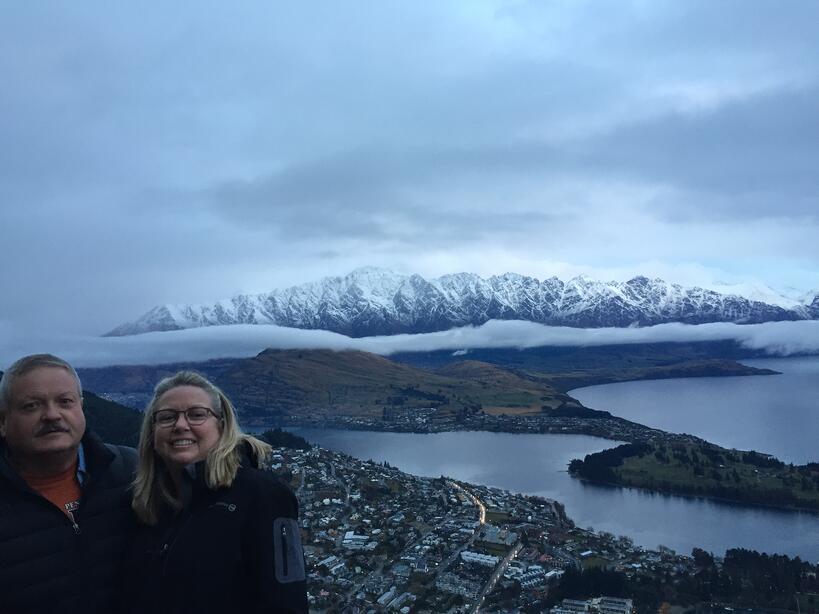 Janna and her husband in New Zealand.
Her love of travelling aside, Janna loves her day to day work helping teams learn Prometheus. It's particularly satisfying, she says, because some teams initially are a bit resistant to change. Human beings, it seems, get uncomfortable when they have to change the status quo.
"Most of the time, I run into teams where some folks are fed up on the inefficiency and lack of flexibility of the scheduler they're using. But there are sometimes a few people who are worried about the change. With just a few days of training, I get to see that concern melt away. Prometheus is so simple to use and has so many benefits. While training recently at DCP Midstream, when the training was complete the users were asking, 'When can I start using it?!'"
Inspiring wow moments: with her years of experience to guide her and her natural love of helping others, it's what Janna does best. But when she's not on the road spreading the Planning and Scheduling cheer, you'll find her curled up with a good book, out for a long walk in nature, or catching up with her friends.